Larger batteries, better cameras, and new color options. By now, you've probably already heard about most of the main features of the iPhone 11, iPhone 11 Pro and iPhone 11 Pro Max. But Apple's 2019 slate of iPhones actually has plenty of other secret or hidden features that the company either implemented quietly or hasn't really talk about.
Since the iPhone 11 is a camera-focused upgrade, some of these hidden features are tucked away inside the new Camera app. Other features have to do with the iPhone's connectivity options or their ability to detect other devices. In any case, without further ado, here are 11 hidden or lesser-known features on the iPhone 11 and iPhone 11 Pro models.
Related
11. Capture Outside the Frame
One of the cleverest but lesser-known features in the new iPhones is called Capture Outside the Frame. Essentially, it will automatically save additional image space around your picture. It's like a reverse crop, letting you add more of an image back into a shot after you've taken it.
Another related feature called Auto-Apply takes it a step further. The system will detect whether a person's face is cut off in an image and will automatically "de-crop" and extend the edges of the frame to add that person's face back in. That's a game-changer.
The 'Deep fusion' feature of the iPhone 11 Pro camera should be available starting this week, first via the iOS 13.2 Beta. This new hidden feature will go a long way in helping auto-correct photos shot on the iPhone's camera.
10. Ultra-Wideband tech
There's a new technology in this year's iPhone that isn't getting the buzz it deserves. It's called Ultra-Wideband, and it's essentially a geolocating system for small environments. Think ultra-precise location data in a mall or your home.
The UWB chip in the iPhone 11s is only used for a new AirDrop feature that will let you prioritize recipients you're pointing at. But UWB can be used in a slew of other applications, from ultra-precise indoor navigation to better locating abilities for Apple's rumored Bluetooth tracking device. It's a big deal, and its biggest features are yet to come.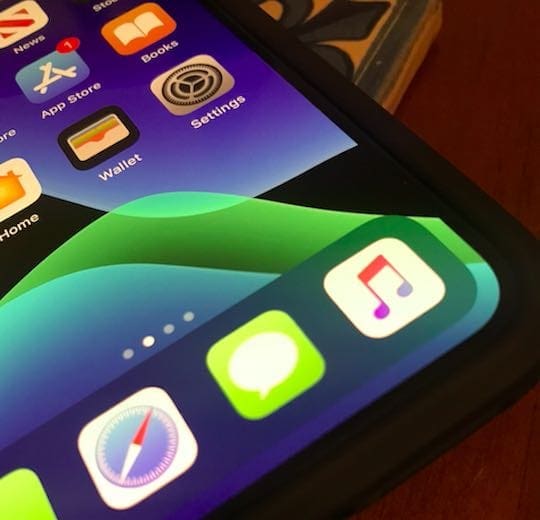 9. Hybrid power management
Apple's iPhone power management systems definitely have a bad rap. But like it or not, your iPhone's battery is eventually going to degrade and cause unexpected shutdowns or poorer performance. Apple has come up with a new way to combat that in the iPhone 11.
The company's 2019 slate of iPhones has a new hybrid software-hardware system that should mitigate the impacts of battery degradation. Of course, the iPhone 11 and iPhone 11 Pro are still new. Because of that, it remains to be seen whether or not that system will keep them running at peak performance for longer.
8. Audio zoom
Recording a subject talking in a crowded environment can be tricky. But the Phone 11 and iPhone 11 Pro now have a new feature that can help you "focus" your device's microphones for clearer audio. A similar feature first popped up on Samsung devices but is now in Apple's latest handsets.
The feature is, appropriately, called Audio Zoom. And it works about the way you expect. If you zoom in on a subject, the iPhone will "focus" the microphones on that subject while "blurring" out noise from other directions. It apparently works on everything from people talking to machines making noise.
7. Wi-Fi 6
While many other phone manufacturers are scrambling to implement some type of 5G support in their latest handsets, Apple quietly upgraded another connectivity option on its iPhone 11 and iPhone 11 Pro models.
Specifically, those devices now have Wi-Fi 6. We've covered the new Wi-Fi standard extensively in our article on the topic. But if you'd like a short recap, just expect better performance in crowded areas, improved data speeds, and other massive upgrades.
6. Actual HDR color profiles
The new iPhone 11 Pro and iPhone 11 Pro Max devices have significantly upgraded displays. While they feature significant better brightness, they also introduce actual and true support for HDR and Dolby Vision. Apple teased this at its event, but let us explain what that actually means.
Past iPhone generations, like the iPhone XS, technically supported HDR content. But they didn't actually play that content back in all of its true glory. That's no longer the case on the 2019 iPhones, which will actually switch to HDR10 or Dolby Vision color profiles when you playback appropriate videos.
5. Steadiness detection
The new Night Mode on the iPhone 11 and iPhone 11 is far from a hidden feature. But there's a much lesser-known setting related to that feature that Apple hasn't really talked about at all. Basically, this year's devices will know how you hold them.
The iPhone 11 and iPhone 11 Pro will be able to detect whether or not they're steady. Basically, if you have them mounted on a tripod or leaning against something, they'll be able to know. Once they do, they'll give you additional long exposure options, letting you set exposure times up to 10 seconds. That's a boon for Night Mode, but also for a wide range of other photographic techniques.
4. Unimplemented bilateral charging
Two-way, or bilateral, wireless charging was one of the most widely expected features to debut on the iPhone 11. But Apple's September keynote came and went without a single whisper about the feature. While reports differ, it now looks like it may have been pulled at the last second.
Popular teardown site iFixit took a look under the hood of the new iPhone 11 Pro Max and found evidence of unimplemented wireless charging. In other words, the devices may have the hardware capability to wirelessly charge another device. But, of course, that feature is unavailable, likely due to being disabled in software.
3. Aftermarket display notification
Sometimes, phones end up with broken screens. And sometimes, the owners of those phones opt for shoddy third-party repair shops that will swap the display glass with an inferior product. In many cases, these screens can result in poorer touch and display performance.
That can be a problem if you're buying a used iPhone on a marketplace app. Luckily, in the iPhone 11, Apple has implemented a new system of detecting and warning users about display repairs. You can now see if an iPhone 11 or iPhone 11 Pro has a non-genuine, aftermarket display by going to Settings —> General —> About.
2. New camera ratio
Do a search for "iPhone 16:9" and you'll find quite a few users inquiring about the photographic ratio and why it's missing from iPhones. There are plenty of reasons why Apple chose the 4:3 ratio as its default, but that doesn't change the fact that the ability to shoot in 16:9 would be a boon for photographers and social media mavens alike.
In iOS 13, the iPhone 11 and iPhone 11 Pro now have the ability to shoot at 16:9. Previously, you could only edit a photo to that ratio after the fact — and even then, it was only a crop job. The feature is actually a bit hidden in the Camera app, too. You'll need to perform a slide and tap with your finger to access the hidden camera ratio modes.
1. SF Camera font
Apple's attention to detail is legendary. And in the new iPhone 11, iPhone 11 Pro and iPhone 11 Pro Max, that attention to detail extend to the choice of the typeface in one single app. Yes, we're talking about the new SF Camera font that Apple has implemented in the new devices.
Unless you're geeky about typefaces, you probably won't even care or notice. But SF Camera is actually a really well-designed typeface with a slightly more industrial look. And, again, Apple only uses it in the Camera app.
Have you already upgraded to the new iPhone 11 Pro? What are some of the new features that you really like on the device?
Mike is a freelance journalist from San Diego, California.
While he primarily covers Apple and consumer technology, he has past experience writing about public safety, local government, and education for a variety of publications.
He's worn quite a few hats in the journalism field, including writer, editor, and news designer.