Several users have reported they were unable to activate their iPhones after a restore or update process (e.g.,"Erase All Content and Settings"). They further reported they received this error: "We're sorry, we are unable to continue with your activation at this time."  If you are having this problem, please try the following tip to resolve your iPhone activation problem.
Try this first: Restart Your iDevice!
Turn off your device normally by pressing and holding the side or on/off button for a few seconds until the red slider appears, then slide the slider 

Remember to wait for the device to turn off entirely, then power back up
If restarting didn't do the trick, check out our additional solutions below.
Tips to Solve the Activation Error "we're sorry, we are unable to continue with your activation at this time."
Busy Apple Servers?
If you just received a new device, along with a zillion other people during launch week or on holidays like Christmas, it's possible that Apple is just plain flooded with traffic requests!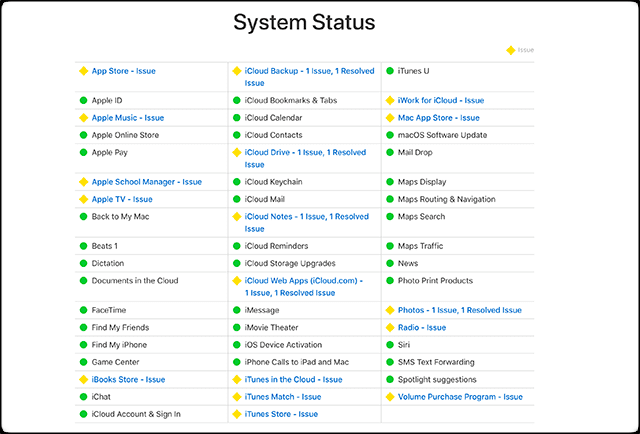 The best course of action is to wait until later in the day or the early morning hours when traffic organically drops.
Tap Available Services or current issues
Look for iOS Device Activation
If it isn't green, try to activate later
Try a Different Network Connection 
If you have more than one WiFi network available, try using a different 2.4 GHz network
For folks with LTE data, try connecting via cellular data instead of WiFi (turn WiFi off temporarily)
Visit a friend or a local business that offers WiFi and try there
Reset Network Connections
Another viable option is to reset your network
Go to Settings > General > Reset > Reset Network Settings

You need to sign in again with your password to WiFi networks
Activate Via iTunes Instead of OTA (Over-The-Air) 
How do I activate my iPhone through iTunes?
All you need is access to a computer with iTunes–it doesn't have to be your computer
Connect your device with your lightning cable (original if available) and open iTunes
Turn your device on
Wait while iTunes detects and activates your device and follow the on-screen prompts

If iTunes shows, "Set up as New" or "Restore from Backup," it means that iTunes activated your device
If an error in iTunes says that the SIM card isn't compatible, contact your carrier for a different SIM
Change Your SIM Card or Remove/Reinsert
Try another SIM card and see if you can activate
Or if another SIM isn't available, check that your current SIM is seated correctly in the SIM Tray 
If your device normally uses a SIM, make sure there is a SIM card in place–even if you intend to use the device as WiFi only and don't have an active mobile contract
Try a Forced Restart
On an iPhone 6S or below plus all iPads & iPod Touches, press Home and Power at the same time until you see the Apple logo 
For iPhone 7 or iPhone 7 Plus: Press and hold both the Side and Volume Down buttons for at least 10 seconds, until you see the Apple logo 
On an iPhone X or iPhone 8 or iPhone 8 Plus: Press and quickly release the Volume Up button. Then press and promptly release the Volume Down button. Finally, press and hold the Side button until you see the Apple logo 
Go Into Recovery Mode Using iTunes
FOR ALL DEVICES

Backup your device before entering recovery mode

If iTunes is already open, close it. Connect your device to your computer and open iTunes
While your device is connected, force restart it using the steps listed above, BUT DON'T release the buttons when you see the Apple logo, wait until the connect to iTunes screen appears 

If the apple logo first appears, that's fine. Just wait a little longer and then the Connect to iTunes logo appears. Thanks to our reader Sarah for this additional info!

When you see the option to Restore or Update, choose Update 
iTunes attempts to reinstall iOS without erasing your data

If the download takes more than 15 minutes and your device exits the connect to iTunes screen, let the download finish, then go back to step 3
After the Update or Restore completes, set up your device
Obsessed with tech since the early arrival of A/UX on Apple, Sudz (SK) is responsible for the editorial direction of AppleToolBox. He is based out of Los Angeles, CA.
Sudz specializes in covering all things macOS, having reviewed dozens of OS X and macOS developments over the years.
In a former life, Sudz worked helping Fortune 100 companies with their technology and business transformation aspirations.