Recently, did you update your iOS or change your Apple ID and password only to discover that iOS greyed out your iCloud Settings? Visiting your Settings App on your iPad, iPhone, or iPod Touch and when you tap your Apple ID, iCloud, or iTunes & App Store settings, they show up as greyed out, so you can not change them. If so, you are not alone!
Several users have reported that iCloud option in Settings on iPhone/iPad/iPod is greyed out or otherwise inaccessible and does not work.
Related Articles
Check Apple System Status 
A possible cause is Apple's own servers.  So before troubleshooting, check whether iCloud is working normally (or experiencing issues) on the Apple System Support page.
To see specific issues, tap the Plus Sign (+) and scan those issues for anything listing iCloud as experiencing problems.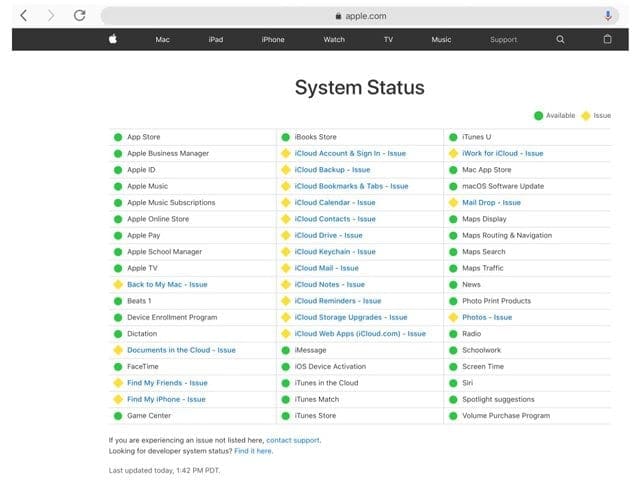 iCloud Is Greyed Out? Troubleshooting Guide
Make sure that you are currently running the latest version of iOS on your device.

Go to Settings > General > Software Update to check 
Or plug your device into a computer with iTunes and select Check for Update


Toggle Airplane Mode on, wait a few moments and toggle it back off. The easiest way to toggle Airplane Mode is via Control Center 
Go to Settings > Apple ID Profile > iCloud > iCloud Backup

If the status says, "Restoring apps from Backup" try to cancel or wait for all your apps to restore (this may take some time.) Once it completes, your iCloud should work normally and no longer show up as greyed out

It may be that Restrictions were turned on during an iOS update. To fix this, turn off Restrictions

For iOS 12 and above, go to Settings > Screen Time > Content & Privacy Restrictions. Temporarily toggle all restrictions off and then check if iCloud is available 
For iOS 11 and below go to Settings > General > Restrictions, temporarily turn off all restrictions, and then check to see if iCloud is now working. Also, check Settings > General > Restrictions > Accounts (near the bottom) and set this to Allow Changes 

If turning off Restrictions didn't work, try turning Screen Time (for iOS 12 and above) off temporarily

Go to Settings > Screen Time and scroll all the way down to locate Turn Off Screen Time. Tap that an enter your screen time passcode to disable this feature.
If you can't remember your screen time passcode, check out this article for tips on resetting Screen Time's passcode

Reset your network's settings

Go to Settings > General > Reset > Reset Network Settings
This action also resets WiFi networks and passwords, cellular settings, and VPN and APN settings that you used before

Reset All Settings

Go to Settings > General > Reset > Reset All Settings
This resets to default everything in Settings, including notifications, alerts, brightness, and clock settings like wake up alarms. Resetting all settings also reverts all your personalized and customized features like wallpapers and accessibility features back to factory defaults. So you need to reconfigure these settings once your iPhone or iDevice restarts.

Log Out of Your Apple ID (if possible)

Sometimes, you need to kick start your device by logging out of your Apple ID and then logging back in. Go to Settings > Apple ID Profile and scroll all the way down to Sign Out
You need to temporarily turn off Find My iPhone (iPad or iPod) to sign out of your Apple ID
We hope that these tips helped you get iCloud working again. Let us know in the comments if you found something else that worked!