This article explains how to clear Safari's saved usernames, passwords and form data on iOS 7. Note that clearing Safari's history and cookies will not delete your saved usernames and passwords. Here is how:
Steps:
1. Tap Settings > Safari > Passwords & AutoFill
2. Tap Saved Passwords
3. Now you can site your saved usernames & passwords. Tap Edit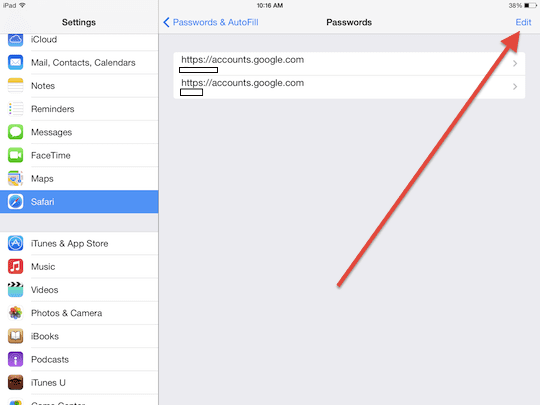 4. Select the ones that you would like to erase then tap delete
6. You will be asked to enter you passcode (if it is enabled), enter your passcode to delete.
For various reasons, you may not want to save your username and passwords. For instance, if you disable your device's passcode, you should not save these because your saved data, passwords can be viewed by anyone you has access to your device. If you want that you no longer want to have usernames and passwords saved on your iOS device (your iPad, iPhone or iPod), you can turn this feature off. Simply tap Settings > Safari > Passwords & AutoFill and turn the "Names and Passwords" option OFF.
Related: