Q: I updated my iPhone my iOS but I don't see AirDrop in Control Center, how do I fix it?
A: Easily share content such as photos and videos using AirDrop on iOS (as long as it's above 7.) For iOS 11 and above, AirDrop is hidden in the 3D Touch or Long Press submenus within the "connections" tile, including AirPlane Mode, WiFi, Cellular, and Bluetooth. Take a look at our article Where's AirDrop in iOS11? We've Found it and More! for more info when using AirDrop in iOS 11 and above.
For folks with iOS 7-10, the AirDrop option is located in Control Center. To open Control Center, simply swipe up from the bottom of  your screen: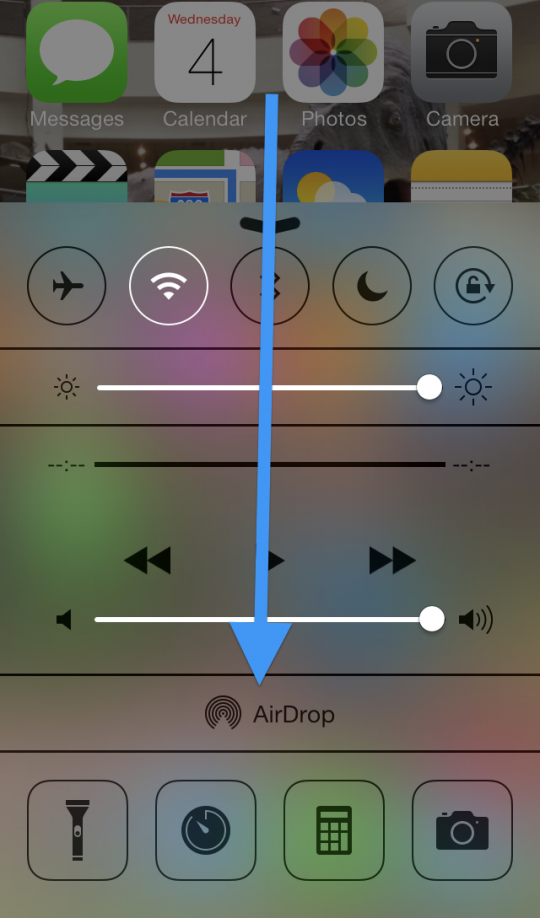 If your iOS (iPhone, iPad or iPod touch) device does not have the AirDrop option, please note that:
AirDrop is only available on iPhone 5 or later (e.g. iPhone 5S and 5C), iPad fourth generation and newer, iPad mini and iPod Touch fifth generation and newer. This means that, for instance, if you own an iPhone 4S, or iPad 2, then your device(s) will not have AirDrop.
AirDrop supports only iOS 7 and above devices. This means that if your device is running iOS 6 or lower, then your device will not have it.
If you are using a compatible (such as iPhone 5) device that is running a supported iOS version (7 and above) and still missing AirDrop, it is likely that access to AirDrop is restricted. Simply  tap Settings > General > Restrictions > enter your passcode > and Allow AirDrop. Now you should find AirDrop in the Control Center.
AirDrop is missing: Using an Older Mac?
If you have a Mac from 2012 or later and are trying to send a file to a Mac made before 2012, you need to search for that older Mac. In the AirDrop Window, select Don't see who you're looking for? And click the Search for an Older Mac in the pop-up and hopefully, that older Mac appears.
Tips for AirDrop is missing
Restart Bluetooth And WiFi on both devices
Update Discoverability Settings to Everyone
Turn Personal Hotspot OFF
If things still aren't working for AirDrop on your Mac or iDevice, please see our in-depth AirDrop troubleshooting article
No Time? Check out our AirDrop troubleshooting video tips!