After updating to a new version of iOS, some readers report their AirPlay icon missing or not found. If the AirPlay icon does not appear on your device (iPhone, iPad, iPod touch or Mac), or if the icon suddenly disappears, follow the steps below to troubleshoot this issue.
Quick Tips 
AirPlay problems with Apple TVs are usually on the TV side of things. So check that AirPlay is ON via your Apple TV Settings Menu. Go to Settings > AirPlay. And turn AirPlay on or toggle off, then back on
Try using your Apple TV's Conference Mode. On your Apple TV, go to Settings > AirPlay > Conference Room Display and turn it ON
Related Articles
Can't Find AirPlay on iOS 11+?
If you're using iOS 11 and above, finding AirPlay is not as easy as other iOS versions. In iOS 11+, AirPlay is located on your Music Controller.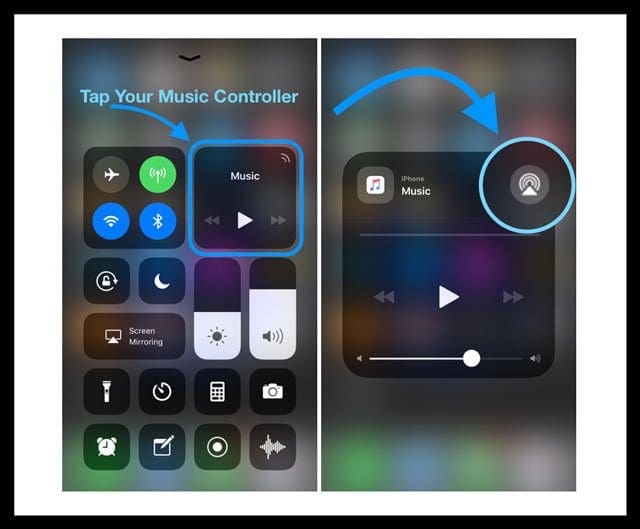 Find AirPlay Settings on iOS 11+
Open Control Center
Find the Music controls and 3D touch or long press it
Tap on the AirPlay icon in the upper right corner
Select your AirPlay device, Apple TV, or tap on iPhone, iPad, or iPod Touch to disable AirPlay
Steps to Fix AirPlay icon missing
Make sure that AirPlay is turned on your Apple TV. To do so, you can enable (and disable) this feature by going to Settings > AirPlay on your Apple TV

Setting Allow Access to Everyone also helps! That means anyone can see and AirPlay to your Apple TV

Try Conference Room Display Mode. When you use your Apple TV as a conference room display, anyone in the room can mirror their Macs or iPhone/iPad/iPod's screen to your Apple TV

Go to your Apple TV > Settings > AirPlay > Conference Room Display and turn it on
You should see on-screen instructions on how to connect to the Apple TV immediately 

Make sure that both devices (e.g. Apple TV and iPad/iDevice) are connected to the same WiFi network
To be able to use AirPlay, you need compatible devices. If your device is not supported, then you will not see the AirPlay icon. They are:

iOS: iPhone 4 (or later), iPad, iPad mini, iPod touch (4th generation or later)
macOS (any version) OR OSX:  iMac (Mid 2011 or newer), Mac mini (Mid 2011 or newer), MacBook Air (Mid 2011 or later), MacBook Pro (Early 2011 or newer), Mac Pro (Late 2013)
Apple TV (2nd or 3rd generation)

Ensure that your Apple TV has the latest software installed. You may need to update your device. To update your Apple TV, navigate Settings > General > Update Software
Ensure that your iOS device is up to date. You may need to update your iOS device. To update your device, tap Settings > General > Software Update.
Restart your Apple TV. To do so, go to Settings > General > Restart
Restart your Wi-Fi router
Restart your iOS device or Mac