Several iPhone and iPad report that the built-in iOS Mail app unread emails indicator (red circle badge notification) shows a number of unread email messages when actually there are no unread email messages in their Inbox. We call these "ghost"  messages. After trying a bunch of time to remove these, you might just feel like they are stuck forever!!! But fear not, we've got some tips to get those emails out of your unread box and into their proper place.

Related Articles
Quick Tips

 
Fix Your Incorrect Unread Count

Go to Settings > Account & Passwords (for older iOS, Settings >Mail)
Select the email account showing the unread messages
Toggle Mail account OFF
Close the Mail App
Return to Settings and toggle Mail account ON
Fixes for Ghost Messages (iOS Mail app shows unread emails)
Please try these steps until your issue is resolved
1-Obviously, verify you really don't have any unread mails in your inbox
You may have some unread emails that you may not know. For instance, let's say your are using Gmail as your email account. Open Safari (or any other internet browser) and go to Gmail's site. To find your unread Gmail messages, in the search box, enter 'is: unread' (without the quotes.) If this search finds any unread messages, mark them read. Check if this fixes your problem.
2-Restart your device
3-The next fix is to disable the Mail settings and restart the Mail app
Go to Settings > Accounts & Passwords > Accounts 

Or Settings > Mail ( or Mail, Contacts, Calendars) > Accounts

Select the mail account that shows the incorrect unread mail notifications

If you have more than one, perform these steps for each account

Exit Settings by returning to your Home Screen
Close the Mail app by swiping up your Gesture Bar or by pressing the Home button twice. Locate the Mail app preview and swipe up to close it
Now once again go to Settings > Accounts & Passwords > Accounts

For older iOS, go to Settings >Mail (Mail, Contacts, Calendars) and select the mail account

Toggle ON Mail to enable it
Check to see if your mail app is now showing the correct unread email counts.
If this didn't stick, add in a restart after closing the Mail App. Once powered up, return to Settings and toggle Mail back on. Or try a forced restart in between these steps.
4-If this happens a lot, hide the unread mail number
Go to Settings > Notifications > Mail
Disable "Allow Notifications."
No Time? Check Out Our Video!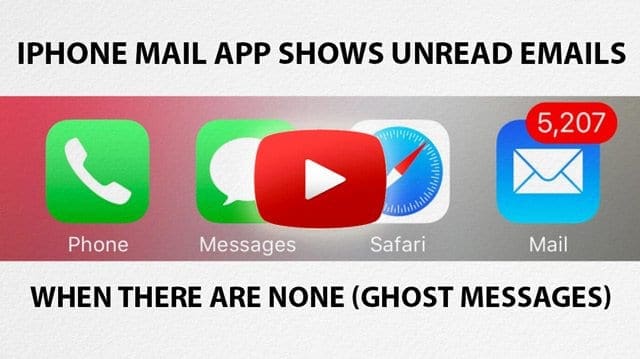 Reader Tips 
I just went into my online email account and searched 'unread.'  It showed me all the unread mail that, for some reason, won't pop up when I scroll through my mail on my iPhone. Marked them as read and my problem was fixed in an instance!
Here's my fix: go to email icon app, select the troubling email, click edit (top right corner), at the bottom click mark all, and mark as all read. Viola, it's fixed!
For the iPhone, ghost messages disappeared by disabling mail, then turning off, then back on and then re-enabling Mail.
I marked ALL my messages as unread, waited a minute and then marked them all as read. Worked for me!
I had to force reset my iPad (Home plus Power) rather than just powering it off, but then it worked.
It's much easier to just mark all your emails as "read"
I had to take an additional step and go into General>Restrictions>Allow Changes>Accounts and click "Allow Changes" before I could turn off the mail, but once I did that it worked well.
I deleted my email account from the settings, signed in again, and it worked like a charm. My 35 unread emails are gone!
Go to advanced settings within the individual email account and swipe off the SSL tab. then exit. They should be gone. To turn back on go into Settings again and turn on your email following steps above.