Is your iPad very slow after the iOS updates? With major iOS upgrades, we always get questions from users about ways to deal with a very slow iPad. Although the problem especially affects users that have the older model iPads but are running the latest iOS updates, some users with the newer models can also experience the sluggishness. In this article, we will suggest five overlooked tips that can be helpful in speeding up your slow iPad. If you are running iOS 9+, please feel free to follow the steps below:
Tip – 1 Check your Accessibility options as the iPad uses transitional animations and motion effects with the iOS interface.
The new iOS update is supposed to have fixed most issues around blur and general lag, however some users are still experiencing it. One well-documented tip is to explore the "Accessibility" Settings and make changes to correct these issues.
Step-> 1
Tap on your "Settings" icon on your home screen and choose "General" on the left hand pane. Click on "Accessibility".
Step -> 2
Turn off the "Reduce Motion" setting by sliding it to off position.
Step ->3
While in the Accessibility setting, you may also want to Reduce Transparency. Click on "Increase Contrast" and then switch off "Reduce Transparency"
Tip – 2 Revisit Spotlight Search and Siri Settings
Although a very handy feature, this can be adjusted by choosing only the apps that you want Spotlight to search in the settings. By reducing the number of different apps that needs to be searched by Spotlight, you will be able to increase the speed. While here, you may also want to turn "Siri Suggestions" to off. Turning this feature off will still allow you to use Siri. These two settings can help in speeding up a slow iPad.
Step ->4
Go to Settings > General > Spotlight Search
Tip – 3 App Refresh Settings
Certain Apps are using the iOS resources while running in the background. You many want to manage the apps that will use this feature. If your ipad is very slow, you may want to turn off the background app refresh for most of the apps. The background refresh process also consumes your battery resources so this will also indirectly help you in consuming some energy
Step –> 5
Go to Settings> General > Background App Refresh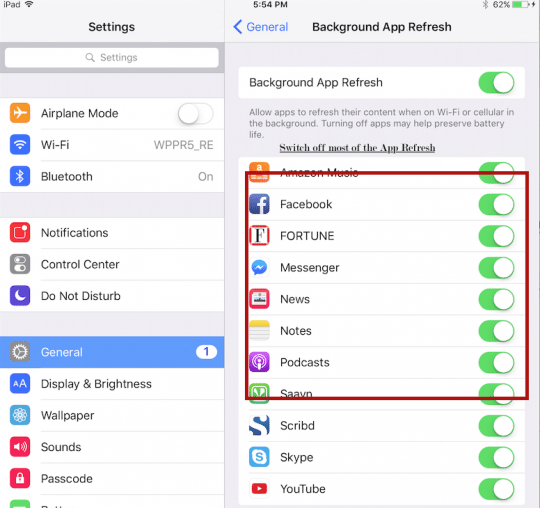 There are two aspects to storage that can influence the speed of your iPad. The first and the easiest is around clearing off the Safari browser cache and the second aspect requires revisiting your app storage and freeing up the space for the apps that you may have downloaded ages ago but no longer use it.
Step -> 6
In order to clear your browser cache, Go to Settings > Safari and "Clear History and Website Data". This is at the far bottom on the right hand pane.
Step -> 7
Go to Settings > General > Storage & iCloud Usage and choose "Manage Storage". Remove the app by tapping and selecting Delete App.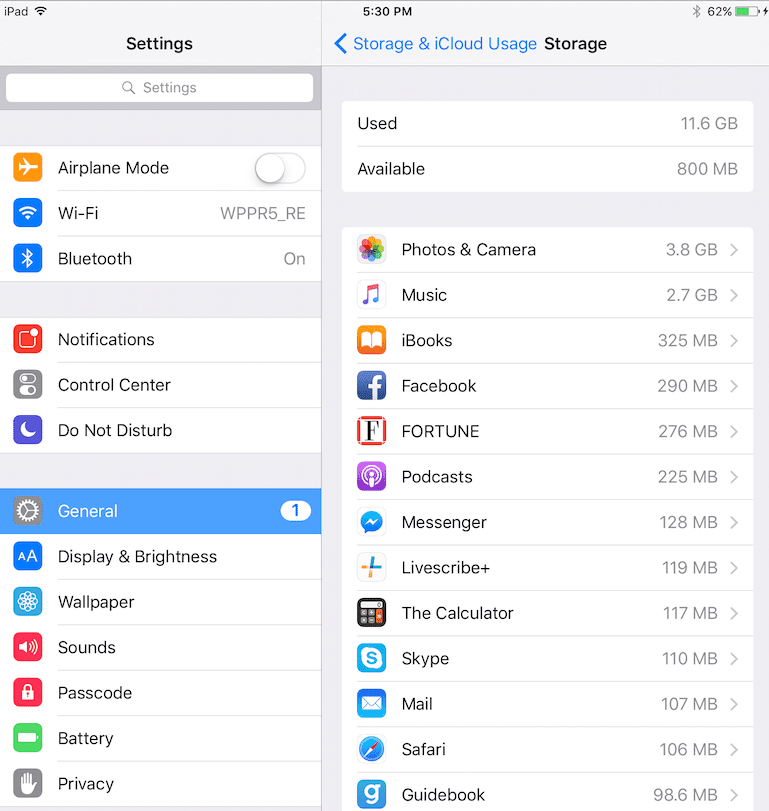 Tip – 5 Force Restart
Now that you have made the changes by following the steps above, you can do a force restart of the device to make sure that these changes are saved in your device. You can do a force restart by pressing and holding the Home button and the sleep/wake button until the device reboots and you see the Apple logo appearing.
Lastly, We suggest that you update your iOS to 9.2.1 and give it a try. This new update was designed to address some of the performance issues experienced by the older devices running iOS 9. This is timely in that if updating to 9.2.1 does not address your issues, you can revert back to 9.2.
The other issue that we have seen when it comes to upgrades and versions affects people that are Mac users. If you are using a Mac along with your iPhone and iPad, you may want to consider updating your Mac to latest El Capitan if you are using the latest iOS on your mobile devices. Users with older versions on their Macs have experienced issues with features such as Airdrop/Airplay.