Several users have reported that they are able to use Airplay on their iPhones but are facing challenges when it comes to using this feature on their Macbooks and iMacs. You can see the AirPlay icon on your mac but do not have the an Airplay option to choose in order to connect to your Apple TV or other apple devices. Others cannot locate the Airplay icon on their Macbooks and Macs.
More often than not, verifying your Mac settings related to firewall preferences and Display Settings can help solve this problem.
Step – 1 Click on  > System Preferences and choose Security and Privacy
Step – 2 On the next screen, Click on the FireWall Tab and Choose FireWall Options. Enter your System Credentials
Step – 3 On the next Screen, Set the setting to allow incoming connections.
Step- 4 please make sure that you have enabled the right setting on your Display settings to show the Airplay icon on your Mac. Click on  > System Preferences > Displays > and choose to show the Mirroring option as shown in the image below. Once you have set it up, the Airplay icon will show up on the top of your Mac when available and you can toggle between the available options as shown below.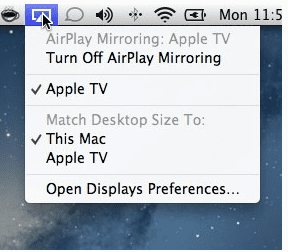 There are a few options available for customizing the way AirPlay Mirroring behaves. You can find them in the Displays section of the System Preferences app (or by clicking "Open Displays Preferences…" from the menubar icon). When you have enabled the AIRPLAY set-up with your Apple TV, You can choose the additional display Options as shown in the image below.
Please do remember that if you are having issues with Airplay and Apple TV using your Mac, both the devices need to be connected to the same network.
Please make sure to check the list of all supported Airplay devices by Apple if you are having issues connecting to devices.