Want to retain location and time of the photo when exporting photos from iPhone to Windows PC? It is quite simple and straightforward.
The important thing to know is that this is only possible with photos taken from your iPhone and not the photos that you received from someone else as location is only recorded for photos taken with your iPhone's own camera.
There is no rocket science to this as the location and date is saved with the picture when you transfer it. You do not have to do anything special besides transferring/copying images from iPhone to Windows.
The JPEG files saved on computer usually have an accompanying file EXIF that contains the coordinates of the location (GPS) and the time stamp.
Copying iPhone Images to Windows
For copying images from your iPhone to Windows, connect your iPhone with the computer through the given USB cable. Once connected you will be prompted by iTunes and it will launch by itself recognizing your iPhone, provided you have it installed.
We are not concerned with iTunes for this particular operation.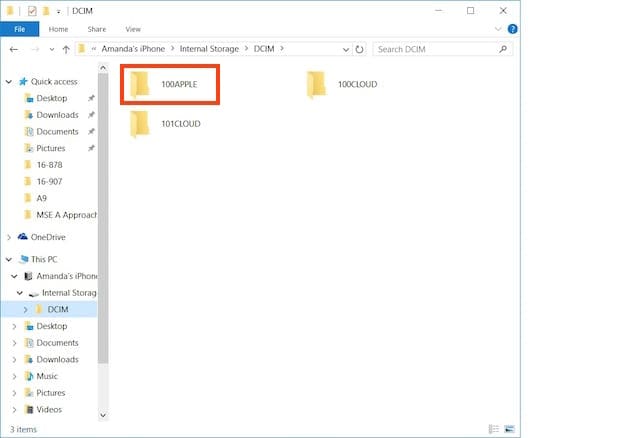 Head to My PC/ Computer where your hard disks are located. You will see your phone connected as a USB device. Click on it and you will see the DCIM folder.
Open this folder and you will see several folders containing images. Find the image(s) you want to copy and select them. Right click and click copy or Press Ctrl-C. Now create or go to the folder where you want them copied and paste.
Finding Location and Timestamp of iPhone image
Choose any image and right click on it. Select properties and a window will open.
Click on Details tab and there you can find the date the image was taken and the GPS coordinates.
On your iPhone you usually see the name of the location on top of the image along with the date. However, on Windows you only see coordinates in the details. default when you copy the images to a folder, they are sorted according to their date only which is great if you like your photos arranged in their chronology.
You can choose to change the sort criteria as well by simply clicking Right anywhere besides the picture and then going into Sort By and choosing the parameter you want the pictures to be sorted by. You can choose size, date or name.
If you want to organize your photos by the location they were taken in then you need to manually create folders for that as this is not possible yet.
Pictures automatically carry timestamp and location coordinates when copied; you do not need any third party app to get this done.
If you back up your images in iCloud, the location and time will be saved with these pictures in the iCloud as well.