Apple has introduced some cool features in WatchOS 4 that provide music aficionados more control when it comes to playing music via the Apple Watch. WatchOS 4 includes a new feature that allows you to sync your playlists from Apple Music automatically. The new OS knows what you love to listen to and keeps track of it on your watch so that you can enjoy your favorite tracks through every workout! In addition, watchOS 4 features an auto music control built especially for your watch. Play music on your iPhone and the now playing app automatically opens on your watch! And it appears to work with both Apple Music, Overcast, Audible, and Spotify–and more third-party apps to come! We think it's a great addition. But some of us want the control and want to be the decision maker–so for those of you, this article outlines just how to disable auto music controls on Apple Watch.
Related Articles
Now Playing on Your Apple Watch
With this feature on, when you play music on your iPhone, the music controls automatically show up on your Apple Watch. It's similar to Apple Maps–when following a route on the native Maps app, the information automatically transmits to your Apple Watch.
With you music controls now staying on the screen of your paired Apple Watch, changing tracks or volume on your EarPods or AirPods is easy, all without having to use Siri or navigate to the music app on your watch. And, when you're done, your watch returns to your normal watch face when not listening to audio
But, let's face it. Not everyone enjoys or finds comfort in the idea of Apple auto opening the music controls on their Apple Watches. Indeed, this feature just might annoy many Apple Watch fans. Especially those of us who want to see other information on our watches, and NOT the built in music controls.
Need to See Your Normal Watch Face?
Yup, that's easy too. Pressing the crown returns to your normal watch face. And your normal watch face remains even for your following glances throughout this session. If you stop the music with your phone and then play it again, the watch returns to this now playing screen, until you stop the music or press the crown.
What's Different About the iPhone Music Controller in watchOS4?
It seems that with watchOS4 and iOS11, you can no longer scroll up and tap your iPhone to choose it as your music source. On the previous versions of watchOS, your Apple Watch Music app could control the music playing on your iPhone, but with watchOS4, this option is gone.
The redesigned Apple Watch Music app doesn't directly connect to your iPhone's music library. So if you're listening to music on your iPhone (AND NOT on your Apple Watch), you no longer can start playing music or change tracks without touching your iPhone. For many, using their Apple Watch as an iPhone music controller was their favorite feature of the Apple Watch.
Instead, there is a Now Playing complication that lets you skip, play/pause, adjust volume. In watchOS 4, Apple removed the Music complication.
Easily disable auto music controls on Apple Watch by following this quick tip
Open the Watch app on your iPhone and tap on My Watch at the bottom left
Tap on  General > Wake Screen
Turn Off the Auto Launch Audio Apps
Exit out of the Settings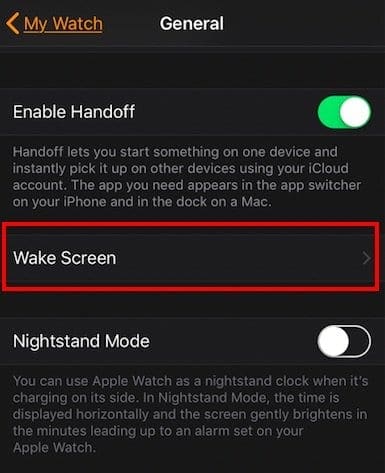 This method disables the auto music controls on your Apple Watch.
AirPods and Apple Watch–A Perfect Pair!
Airpods have made it easier for listening to music via your Apple Watch. It allows you the freedom to put on your airpods and listen to your music via your Apple Watch without the need of carrying your iPhone. This partnering is extremely useful if you are going out for a run or burning a few calories via gym equipment at your local gym.
And Let's Not Forget Other watchOS 4 Features!
New Music app
Multiple song playlists–yippee!
Auto playback during workouts
Swiping left accesses music during a workout
Auto syncing of your favorite music
Revised Now Playing complication
Summary
With the latest watchOS, there are many different options to enjoy your music on your Apple Watch today. Automatic playlist syncing and auto music control are some of the most sought after features for iFolks listening to music on their Apple Watches–especially during intensive or long workouts, runs, bike rides, or walks. And if your music app has a companion Watch app, the Watch launches that companion app instead of the default Now Playing app. Pretty cool! But for those that desire control, we've outlined a quick tip on how anyone can disable auto music controls on Apple Watch.
We hope that you found this quick tip useful!