Many of us rarely connect our iPad to our MacBook or PC. We update our iPads over the air and regularly backup our device into iCloud using wi-fi. There are however times when you will need to connect your iPad to a computer in order to restore it, reset it to the factory settings or perform an iOS update via iTunes.
It can be frustrating when your iPad doesn't connect to your MacBook or PC. Sometimes it just shows an error connecting to the device and at other times, it connects and disconnects continuously. If you are facing this issue with your iPad, chances are that your USB cable may require an upgrade.
RELATED : iPad Troubleshooting Tips and Tricks
iPad Keeps Disconnecting, How-To Fix
Please try a different Apple certified cable and see if this problem continues to happen.
Check your cable port on your iPad. This is the port that you use to connect your iPad to your MacBook / Computer using the USB cable. There could be dirt lodged in the port leading to improper contacts. Using a q-tip, gently clean the port area. Connect the cable and see if the problem is resolved.
Restart your iPad a few times before connecting it to the computer. Press and hold the home and on/off key together on the iPad for 10 seconds or so till you see the Apple logo pop up on the screen. Once the iPad starts and displays the home screen, try to connect it to your computer and give it a try.
If you have not connected your iPad to your computer in a while and the computer was updated with new software, there could be some trust settings issues. In order to check and resolve this issue, Open your iPad, tap on Settings > General > Reset > Reset Location & Privacy.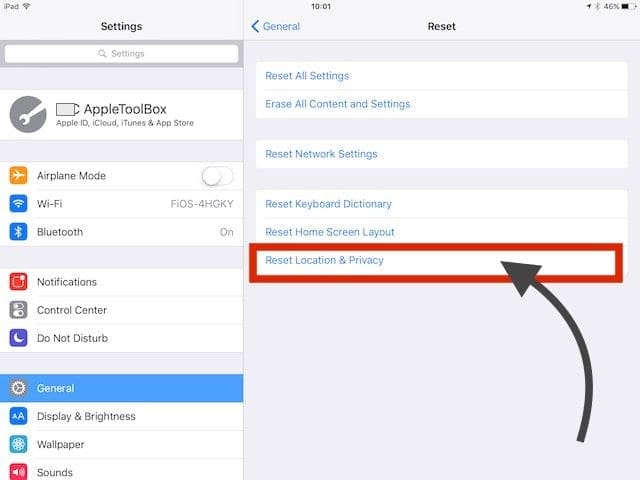 This resets your location and privacy settings. The next time when you connect your iPad, it will ask you whether to trust this new setup. Confirm and move forward.
If none of the steps above work for you, you can take your iPad to the Apple Store for a checkup. If your iPad is under warranty, there is a strong chance that they may provide you with a replacement.
We hope that you found these tips helpful and were able to fix this annoying issue on your iPad. Here at Appletoolbox, we recommend that you use iTunes on your computer to perform iOS updates on your iPad as opposed to over the air updates for your device.