We all know that the iPhone X Series' redesign changes how we do quite a lot of things, like reaching Siri, opening Control Center, even shutting down the phone itself–all different. And all things that we need to re-learn!
One unexpected lesson is that our usual method to force close an app doesn't appear to work on the iPhone X/XS/XR and newer model iPad (without home buttons.) So just how do you close apps on your iPhone X Series or iPad without Home?
Related Articles
About Force Closing Apps on iPhones and iDevices
Apple recommends only force closing an app if you need to restart it or if the app crashes or is otherwise not performing.
Closing apps does not improve your device's performance, unless an app is acting up. Apps that you see in your App Switcher are in a suspended state and are generally not using up any of your device's resources.
However, depending on your settings, some apps do run in the background if you've enabled background refresh.
Apple maintains that force closing an app does not improve battery life. Indeed, quitting apps unnecessarily may actually drain battery because iOS needs to reload the app.
No Home Button, No Problem!
When we had the now-defunct Home Button, it was as easy as a double tap on and swipe up on the app preview once the specific app was located.
On your iPhone X Series or newer iPad, the routine is a little different–first press and hold your bottom Gesture Bar then swipe up to reveal all your app preview cards in your App Switcher.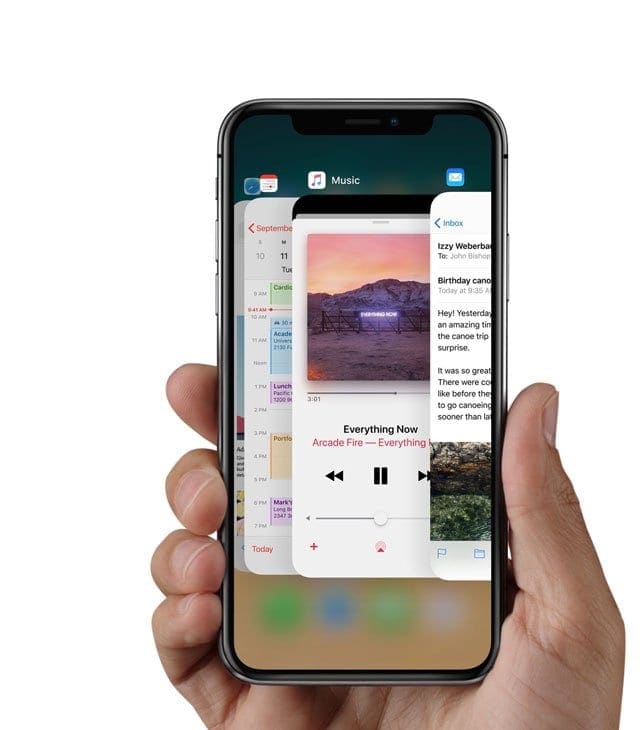 Using iOS 11?
If your iPhone uses iOS11, you need to tap and hold the app preview and then tap on the minus sign to close the app.
For folks using iOS 12, things are back to basics!
In your App Switcher, just swipe through the different app previews and locate the app that you want to close
Quickly swipe up to close the app
Some folks tell us that they need to add in a short hold after swiping up from the bottom to the middle of their screen to invoke the app switcher.
Switch Between Apps On An iPhone X Series or later or a newer model iPad:
Swipe up from the bottom to the middle of your screen and hold until you see the App Switcher
Swipe left or right to find the app that you want to use
Tap the app 
Swipe Left Or Right On The Bottom Edge
Another way to switch between apps on an iPhone X Series phone (XS/XR/X) is to swipe left or right along the bottom edge of your screen, just below the Home Gesture Bar. 
This action cycles you through all your open apps. A left-to-right swipe takes you to the last previously used app and a right-to-left swipe takes you to all the apps.
For folks using iOS 11, things are a bit more complicated!
With the App Switcher open,  swipe through the different app previews and find the app that you want to close
Tap and hold the app
Then swipe up to close it or press the red minus sign (-) in the left corner of the app's preview
Unfortunately, many folks with iPhone X models tell us it just ain't working. Instead, they're redirected to the Home Screen–not what they wanted at all!
Here's the Scoop to Force Close Apps on Your iPhone X Series Using iOS 11
It takes a forceful touch! You need to force touch (or tap and hold) until the app preview tiles show the minus icon (-) in the corner then swipe up to close.
When you just swipe up without force touch, the iPhone X sends you back to the home screen. Yup, this is another Apple iPhone X adjustment and one that like some others (Control Center anyone?) will definitely take some time getting used to. 
Apple says that a swipe up and pause does the same thing as a forced touch, so if you're not having luck with one method, try another!
3 Steps to Close Apps on Your iPhone X Using iOS 11
Open your App Switcher. Swipe up from the bottom Gesture Bar and pause while your finger is still placing pressure on the display. App cards should populate. Just swipe through them and locate the app you want to close
Force touch. Press and hold (or tap and hold) the app preview until a red minus (-) symbol appears in the corner
Now close that app.  Tap that minus sign to close OR swipe up on the app preview card
Reader Stephen noticed that on the iPhone X you cannot close apps if you are on a call, so be mindful of when you close apps. Best to perform this activity when you're not focusing on something else, like chatting with friends and family!
Remember Tread Cautiously!
Closing apps should never be your routine. When you have a non-responding app or problematic app, closing it this way (a forced close) is acceptable and maybe even necessary.
BUT if you are closing apps in the hope of saving hours and hours battery life, it doesn't work! When not in use, most apps are in a suspended state, taking up little to no resources. So force closing them and opening them again may actually use more power!
If the battery is your concern, it's far better to turn off background app refresh, use low power mode, and follow these other battery saving strategies.
The Single Best Thing for Your iPhone X
If you could do only one thing to preserve your iPhone X Series phone or newer iPad for the long haul, we recommend shutting down at least once per week. That's a full shut down!
Either using Settings > General > Shut Down or long-press one of the Volume Buttons and the Side Button together and hold for a few seconds. Then simply "slide to power off" just like any other iPhone.