Apple announced a lot of exciting new software updates at WWDC 2020. While the presentation focused on iOS, iPadOS, and macOS improvements, Apple also detailed exciting new developments for AirPods.
Surround sound, continuity, battery notifications, and more. Here are all the new AirPods features you'll be able to enjoy with iOS 14, iPadOS 14, tvOS 14, and macOS Big Sur coming this Fall.
Related:
Device Switching from iPhone, to iPad, to Mac, to Watch
One of the best parts of the Apple ecosystem is how seamlessly your devices work together. We can already enjoy Apple's Handoff features between your iPhone, iPad, and Mac. But now your AirPods can join the party, too.
While using your AirPods, you can seamlessly switch the audio between your other Apple devices without needing to pair through the Bluetooth settings. Your devices intelligently decide what audio you want to hear as you start to use different apps.
Apple gave the example of listening to a podcast on your iPhone, then starting to watch a video on your iPad, before joining a conference call on your Mac, and finally accepting a phone call on your iPhone again.
The entire time, you hear what you want to hear without worrying about what to do with your AirPods.
Sadly, Device Switching isn't available for the first-generation AirPods or Apple TV devices. Hopefully Apple adds this feature to tvOS in future updates. But it's unlikely we'll see it added to the original AirPods.
You can use Device Switching with:
AirPods (2nd generation)
AirPods Pro
Powerbeats
Powerbeats Pro
Beats Solo Pro
Make sure you're signed in to the same iCloud account on your iPhone, iPad, Mac, and Apple Watch for this feature to work.
Spatial Audio brings surround sound to the AirPods Pro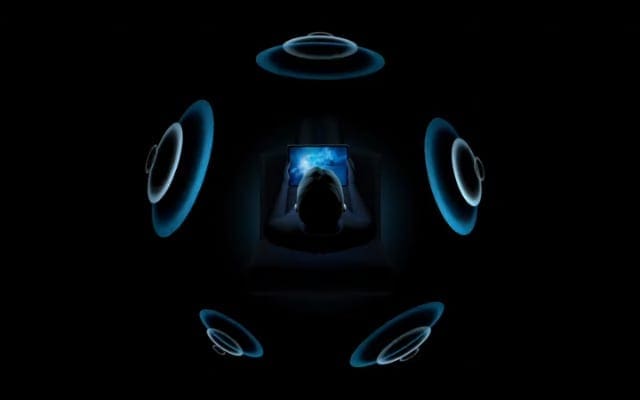 The best movie theaters offer immersive surround sound that makes you feel as if you're in the middle of the action. With Spatial Audio, you can enjoy the same immersive surround sound experience wherever you watch movies using your AirPods Pro.
Apple uses intelligent audio filtering to simulate sounds in front of you, behind, to the left, to the right, and even above you. Spatial Audio works with 5.1, 7.1, and Dolby Atmos encoded videos to offer a huge library of compatible movies.
The smartest aspect of Spatial Audio is that dynamic head tracking uses the accelerometers and gyroscopes in your AirPods Pro to anchor the surround sound in your physical space, even when you turn your head.
That means, the "front" of what you're listening to always faces the screen you're watching, no matter what direction you face.
If you're watching a movie on your iPhone or iPad, Apple also uses the sensors in that device to anchor the "front" of your sound to wherever your device is. If you shift position and move your iPhone to the left or right, the surround sound channels move with it.
That is, unless you're in a vehicle that moves with your device, such as a plane, train, bus, or riding in the back seat of a car. In those instances, Spatial Audio recognizes that you're moving with your device and keeps sounds anchored in place.
Spatial Audio is only available for AirPods Pro.
Battery notifications tell you when to charge your AirPods
As your AirPods start to run out of battery, a small notification appears in iOS 14 and iPadOS 14 prompting you to charge them. This is a handy little feature that will let you know if you need to charge your AirPods before starting a long phone call or settling in for a movie.
The battery notification is small and sleek, in line with several new iOS 14 features that make it easier to use your iPhone while receiving a phone call or talking to Siri.
Headphone Accommodations account for hearing difficulties
Complete a hearing test in iOS 14 to fine-tune your AirPods for your particular hearing. This is an accessibility feature designed to make soft sounds and particular frequencies easier for people with hearing differences to hear.
Hearing Accommodations works with:
AirPods (2nd generation)
AirPods Pro
Powerbeats
Powerbeats Pro
Beats Solo Pro
and wired EarPods
Hearing Accommodations also works with Transparency mode on your AirPods Pro to make people and environments easier to hear. Think of it like a hearing aid that also lets you listen to music and watch movies.
Audio Sharing with tvOS 14 on your Apple TV 4K
With tvOS 14, you can connect up to two sets of AirPods to your Apple TV 4K at the same time. This means two people can watch TV with the volume as loud as they want, without disturbing the neighbors or waking the kids.
Audio Sharing works with:
AirPods (1st generation) or later
AirPods Pro
Powerbeats
Powerbeats Pro
Beats Solo Pro
Powerbeats3 Wireless
Beats Solo3 Wireless
Beats Studio3 Wireless
and BeatsX
It's unclear at the moment if Spatial Audio works with tvOS. But if that is the case, you and a partner could both enjoy a movie in surround sound by connecting two sets of AirPods Pro to your Apple TV.
AirPods Pro Motion API is available to developers
Apple is making the AirPods Pro Motion API available to developers as well. This means we could see third-party apps taking advantage of Spatial Audio's dynamic head tracking technology for fitness apps, games, streaming services, and more.
Optimized battery charging
The only downside to AirPods is that you can't replace the batteries, and when they eventually wear out there's no way to listen to use them anymore.
To help stave off aging, Apple has now introduced optimized charging to the AirPods. Much like optimized charging in iOS, this allows your AirPods to learn from your daily routine, so they can keep the charge at a healthy 80% when on charge for long periods.
Don't worry, your AirPods will still charge up to 100% with just enough time before you normally take them off charge to use.
There's a lot to get excited about with iOS 14
There's a lot to love about the upcoming AirPods features, but that isn't all Apple announced at WWDC 2020. We also learned more about iOS 14, iPadOS 14, watchOS 7, and the all-new Mac update, macOS Big Sur.
Check out all our WWDC 2020 coverage and let us know your thoughts on the latest Apple announcements in the comments.