For years, the Apple Watch has been the industry leader when it comes to the wearables market. More and more people are leaving the world of Android just for the ability to have the health benefits of the Apple Watch. Plus, the Watch, combined with the integration of iOS, macOS, iPadOS, and even the AirPods, this is a combination that simply can't be matched.
Related Reading
We continue to see iterations from the likes of Samsung, who dominates the Android world. This was evidenced in 2020 by the updated Galaxy Watch 3, Galaxy Buds Live, to pair with the Galaxy S20 and Note 20 lineups. Nonetheless, Apple still maintains its lead over the competition and the Apple Watch plays an enormous part in that.
Apple Watch Series 6: Design & Specs
While the new iPhone 12 lineup saw a complete design overhaul, bringing back the old days of the iPhone 4 and 5, the Apple Watch did not see the same treatment. Instead, we have the same design overall, with a few minor tweaks here and there when compared to the Series 5. The Series 6 comes in either Aluminum, Stainless Steel, or Titanium, as Apple has retired the Ceramic editions from years past. All of the same sensors are onboard, with a new addition, along with the same battery life and water resistance.
Sizes: 40mm / 44mm
Display: 368 x 448 pixels
Case Materials: Aluminum / Stainless Steel / Titanium
Processor: S6
Battery Life: Up to 18 hours
Other Sensors:

GPS
Compass
Barometric altimeter
Accelerometer
Gyroscope
Ambient light

Heart Sensor: Blood Oxygen Sensor w/ ECG
Water Resistance: Up to 50m
In lieu of offering a larger display or any funky design changes, the Series 6 does come in some sweet new color options. Plus, this new Apple Watch ushers in a newly-designed series of watch bands. Gone are the days of being annoyed by the clasp on your wrist. Instead, we now have Solo Loops which are just one piece of flexible material that can fit just about anyone's wrist. As for those aforementioned color options, Apple brings the new Blue Aluminum and Product RED to the masses. Naturally, we opted for the Blue Aluminum model to match up with the Pacific Blue iPhone 12.
Apple Watch Series 6: Battery Life
Apple has been walking a tight rope over the last few iterations of the Watch when it comes to battery life. The company doesn't want to add so many features that battery life is degraded, but new features have to arrive to warrant an upgrade for users. This tight rope walk continues with the Series 6, as there aren't all that many new features in tow.
Brightness for the Always-on Display has been increased, which is more than welcome, along with the new S6 chipset and the Blood Oxygen monitor. However, Apple still claims battery life will come in around 18 hours, which is the same that we saw with the release of the Series 5 in 2019. While it's great to at least keep battery life the same, we are still waiting for the official battery rating to last at least 24 hours.
It's better than you think
Now, of course, those battery life measurements are all done in labs and other forms of testing, so there's always a chance that battery life could actually be better. Well, during the course of our review, the Series 6 consistently lasted at least a full day, if not longer. In our most recent period of testing, you can see that there were almost four hours of usage, and a day and a half of standby time.
To be fair, we are just working from home, don't really work out, and have the cellular chip turned off. However, this is still some pretty solid battery life regardless of whatever way you slice it. The real fun with the Apple Watch Series 6's battery life arrives via fast charging. Slap your Watch on the charger, go watch a movie, and chances are that the Watch will be finished before the end of the movie. This is a game-changer and something that we are welcoming with open arms, especially as charging on our iPhones gets faster.
Apple Watch Series 6: Measure your Blood Oxygen
In addition to the brighter Always-on Display, the other key feature to make its way to the latest Apple Watch is the new Blood Oxygen, or SpO2, sensor. This means that the array of sensors on the bottom of the watch has been re-arranged to make way for this new sensor.
Whenever testing your SpO2 levels, there is an array of red, green, and LED lights that work with photodiodes to convert the light into an electrical current. The lights shine onto the blood vessels in your wrist, with the photodiodes measuring how much light bounces back.  Then, the color of your blood helps to determine how much oxygen is in your blood. Oxygenated blood is bright red, while dark red blood usually indicates that there's less oxygen.
By default, this is enabled, but not only can you manually check your SpO2 levels, but the Apple Watch also takes periodic readings throughout the day. Although the data is shown automatically on your Watch when manually checking your levels, the Health app displays the information from those periodic readings.
If your blood does not have enough oxygen, it could mean that your lungs are not providing enough. If you're concerned with the readings from your Apple Watch Series 6, be sure to call your health care professional and ask questions.
watchOS 7
As is the case with almost every new hardware release, there is a new version of the software that comes along with it. The trend continues in 2020 with watchOS 7 and the Apple Watch Series 6 / Apple Watch SE. In addition to the latest versions of the Apple Watch, these are the others that are supported by watchOS 7:
Series 3
Series 4
Watch SE
Series 5
Series 6
This latest version of the software does mark an end of an era, however, as both the Series 1 and Series 2 are no longer supported. That opens the door for folks to upgrade to a newer Apple Watch, with a few options to choose from if you want the latest features from watchOS.
Purely from a software standpoint, there are a few changes in-tow, all of which seem to be for the better in our usage of the Watch Series 6. One missing component, that we were hoping to see by now, is the release of Fitness+. This was announced during the Time Flies event and is a new workout program that keeps track of progress. But it also shows the workout sessions on whatever Apple screen you have near you. Whether it's an iPhone, iPad, or Mac, it won't matter and removes the need for you to go to your local gym.
Sleep Tracking
As someone who sleeps about as well as a fish out of the water, I've always been interested and intrigued by sleep tracking. There are some really great apps on the App Store, but those are from third-party developers, and the integration with my iPhone and Apple Watch hasn't always been the greatest. So to see Apple take this seriously and bring it to the Series 6 got me excited.
This has been a much-requested feature, and thankfully, Apple didn't really do too much to make things complicated. While sleeping, your Apple Watch uses a combination of movement and tracks your breathing in an effort to determine when you're asleep. One key piece of the puzzle missing is the ability to actually track how you are sleeping throughout the night. Unfortunately, that's not something that Apple is quite ready to release to the wild just yet, because, in order to provide accurate tracking, it requires more complex readouts which is not currently possible with the Series 6.
Wind Down
Nonetheless, you can still track your sleeping patterns throughout the night, along with setting a "Wind Down" time. When set, the Watch buzzes your wrist to let you know that bedtime is near. After you've gone to bed, there will be a darkened watch face that will still be readable, even if you just want to glance at your wrist while rolling over. This removes the concerns of burning your retinas at 3 in the morning that was found in the days before Sleep Tracking and watchOS 7.
The next morning, your watch will attempt to wake you up by either buzzing your wrist silently or by emitting some gentle sounds. An all-new watch face appears, giving you some information about the day ahead. This includes the remaining battery life, weather, and an overview of how you slept. What makes this even more awesome is that if you hit your "Wind Down" time of the day, and you don't have enough battery life to make it through the night, your Watch will let you know as much so you can go throw it on the charger before actually going to bed.
How did you sleep?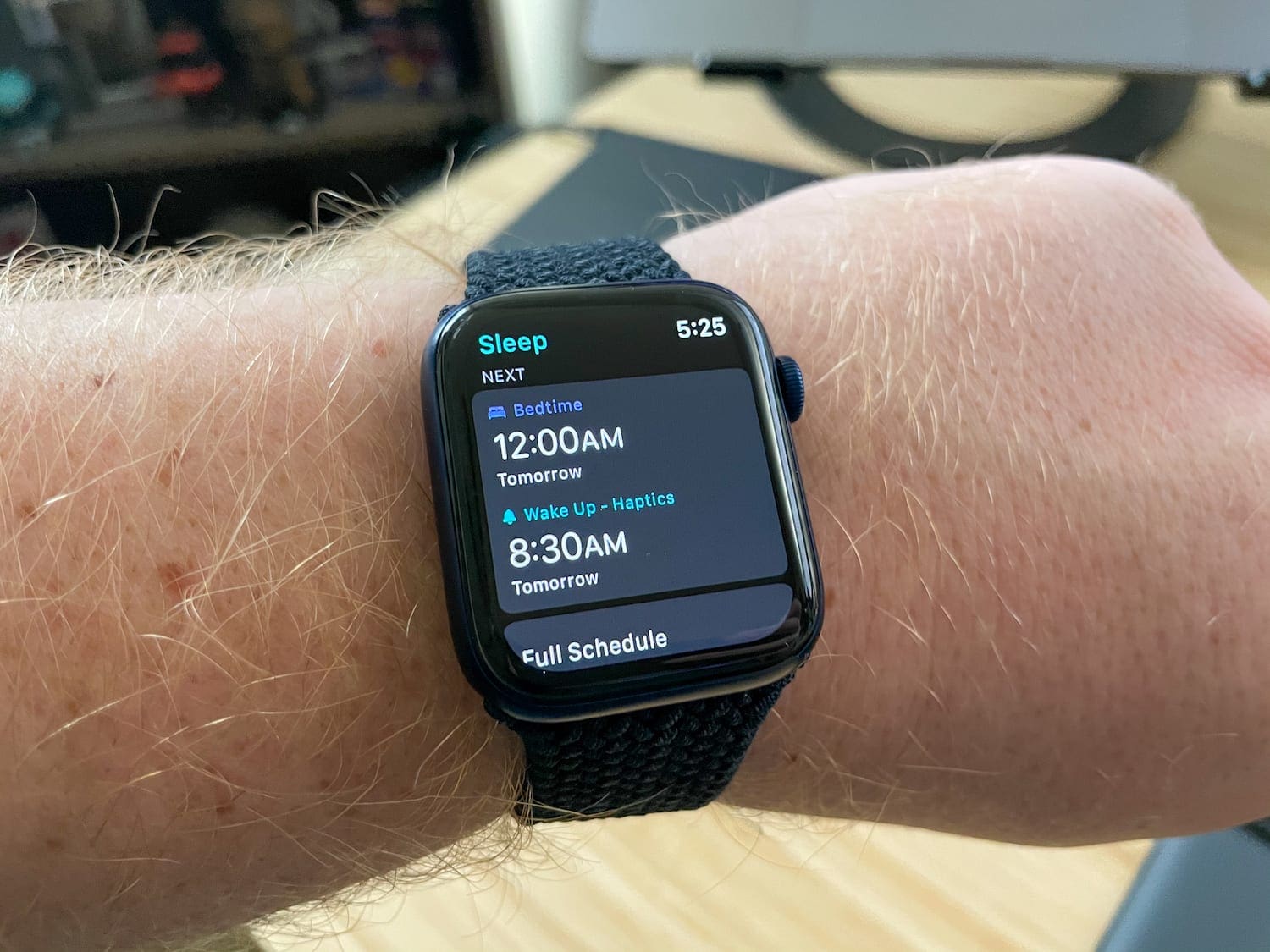 Now for the fun part. When it comes time to actually view the data on how you slept, just fire up the Health app on your iPhone. From there, a whole bunch of information is revealed, showing off how you've been sleeping over the last week, or the last month. Averages are shown off at the top for how long you spent in bed and how long you were actually asleep for.
As someone who had the Series 5 with watchOS 7, compared to the Series 6, I found that the tracking was pretty much on par with both wearables. Plus, it matched up pretty closely with one of the sleep tracking apps that I use on a regular basis, Sleep Cycle. Being able to have sleep tracking and helpful alarms to get to bed on time and wake up is phenomenal. Add in the iOS integration, and it's an instant home run.
Other new features
Apple also introduced a few other new features to the Apple Watch from a software standpoint. There is Siri Shortcuts support, removing the need to use your iPhone just activate a Shortcut. A few new watch faces have been added, and these are convenient, but nothing earth-shattering. What is earth-shattering is a two-fold game. First, you can finally add more than one complication from a single app to your watch face.
Previously, you were limited to only a single complication per application. That is no longer the case, so you can fire up WidgetSmith and customize your watch face. But you can also be a little more practical and create multiple watch faces that provide different bits of information based on the time of day.
Share and download watch faces
Are you not one for creating watch faces or don't know what you would really want? That's where the second part of the fold comes into play. Although we don't have truly-custom watch faces just yet, Apple has made it possible for you to view and share user-created watch faces. With apps and services like Buddywatch, just view a library of cool watch faces and then download it to your own Watch.
There's an added benefit from going this route too, as it makes it possible for you to find new and interesting apps. When downloading a watch face that includes an app you don't have, you are prompted to download it from the App Store. Just another way to make the most out of a situation. At least until Apple provides a proper way to create truly custom watch faces.
Apple Watch Series 6: Should you buy one?
So we've talked about what's new with the Watch from a hardware and usefulness standpoint, along with the new features of watchOS 7. Now it's time to decide whether you should pick one up for yourself. Speaking from personal experience, it's really a tough decision coming from the Series 5. Truth be told, if it weren't for the new Blue Aluminum color option, we probably wouldn't be here right now.
Battery life is about the same as the previous iteration, and those sweet new Braided Solo Loops are compatible with older Apple Watches. The brighter Always-on Display is a nice touch, but I didn't really notice the old version being all that "dim".
Keeping with battery life for just a moment, one other key feature to consider is the faster charging. Being able to get a full charge in less than two hours is a game-changer. Even just throwing the Watch on a charger for 30 minutes and knowing that I won't run out of juice has been calming.
Andrew is a freelance writer based on the East Coast of the US.
He has written for a variety of sites over the years, including iMore, Android Central, Phandroid, and a few others. Now, he spends his days working for an HVAC company, while moonlighting as a freelance writer at night.