In a student's world, classes, homework, and papers dominate time (or at least SHOULD.) When you're young, life is structured by your school schedule. For many adults, this life seems simpler. We remember it as a time when we didn't have to work too hard. After all, many of us had parents to provide guidance and maybe even help us with our school work. But if we REALLY remember, school was actually ALOT of work–and most of it was the kind you took back home to complete (or for college students, returned to your dorm to finish.)
What helps the modern day student the most?
Technology. Students these days cannot get by without a computer and their accompanying accessories and still expect stellar academic performance. So throughout this article, we look at some great Apple product options for students enrolled in the academic year of 2017-2018.
Apple does education, and its signature MacBook provide students with one of the most powerful as well as the lightest computer experience. The Apple MacBook Pro with the Touch Bar is awesome in the sense that it has a touch bar that replaces the function keys and while at it, offers shortcuts that are relevant to the program being used.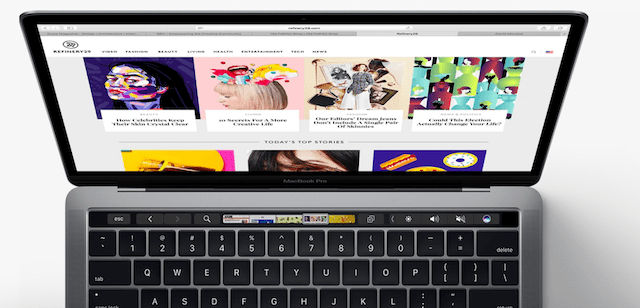 At a glance, Macs might seem expensive when compared to other cheaper laptops. While the other laptops are built on price, Apple has a firm belief in building devices that are built to last and that are powerful. When a student buys a Mac for their University, it's so well built with top of the line features that it should see them through to graduation without ever needing (or wanting) a new computer. Purchase Apple Care and you'll get three full years of support including hardware and software coverage.
Another good thing with Apple devices is the fact that you just literally walk into any Apple Store if you experience difficulties with your machine. And the Apple geniuses take a look at what's going on.
Yes, we all hear the horror stories of computers hacked and malware wreaking havoc on computers. Luckily for Apple users, malware and viruses are not very common on Macs or iDevices. So that's a real benefit of owning a Mac.
The MacBook non-pro editions are also very handy and a good choice. Inside you'll find seventh-generation Intel Core m3, i5, and i7 processors with super-fast 14-nanometer process technology. In regular language, that means your MacBook expertly combines BOTH energy efficiency AND the performance needed to take on all sorts of tasks in no time.
Best Back To School Apple Tech: The iPad Pro
Regardless of the task at hand, the iPad Pro is at all times, up to it. And as crazy as it sounds, this tablet offers more power than many PC's and yet, it is still very easy to use and take wherever you go. On the latest iPad Pros, Apple redesigned the Retina display for even greater screen resolution and color depth. Another plus for this gadget is the fact that it uses the iOS, which is the most secure as well as advanced mobile operating system. The iPad Pro offers modern computing at its best and is poised to even take it to greater heights.
Since its inception, the iPad (and iPad Pro) offers an easy to learn and use multi-touch user experience. And for students that love drawing or designing, the iPad Pro and its pencil are for you. There's a slew of apps out there to help you draw, design, and edit all your classwork and assignments. All compatible with the iPad Pencil.
The iPad Pro is also available in other sizes. We have been working with the new 10.5 iPad Pro and absolutely love it. If you are deciding between this model and its larger cousin the 12.9, you will find the following articles helpful.
It comes with a 10.5-inch display that has a screen that is 20% larger than the previous 9.7-inch model. Simply put, it gives the user a bigger screen and hence room to do more. The keyboard is also full-size on the screen. The Retina display is currently supporting a 120Hz refresh rate. This is good for movies and videos, and they play without distracting any artifacts. Regardless of whether one is using the display with their finger or the Apple Pencil, the response rate remains great.
Back To School Apple Tech: Considerations when buying an Apple gadget for a student
When looking for a good fit, it's important to keep in mind a few things.
How you intend to use the gadget
This is the major factor that every student should take into serious consideration before actually settling on the gadget to buy. If the gadget is simply for writing papers and note taking, then look for the one with the simplest of features. If on the other hand, you want a computer that performs complex activities like map drawing and such, go for a laptop with advanced features. The best thing with Apple products is the fact that many of them actually perform the majority of things most students need, from note taking and writing papers to video editing, artistic designs, and drawings, to sophisticated calculations.
Your budget 
Apple has a scope of products available in all different prices for a student to choose from. And if your budget is very tight, consider purchasing a refurbished Mac, MacBook, or iDevice directly from Apple. Most refurbs are from products released in previous years but occasionally you'll find the latest model as a refurb, with a significantly lower price. What's great about Apple refurbished products is that you get offered the exact same warranty coverage as a new machine. That's how strongly Apple believes in its refurbs.
Every year, around the start of school, Apple offers a Back to School promotion that for many, comes in handy. This year, for every new Mac or iPad Pro, you get a free Beats headset combined with discounted pricing at its online shop. So hey, kill two birds with just one stone.
It's all about the Apps!
Your apps matter. Yes, apps also play an important factor when considering what type of product you need for school. For instance, if during free time you enjoy playing video games, it is important to look for a gadget that plays all your favorite games without any issues. But if you enjoy watching and playing the stock markets make sure you buy a gadget that supports all the apps for your favorite online trading platforms. You get the idea. So before you buy, check that the computer or mobile device you're interested in is supported.
And don't ever forget the accessories
And although the Prime Day Event for Amazon is over, there's always some good tech deals on computer and iPad accessories. So if you are shopping for chargers, iPad Covers or wireless extenders, explore Amazon's amazing and wide variety of accessory selections.
Summary
With Apple products, you never go wrong. They're beautiful AND useful. Technology aids your schooling and just might allow you to enjoy all your "School Daze" a little bit more.
Simply put, Apple products are the best and are specifically tailored to meet your changing needs. So when school's out and you become another working professional, those same Apple products continue to support your career and your personal life. From writing and designing resumes to creating presentations at work, Apple products grow with you.
Obsessed with tech since the early arrival of A/UX on Apple, Sudz (SK) is responsible for the original editorial direction of AppleToolBox. He is based out of Los Angeles, CA.
Sudz specializes in covering all things macOS, having reviewed dozens of OS X and macOS developments over the years.
In a former life, Sudz worked helping Fortune 100 companies with their technology and business transformation aspirations.