Handoff is the name of an Apple continuity feature that makes it incredibly easy to work between the company's various platforms.
As long as you're on the Apple ecosystem, Handoff lets you seamlessly continue your workflow from iOS to macOS and vice versa.
The feature itself has been around for a while with relatively few changes — and if you haven't been using it, we highly recommend trying it out.
RELATED:
On the other hand, you may be a Handoff fan who has noticed something odd happening after downloading and installing iOS 12.
In either case, we have tips and answers for you.
A Few Things Before You Start
If you've never used Handoff before, it's pretty simple to set up. And chances are, you already have it ready to go and just never noticed!
To use Handoff, both of your Apple devices — macOS and iOS — must be logged into the same Apple ID. Similarly, both devices need to be on the same Wi-Fi network.
You should also note that Handoff will only work on Macs running OS X Yosemite and later.
If those criteria are met but you're still not seeing Handoff, you may need to enable.
Open Settings.
Tap on General.
Find and tap on Handoff.
Make sure the toggle is switched on.
Normally, in every version of iOS prior to iOS 12, you'd see a Handoff icon on the Lock screen. Which brings us to…
Where is Handoff Feature in iOS 12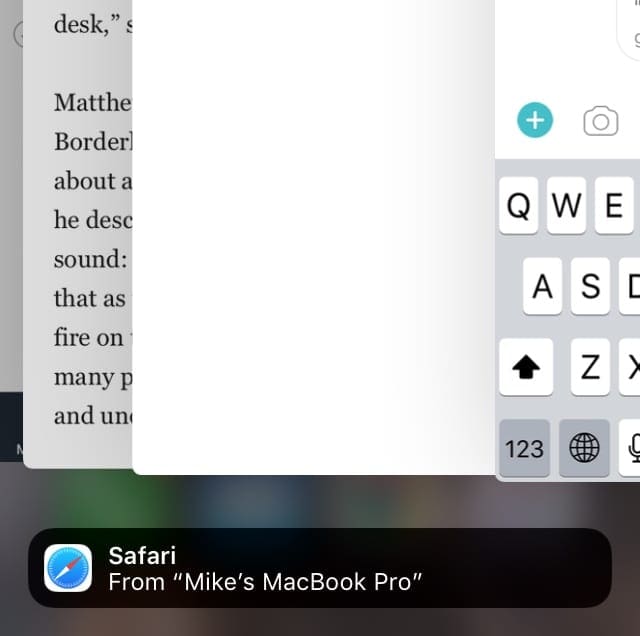 If you have been a regular user of Handoff, you may notice that it will no longer appear on the Lock screen after you've downloaded iOS 12.
It's not because Handoff is gone — it's still here in iOS 12. But Apple has changed where the Handoff icon appears (and it's in a much more convenient spot).
Basically, it's in the App Switcher. You can try this for yourself.
Open a Handoff-compatible app, such as Safari or Notes, on your Mac.
Grab your iOS device.
You'll need to get to the App Switcher. On pre-iPhone X devices, just double-click the Home button. On an iPhone X or later, swipe up and pause from the bottom of the screen.
The Handoff icon will appear as a banner across the bottom of the display beneath the open applications.
Once you tap on it, it'll work just as it always has — opening the URL, document or other data in the corresponding app.
The reason Apple made this change is pretty simple: Handoff worked great before — unless you had a notification.
You may have noticed that swiping up on a Handoff icon when there are notifications on your Lock screen didn't work. Now, Handoff is in an easier-to-access and more intuitive place.
Some Additional Tips
You can also work in reverse — going from an iOS device or Apple Watch to your Mac. Normally the Handoff.
Normally, the Mac handoff notification appears on the far left end of the Dock. But you can also press Command + Tab to quickly open the Handoff app.
Similarly, you can use Handoff to copy and paste text, images, photos or videos across devices. This is, of course, incredibly useful.
This feature is called Universal Clipboard. And as long as Handoff is enabled and working across your devices, you can use it. Just copy something on one device and try pasting on another.
Mike is a freelance journalist from San Diego, California.
While he primarily covers Apple and consumer technology, he has past experience writing about public safety, local government, and education for a variety of publications.
He's worn quite a few hats in the journalism field, including writer, editor, and news designer.