The day has finally arrived, when Apple held its first major event of 2022. The rumors have been swirling over the past couple of weeks, with some of them being right and others being way off. No matter how you look at it, Apple's latest announcement definitely didn't disappoint.
Related Reading
New iPhone 13 Colors
Apple almost always has to lead off by making some comment about Apple TV+ or one of the company's other services, and that's what we got. It was the perfect opportunity for CEO Tim Cook to mention Ted Lasso, while also showing off some upcoming movies and TV shows.
But after the brief promo was out of the way, Apple kicked off the event by introducing two new colors for the iPhone 13 lineup. The iPhone 13 will now be available in a new "Green" color option, while the iPhone 13 Pro comes in an "Alpine Green".
This comes as little surprise given that Apple made the same changes at last year's Spring event. But this also means that you won't be able to get them for a lower price, as they will just be added to the existing lineup. Both the iPhone 13 and iPhone 13 Pro in these new colors will be available starting on March 18.
iPhone SE 2022
The first major announcement during Apple's Peek Performance event was another expected addition. Apple unveiled the iPhone SE 2022, which retains the same design as its predecessor, based on the iPhone 8. This means a 4.5-inch LCD display, along with slightly-improved front and rear cameras.
However, the biggest change came via the processor, as Apple brought the same A15 Bionic chipset from the iPhone 13 and integrated it into the most compact iPhone. Apple claims this will provide 1.8x faster CPU performance and 2.2x faster GPU performance compared to the last iteration. But the A15 Bionic also makes it possible for you to enjoy ultra-fast 5G speeds if your carrier has ample coverage in your area.
Here's the full spec-breakdown for the iPhone SE 2022:
Display: 4.5-inch LCD (1334 x 750)
Processor: Apple A15 Bionic
Storage: 64GB / 128GB / 256GB
Front Camera: 7MP w/ Smart HDR 4 and Photographic Stylus
Rear Camera: 12MP Wide-angle w/ 5x Digital Zoom, 4K video recording
Battery: Up to 15 hours video playback

Fast-charge capable: 50% charge in 30 minutes (using 20W adapter)
Wireless Charging

Water Resistance: IP67
Extras: Touch ID fingerprint sensor, 5G w/ sub-6GHz, Dual SIM
Pricing for the iPhone SE 2022 starts at $429 for the base model with 64GB. Pre-orders for the latest iPhone begin on Friday, March 11, and it will be available for purchase starting on March 18.
iPad Air 2022
The next big announcement came via the iPad Air 2022. Apple didn't really change too much in terms of what the iPad Air looks like, but did add a new Blue color to the mix. Instead, the biggest changes arrive under the hood, as Apple's M1 chip is now powering one of its most popular iPad models.
There were some that expected Apple to stick with the A15 Bionic with the iPad Air, as to not cannibalize sales of the 11-inch iPad Pro. However, it seems that's just not the way Apple is going to move forward, as the M1 is now available in this new iPad Air.
Moving to the M1 chip, provides a massive 60% increase in CPU performance, along with doubling the GPU performance compared to the previous model. Apple event went so far as to state that the iPad Air 2022 is twice as fast as the "best-selling Windows laptop in this price range".
Another major upgrade for the iPad Air is in the selfie camera, as Apple finally brought its 12MP ultra-wide camera to the 2022 model. This means that you can now take advantage of Center Stage, allowing for you to always be the center of attention when on FaceTime calls.
Display: 10.9-inch LCD (2360 x 1440)
Processor: Apple M1
Storage: 64GB / 256GB
Front Camera: 12MP FaceTime HD w/ Smart HDR 3, Center Stage, and Photographic Stylus
Rear Camera: 12MP Wide-angle w/ 5x Digital Zoom, 4K video recording
Battery: Up to 10 hours video playback
Extras: Touch ID fingerprint sensor, 5G w/ sub-6GHz, 500 nits peak brightness, Stereo Speakers, Apple Pencil 2 support
Lastly, the iPad Air gains 5G connectivity, moving away from LTE. You'll be able to pre-order either the Wi-Fi or 5G version starting this Friday, with pricing to start at $599. The iPad Air 2022 will go on sale starting on March 18.
Mac Studio with M1 Ultra
Leading up to today's event, there was a lot of speculation in regard to what Mac(s) would be announced during the event. The MacBook Air, MacBook Pro, and Mac Mini are all due for a design refresh, but Apple pivoted to something else entirely.
The Mac Studio was officially announced, after being leaked earlier in the week. This is the most powerful Mac that Apple has ever created, and it's all possible to the M1 Ultra chipset. According to Apple, this is the "last" processor to debut in the M1 line, meaning that we aren't too far away from the M2 being introduced.
Nevertheless, the Mac Studio features a design that essentially looks like two Mac Mini's stacked on top of one another. It measures 7.7-inches around and 3.7-inches high, while being made from a single piece of aluminum. On the back, you'll find four Thunderbolt 4 ports, a 10 gig Ethernet jack, dual USB-A ports, an HDMI port, and a "Pro Audio Jack". Around the front, there are two more Thunderbolt 4 ports (with the M1 Ultra), and an SDXC card slot.
With the M1 Ultra, this is chipset features a 20-core CPU, a 32-core Neural Engine, and can be configured with up to a 64-core GPU. The M1 Ultra also brings support for up to 128GB of unified memory (RAM), which is double the limit introduced with the M1 Max. According to Apple, the M1 Ultra is 80% faster than the most powerful Mac Pro using an Intel chipset.
Mac Studio With M1 Ultra Specs
20-core CPU
Up to 64-core GPU
32-core Neural Engine
Memory: Up to 128GB
Storage: 1TB / 2TB / 4TB / 8TB
Ports (on back):

3.5mm Headphone Jack
4x Thunderbolt 4
1x 10Gb Ethernet
2x USB-A
1x HDMI

Front ports:

2x Thunderbolt 4 (up to 40Gb/s)
SDXC UHS-II
Mac Studio With M1 Max Specs
10-core CPU
Up to 32-core GPU
16-core Neural Engine
Memory: Up to 64GB
Storage: 512GB / 1TB / 2TB / 4TB / 8TB
Ports (on back):

3.5mm Headphone Jack
4x Thunderbolt 4
1x 10Gb Ethernet
2x USB-A
1x HDMI

Front ports:

2x USB-C (up to 10Gb/s)
SDXC UHS-II
While the Mac Studio with M1 Ultra is the most powerful chip that Apple has created to date, it's also extremely expensive. Pricing starts at $3999 at the base configuration, which might help to explain why there's another option available if you're interested in the Mac Studio.
Apple also announced that you will be able to enjoy the power of the M1 Max chipset with the Mac Studio. This is the same processor that debuted with the 14-inch and 16-inch MacBook Pro models, but is now available on a Mac desktop as opposed to only being available on a laptop. Pricing for the M1 Max Mac Studio starts at $1999. Pre-orders for either of these models is available starting today, with shipping to begin on March 18.
Apple Studio Display
Alongside the Mac Studio, Apple finally (FINALLY) introduced a more-affordable display. The Apple Studio Display has been announced, measuring in at 27-inches and sporting a 5K (5120 x 2880) resolution. It features up to 600 nits of peak brightness, along with supporting the P3 Wide Color gamut, and even Apple's True Tone technology.
In order to truly use this as your main monitor, Apple took things even further. There's actually an Apple A13 Bionic processor built into the display, to help manage all of your connections and the monitor itself. At the top, we have the same great 12MP ultra-wide-angle camera hidden in the bezel, allowing for quick and easy video calls along with supporting Center Stage.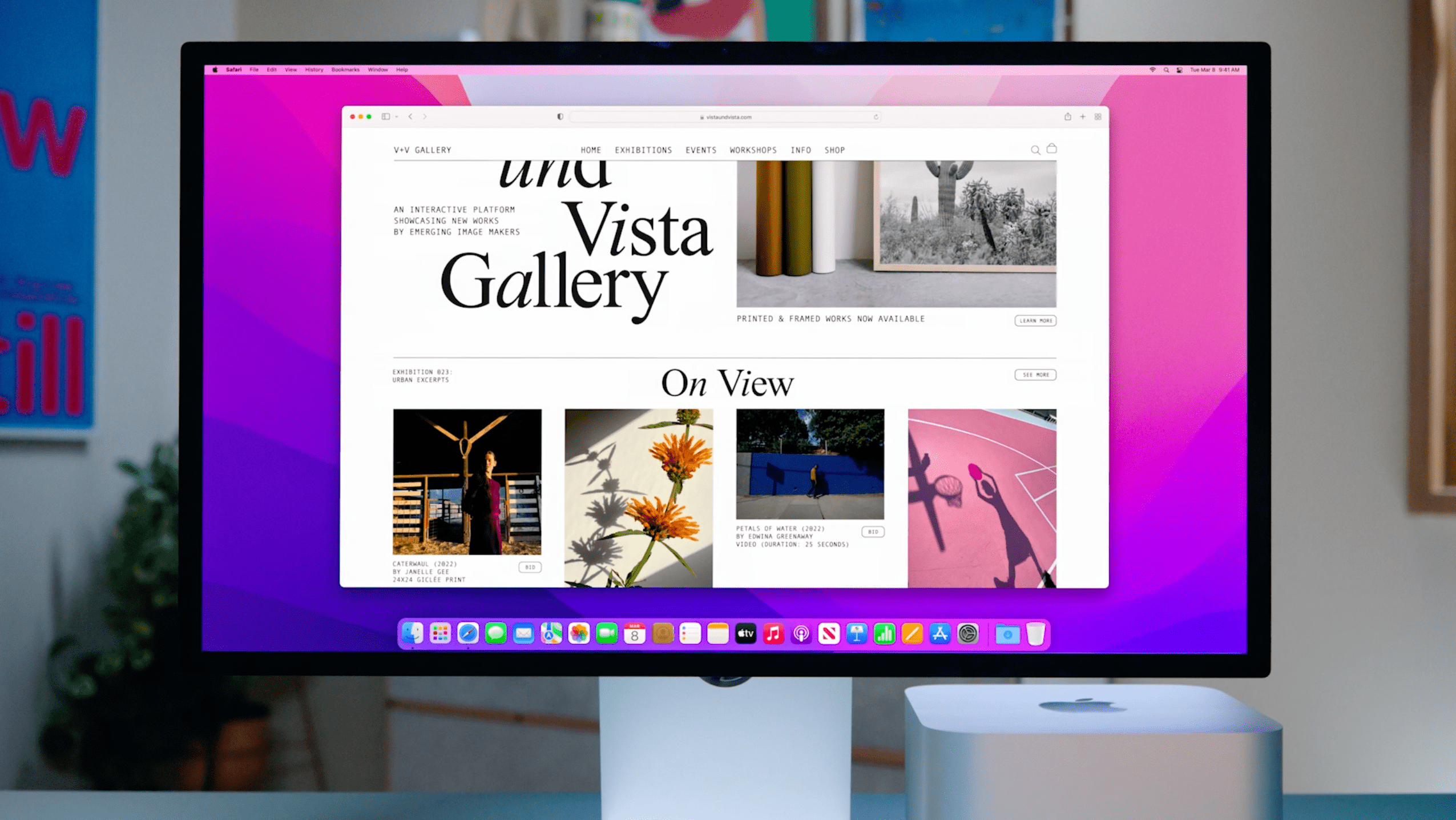 Display: 27-inch 5K Retina (5120 x 2880)

600 nits peak brightness
Wide Color (P3)
True Tone
Configurable with Nano-texture

Reference Modes:

Apple Display (P3–600 nits)
HDTV Video (BT.709-BT.1886)
NTSC Video (BT.601 SMPTE-C)
PAL and SECAM Video (BT.601 EBU)
Digital Cinema (P3-DCI)
Digital Cinema (P3-D65)
Design and Print (P3-D50)
Photography (P3-D65)
Internet and Web (sRGB)

Camera: 12MP Ultra Wide with 122-degree Field of View
Six Speaker System with force-canceling woofers and Spatial Audio support
Ports:

1x Thunderbolt 3 (USB-C)
3x USB-C (Up to 10Gb/s)
On the back of the monitor, there's a single Thunderbolt 3 port (via USB-C), and three standard USB-C ports supporting up to 10Gb/s transfer speeds. Apple is also touting this is as the most impressive speaker system yet, as it uses a total of six speakers along with force-canceling woofers. There's even Spatial Audio support built right in, which is just incredible.
Pricing for the Apple Studio Display starts at $1599 with either the tilt-adjustable stand or the VESA mount adapter. Those who want the Tilt and Height-adjustable stand are looking at a price of $1999. You can also configure the Studio Display with a nano-texture glass finish to help reduce any glare, but that will add an extra $300 to the price. Apple's all-new Studio Display is available for pre-order today, and will be available everywhere on March 18.
Andrew is a freelance writer based on the East Coast of the US.
He has written for a variety of sites over the years, including iMore, Android Central, Phandroid, and a few others. Now, he spends his days working for an HVAC company, while moonlighting as a freelance writer at night.