Wondering if you can you make audio calls using FaceTime? Absolutely!
We use it all the time. So yes, you can use FaceTime on your iPhone, iPad, iPod or Mac to make FaceTime audio calls!
Quick Tips 
Follow These Quick Tips To Make FaceTime Audio Calls on Your Apple Devices
Open the FaceTime App, select a contact (or for group calls, multiple contacts) and tap the phone icon instead of the camera icon
Use the Contacts App and choose the phone icon beside or underneath FaceTime
Ask Siri to make a FaceTime Audio call for you!
Related Articles
About FaceTime Audio Calls
FaceTime calls allow you to call anyone who has a Mac or an iOS device that supports FaceTime. To work, everyone must be connected to the Internet.
Plus, the sound quality of the call is pretty awesome too! Almost as clear as your old landlines.
FaceTime Audio is available now for all iOS devices and Macs using macOS Sierra and higher.
The downside? FaceTime only calls other folks with FaceTime. So it's a FaceTime-to-FaceTime audio connection.
Problems With FaceTime Using a Different iOS version?
Why Make A FaceTime Audio Call?
FaceTime Audio is a great way to make a phone call on iOS without using minutes or when you only have wifi.
For folks calling internationally, using FaceTime saves you money on calling family and friends who live around the globe.
The feature allows you to make a phone call over the internet to other FaceTime users.
Do FaceTime Audio Calls Count as Minutes on My Plan Or Show Up On My Phone Bill?
FaceTime Audio calls use WiFi or cellular data, but not cellular minutes. So FT calls do NOT count against your plan.
So Are FaceTime audio calls free?
Yes and no. You do not pay for each FT call but you do need a reliable internet connection via WiFi or Cellular/Mobile Data.
So there are no additional charges to make FT calls–just the regular amounts you pay for access to the internet!
How much data does FaceTime Audio use?
Many people assume that FaceTime Audio uses large amounts of data for its calls, but that's not typically true.
Most audio calls use less than a few MegaBytes (yes, MB) of data. Compared to video calls which use hundreds of MBs or more, making FaceTime audio calls is data-slim!
What About Sound Quality on FaceTime Audio Calls?
FaceTime Audio uses the AAC-HE codec at 16KHz to make your voice calls.
This codec produces an audio quality that's often better than your mobile carrier's HD Voice
Here's How To Use FaceTime Audio Calling On Mac
Open FaceTime
Select a previous contact or type in a name, email, or phone number in the search field

If you have a card for the person in Contacts, you can just enter the name

Tap the phone icon to make an audio call with FaceTime

For video, tap the camera icon (video automatically includes audio too)
If you set up your Mac to make regular phone calls, choose FaceTime Audio Call
How Do I Call Someone on Facetime Audio Using An iPhone, iPad, and iPod?
Open FaceTime
Tap the Plus Sign in the upper-right corner
Enter the person's phone number or email address

With iOS 12, you can add additional people to the call using Group FaceTime
If a contact is greyed out, they do not have FaceTime on their device or are using a non-Apple device

Tap the Audio Button

If the buttons are greyed out, you cannot make a FaceTime call to one or more recipient–try making an FT call to a single person instead
Make FaceTime Calls From Your Contacts App
To start, head into your contacts app

Find a contact who also has an iPhone or other Apple device because, like iMessage, FT only works with Apple products

After finding a contact with an Apple ID and clicking on them, you'll be shown their contact card, including info like phone numbers, email addresses, and birthdays 
One of the rows should say 'FaceTime', along with a video icon and phone icon
To make your FaceTime Audio call, simply push on the phone icon

Or press the call icon just below their name and choose FaceTime from the list! 
FaceTime Audio with Call Waiting
If you use iOS 8 or later, you can also use Call Waiting during a FaceTime audio call.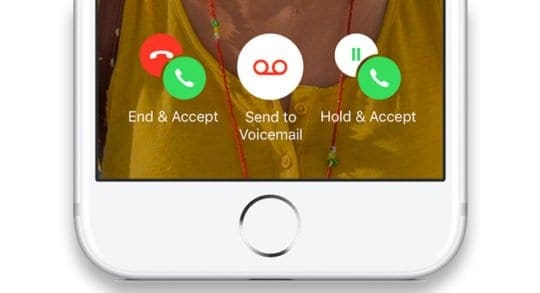 When another FaceTime or phone call comes in
End the current call and accept the incoming call
Accept the incoming call and put the current call on hold
Decline the incoming call
Use Siri on your iPhone or with macOS to use FaceTime Audio 
The FaceTime audio feature is "integrated deeply" into both the Messages and FaceTime apps, making voice communication between Apple users on any device easier than ever.
With Messages, FaceTime, and FaceTime audio on iOS and macOS, Apple has a complete communication system in place.
The best way to get your FaceTime audio going on the mac is to leverage Siri. Siri commands such as "Hey, Siri make a FaceTime Audio Call to AppleToolBox" get an audio call going without you having to lift a finger. 
You don't need to look someone in the eye to talk to them, either. If you own an iPhone as well as a Mac -– and your phone's on the same Wi-Fi network as your laptop – you can use Siri to make an actual call by saying, "Call Dad, home."
Make FaceTime Calls With Your Apple Watch!
While there is no FaceTime app for your Apple Watch, you can indeed make and answer FaceTime Audio calls! Pair your watch with AirPods for an awesome experience.
You can even answer as Audio on your watch and then change over to a video call once you pick up your phone.
Ask Siri to place a call
Say "Hey Siri," press and hold the digital crown, or tap open the Siri widget if using a Siri Watch Face
Then just ask Siri to place a FaceTime Call–with your watch, it's automatically an audio call 
Use the Apple Watch Phone App
Open the phone app
Tap Contacts or choose Recents/ Favorites
Tap on a contact to call
Select the phone icon and choose FaceTime Audio
Incoming FaceTime Calls on Apple Watch
When you have an incoming FaceTime video call, the watch only shows a phone (audio call) icon and the end call button–because the watch does not have a built-in camera.
Tap the green phone icon to answer the call on your watch as FaceTime audio. 
It's a great option when you just can't get to your iPhone or Mac but still want to answer a call.
Want To Record a FaceTime Audio Call?
FaceTime does not have a built-in screen or sound recording. And the screen recording function added with iOS 11 does not record audio!
For Macs, it's pretty easy to record your screen and audio using QuickTime > File > New Screen Recording and tap the arrow next to the record button to select your options for audio inputs (usually internal microphone.) 
For iOS devices, it ain't so easy! You can connect your iDevice to your Mac and use QuickTime, as mentioned above. But it's probably easier to use a third-party screen recording app–check the App Store and look for apps with awesome reviews!
Facetime Audio Problems in iOS and macOS Sierra and above, How-to Fix
Some users have reported that their facetime audio calls do not work after upgrading to the latest iOS or macOS Sierra. They receive the "Call Failed" or "FaceTime Failed" message. 
For iOS devices, see our FaceTime troubleshooting page.
Fix FaceTime Errors on macOS
For Macs, the simplest way to tackle this problem is to restart your Mac in Safe mode. Wait for 30 seconds and then restart your Mac. 
To restart your Mac in Safe mode, while starting up the Mac when you hear the startup chime, press and hold the Shift Key. Release the Shift Key when you see the Apple Logo on the screen.
Restart your computer and try Facetime again.
How to clear the Recent Facetime Calls on your MacOS Sierra
You can clear the lists of FaceTime video and audio calls you made or received.
In the FaceTime window, click Video or Audio.
Control-click anywhere in the call list, then click Remove all Recents.
 Recent calls are cleared from both the Video and Audio panes.
Summary
iOS (10-current) and macOS (Sierra-current) include a number of major changes to contacts and phone, including the ability for third-party apps to integrate with iOS as regular phone service. This could result, for example, in a WhatsApp call acting like a regular phone call.
We hope that these tips were helpful to you. Please let us know in the comments below if you have any issues. We have also produced a detailed FaceTime troubleshooting guide in the case you have other problems using some of the features.
For most of her professional life, Amanda Elizabeth (Liz for short) trained all sorts of folks on how to use media as a tool to tell their own unique stories. She knows a thing or two about teaching others and creating how-to guides!
Her clients include Edutopia, Scribe Video Center, Third Path Institute, Bracket, The Philadelphia Museum of Art, and the Big Picture Alliance.
Elizabeth received her Master of Fine Arts degree in media making from Temple University, where she also taught undergrads as an adjunct faculty member in their department of Film and Media Arts.