If you're in the market for a new smartphone, you may be considering the iPhone XS Max. The 6.5-inch flagship represents latest and greatest technology to come out of Cupertino, California. But is it right for you?
Related:
That's a hard question to answer. But it's helpful to go through some of the other more frequently asked questions about the iPhone XS Max. You have questions, we have answers.
What does the S stand for?
The 2018 iPhone lineup was an "S" year for Apple, meaning that the handsets were of an incremental nature. But that begs the question: what does the "S" stand for?
If you're looking for a short and easy official answer, there isn't one. Apple has never publicly acknowledged what the S stands for in its naming scheme — at least, not since 2009.
Way back then, Apple Senior Vice President Phil Schiller claimed that the "S" in iPhone 3GS stood for "speed." Since then, the S moniker has shown up in the iPhone 4s, iPhone 5s, iPhone 6s and iPhone XS lineups. (Yes, the "S" is officially lower-case in all lineups expect last year's.)
Some fans have theorized that the "S" stands for "successor," or that it depends on the lineup. For example, the "s" iPhone 5s stood for security, since it added 3D Touch. But that's just speculation.
What features does the iPhone XS Max have?
The iPhone XS Max is a pretty standard OLED flagship smartphone. That can mean different things to different people, so let's run through the specifications.
It features a 6.5-inch Super Rtina OLED display, a TrueDepth Camera for facial recognition authentication, and Qi-based wireless charging. The iPhone XS Max also has a 12MP wide-angle camera lens and a 12MP telephoto camera lens.
If you're looking for speed, the iPhone XS Max packs Apple's A12 Bionic chip. It's one of the fastest, if not the fastest, mobile processor currently on the market.
The iPhone XS Max also runs iOS, Apple's proprietary mobile operating system. It's an incredibly secure and stable platform, but it isn't as customizable or third-party friendly as Android.
It's available in Silver, Space Gray or Gold. You can get the device in 64GB, 256GB or 512GB. (The storage is nonexpendable, however.)
Does the iPhone XS Max come with headphones, an adapter or AirPods?
The iPhone XS Max does not come with AirPods. AirPods are currently a separate purchase for $159. But Apple's largest handset does come bundled with a pair of standard Lightning earphones.
It doesn't have a 3.5mm auxiliary port, so your current headphones may not work. Unfortunately, the iPhone XS Max also does not come with a 3.5mm to Lightning adapter.
How big is the iPhone XS Max?
You'll often see the iPhone XS Max measured as a 6.5-inch device. But that's slightly misleading.
That size specification comes from a measurement of the display on the diagonal. It doesn't mean that the device itself is 6.5 inches in any direction.
If you're looking for more specific measurements, here they are.
Height: 6.2 inches
Width: 3.05 inches
Depth: 0.3 inches
In the hand, the iPhone XS Max is going to be roughly similar to the Galaxy Note 9. It's also basically the same physical size as any Plus model iPhone like the iPhone 7 Plus or iPhone 8 Plus.
Is the iPhone XS Max the same size as the iPhone XR?
While the iPhone XR and the iPhone XS Max are both larger handsets, they're not actually the same size.
The iPhone XR has a 6.1-inch display on the diagonal, while the iPhone XS Max has a 6.5-inch display when measured on the diagonal.
So, yes. The iPhone XS Max is bigger.
It's hard to tell the physical size of the two devices from pictures on the internet. We recommend going to an Apple Store or your carrier and feeling which device size feels right to you.
Is the iPhone XS Max waterproof?
The iPhone XS Max is highly water-resistant. In fact, the 2018 iPhones were the first to feature an IP68 rating. But what does that mean?
Essentially, it means the iPhones are rated as being able to survive a dip in up to 3 meters of water for 30 minutes. They can also survive spills of coffee, soda, tea, beer or any other liquid you can through at it.
It does not mean that the iPhone XS Max is officially waterproof. If you're looking for something to take on long scuba dives, look elsewhere (or invest in a waterproof case). That's especially true since liquid damage voids your warranty.
On the other hand, the waterproofing measures that Apple has used here may deteriorate over time. So don't expect your iPhone XS Max to be highly water-resistant forever.
It isn't technically waterproof by any official measures. But in practice, it can go for a swim just fine.
Is the iPhone XS Max Dual-SIM?
Technically, the iPhone XS Max and its stablemates are dual-SIM. But that doesn't mean you can just pop in two physical SIM cards. Let us explain.
The 2018 iPhone lineup sports a proprietary Apple technology called eSIM — it's the same SIM tech that's present in cellular iPads. But they also have a nano-SIM slot.
What this means is that the iPhone XS Max is technically a dual-SIM device. You can have two separate phone numbers on a single iPhone and use them interchangeably.
Of course, your carrier will need to support eSIM and there's a bit of additional setup involved. eSIM is also not available in some regions, like China.
Is the iPhone XS Max unlocked?
In a nutshell, maybe. You can purchase an unlocked iPhone XS Max for use with any carrier, but not everywhere.
Apple sells SIM-free and unlocked models directly.
Most carriers sell models that are locked to their specific network and network standard (GSM versus CDMA). If you want to buy an iPhone through your carrier, make sure to research whether they allow users to unlock the devices after the purchase.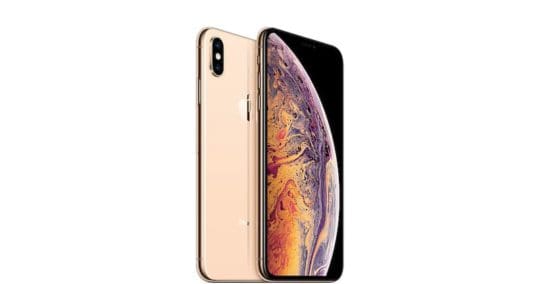 Is the iPhone XS Max 5G?
No, the iPhone XS Max is not 5G comaptible. And you're probably not using 5G anyway.
As of the writing of this technology, 5G has yet to be deployed across the U.S. And it may take a few more years for the average person in the country to be able to use it. The first iPhones with 5G-compatible chips are expected to debut in 2020.
Similarly, there aren't many 5G-compatible devices out there anyway, aside from a new niche and expensive Android devices.
Is the iPhone XS Max worth the price versus other phones?
This is a tough question to answer for a couple of reasons, including the fact that the iPhone XS Max is far from cheap with a starting price of $1,099.
The iPhone XS Max is an excellent handset that can still stand up to the best rival flagships today, despite the fact that it's been out for a while. Whether you should buy one is a harder question to answer.
It really comes down to whether you're an iOS fan or an Android fan. If you fall into the former category, the iPhone XS Max is the top-tier option with the full suite of Apple's latest and greatest features. (Although, if you're on a budget or prefer smaller devices, the iPhone XS or XR may be a better fit.)
If you're an Android fan, the iPhone XS Max may not win you over — although that's mostly due to the fact that it runs iOS and not Android. The iPhone XS Max is also missing a few Android-esque features, like expandable SD card storage and a fingerprint sensor.
Still, the iPhone XS Max has some unique benefits.
Apple's privacy policies and features are the cream of the crop in the tech industry.
iOS is also incredibly stable and easy to use. The App Store is also arguably of a higher quality than the Google Play Store.
The A12 Bionic chip in the iPhone XS Max is also the fastest smartphone chip on the market. When it comes to pure performance, the iPhone is hard to beat.
Will you be upgrading to a new iPhone this year? We want to hear from you.
Mike is a freelance journalist from San Diego, California.
While he primarily covers Apple and consumer technology, he has past experience writing about public safety, local government, and education for a variety of publications.
He's worn quite a few hats in the journalism field, including writer, editor, and news designer.