We're still trying to dissect everything that Apple announced during the WWDC 2021 Keynote and there's a lot. We received new versions of iOS, iPadOS, watchOS, tvOS, and of course, macOS. With macOS Monterey, Apple is continuing the merger of iPadOS and macOS as there are new features that work across both platforms. But what's new with macOS Monterey? Let's dive into it.
Last year introduced an all-new interface and more than a few less-than-subtle design changes. macOS Big Sur added a new control center and Notification Center with more customization options. These changes, paired with the spacing changes for different UI elements resulted in much speculation suggesting touch-based Macs were on the way. A year later, and we don't have any Macs with touchscreens, but it sure feels like we're getting closer.
In 2021, we have macOS Monterey, which keeps with Apple's theme of naming its desktop operating system after popular locations in California. It also quite a few changes to some key apps including the likes of Safari, FaceTime, AirPlay, and some others we weren't expecting.
What devices are compatible with macOS Monterey?
Just like the iPhone and iPad, Apple has an absolutely stellar track record when it comes to keeping old Macs updated. With macOS Monterey, the trend continues, as Apple is continuing support for Macs going all the way back to 2016. If you're wondering where your aging Mac falls on the list, here are all of the devices compatible with Monterey.
2016 and later MacBook Pro
2016 and later MacBook
2018 and later MacBook Air
2017 and later iMac
Late 2015 and later 27-inch iMac
iMac Pro
2018 and later Mac mini
2019 and later Mac Pro
What features are unique to macOS Monterey?
We've touched on how the feature-parity between macOS and iPadOS continues to grow. However, there are still some features that are unique to the Mac, even if they aren't as game-changing as what you might find on the iPad or iPhone. Here are all of the features that are unique to the Mac in macOS Monterey.
Universal Control
Okay, okay. This one's cheating a bit. But Universal Control is a feature that will be available (and controlled) through the Mac. It's not available in the first developer preview, but Apple stated that it will be coming. Arguably Universal Control stole the show and brought some excitement to the almost-two hour-long keynote.
With Universal Control enabled, you will be able to use a single mouse and keyboard between multiple Macs and multiple iPads. Or you can just it between one of each device. Essentially, Universal Control gives you _control_ over both devices at the same time. No, this isn't the same thing as SideCar, which turns your iPad into a secondary display.
During the Keynote, Craig Federighi demoed the feature with an iMac, MacBook Pro, and iPad all sitting next to one another. With the MacBook Pro acting as the "hub" for the keyboard and trackpad, he dragged and dropped files between all three devices. You'll be able to perform gestures using your Mac to perform tasks on your iPad.
AirPlay to Mac
Unless you're an avid user of AirPlay, you may not have realized or noticed something about the feature. Until macOS Monterey, you've never been able to send something **to** your Mac using AirPlay. Instead, you've only ever been able to send things **from** the Mac to your iPhone, iPad, HomePod, headphones, etc.
With the latest update, you'll be able to use AirPlay wirelessly with your Mac, or over a USB connection. And if you happen to be using a Mac that does not support this new feature, there's a workaround. You'll just have to sacrifice the quality or resolution of the content being sent to the Mac over AirPlay.
Changes to Finder
Finder got a bit of love with the update to Monterey, which we really weren't expecting too much here. With the update, you'll now see a progress window in the form of a pie chart when transferring files. Apple is also making it possible to pause the copying of large file copies, allowing you to take a break and resume later on.
We're also getting a new auto-completion engine so maybe searching in Finder won't be such a frustration. In the sidebar, you'll find a new iCloud collaboration folder. This will provide quick access to any shared documents, along with being able to view the last person to make modifications.
Wipe your Mac without restoring from scratch
In the past, whenever you needed to perform a clean wipe of your Mac, you would be forced to re-install the operating system. This was done for the sake of security, but this is being removed in Monterey. Thanks to the encryption on the Apple M1 chip or the T2 chip, the system immediately destroys any encryption keys.
Moving forward, if you want to start fresh on your Mac for one reason or another, you won't have to wait hours. All you have to do is wipe your Mac and you can forget about being forced to reinstall the operating system.
Better password management
We're still awaiting the arrival of a first-party password manager. For some reason, it feels like Apple continues to tiptoe around this, despite bringing all of the features you would find in something like 1Password. This trend continues in macOS Monterey, as there's a new Passwords section in System Preferences.
With this new section at your disposal, you can do things like import passwords from other password managers. You can even export them if you want to try and keep everything lined up between what iCloud is storing and your password manager.
Apple also introduced a built-in authenticator app. This will generate passcodes for accounts that require two-factor authentication. But the best part is that these verifications will auto-fill whenever you visit the site in Safari.
iCloud Passwords in Microsoft Edge
Not everyone is a fan of using Safari, especially if requires better website compatibility like what's offered by Chrome and Edge. And when it comes to passwords, it can be a real pain. But if you're a Microsoft Edge user, there's a new iCloud Passwords extension available to add to Edge.
Improved window management
Apple made some pretty drastic changes to window management in iPadOS. But macOS Monterey is also getting a few more subtle changes. The first of which is the ability to swap out apps that you are using in Split View. Simply click the green button, select the option to change windows, then select one of your open windows.
Apple is also making it possible for you to pull an app out of Split View and turn it into a full-screen window. When this is done, it will also turn the other window that you had open into a full-screen one.
One of the more frustrating aspects of windows management in macOS comes down to resizing. Apple is attempting to rectify that to a certain extent with macOS Monterey. Now, your windows will automatically resize to fit the new display when they are moved to a secondary display. This works if you move a window to another Mac (via Universal Control) or an iPad with SideCar.
Launchpad for games
While folks might not really use their Macs for gaming, the fact remains that it is possible. In macOS Monterey, whenever you download and install a game, a new folder is created in Launchpad. Not only can you navigate the folder like normal, but it can also be accessed if you're using a controller.
New wallpapers and screen savers
If it wasn't obvious by the marketing for the new iMac, Tim Cook and Apple seem to be paying much homage to the company's origins. There are all-new "Hello" screen savers and wallpapers. The wallpapers are available in seven different colors and change automatically between light and dark mode. As for the screen saver, "Hello" will appear in 34 different languages using a custom-design font reminiscent of the first Mac that showed "Hello" on the display.
Feature-parity between macOS, iPadOS, and iOS
Alright here comes the fun stuff. I wish we could see the road map for what Apple has in the pipeline, but more features are going the cross-device route. This means that we're seeing the same features made available across macOS, iPadOS, and even iOS. Here are a few of the biggest features available across the board.
Focus
Take Do Not Disturb as you know and love it, then pump it up with steroids. That's what you'll get with Focus. This is available across all of Apple's devices and allows you to create different profiles based on your needs. For example, you can create a Work Focus and set specific apps that will and won't send notifications. Creating a gaming mode can mute any notifications so your gameplay won't be interrupted. This is a pretty nifty feature that can also be integrated with Shortcuts.
Notes
We've been nearing this point, but tags have finally arrived in Apple's Notes app. This just offers another method of organization for your various notes. To go along with tags, you'll be able to use the Tag Browser. Instead of just showing you the library of created tags, you can also select a combination of tags to show a list of specific notes. Custom Smart Folders is another neat feature, that will automatically collect notes based on tags.
Seeing the popularity of apps like Craft and Notion, Apple has created a few new collaboration tools. There's a new Activity View to see a summary of changes to notes that have been shared. Highlights allow you to reveal any of the details of changes made, along with times and dates based on the highlighted notes. Plus, you can now @ mention collaborators to send them notifications and provide them with a link to the note.
Quick Note is going to become the quickest way for you to create notes from almost anywhere. On the iPad, this can be accessed by dragging the Apple Pencil from the bottom right corner. With the Mac, just hover your cursor in the bottom right corner and a blank sheet will appear.
With Quick Notes, you can adjust the size or position of the note itself, and move it around your screen. When adding links, a thumbnail from Quick Notes appears and will take you to the same place in an app or on a website. This also works when highlighting specific text and adding it to a Quick Note.
SharePlay is a feature-set of options that allows you to "share experiences" over FaceTime. This includes things like the ability to share music, TV shows, movies, and more in real-time. Apple has also created an API allowing other apps to integrate the ability to share things if you are using FaceTime.
This goes hand-in-hand with SharePlay, but there are new sections in apps like Photos, Safari, and others. Whenever someone sends you a link to an Apple Music song, it will appear automatically in the new Shared With You section in the app. The same section appears in other apps, giving you quick and easy access. What we don't know yet is whether other applications will be able to tap into this.
FaceTime
Have you been on FaceTime call and have a window open, only to have a leaf blower or lawnmower ruining everything? With Spatial Audio and Voice Isolation, your device uses machine learning to get rid of the background noise. This ensures that whoever is on the other end only hears your voice, and not anything else. Apple has also brought Portrait Mode to FaceTime, blurring everything around you.
Live Text
Apple is taking on Google Lens with Live Text. This uses on-device machine learning to detect text in any photos you are looking at. But then you can actually copy and paste the information into a note, or make a phone call just by tapping the number. Live Text works across all of macOS, including the obvious apps like Safari or Photos.
iCloud+
If you already subscribe to iCloud for more storage or Apple One, you'll now have iCloud+. This is a suite of features designed with privacy in mind, including a not-quite-VPN feature in iCloud Private Relay. With iCPR, your data is transmitted across two relays in an effort to keep your browsing information protected. This also provides improvements to HomeKit Secure Video including unlimited storage and unlimited cameras.
Reminders
Just like Notes, Reminders is adding Tags and the features that come with that. This includes Tag Browser and Custom Smart Lists. There's also better natural language support. With Reminders, you can now say something like "Take the trash out tomorrow evening" and it is parsed properly. Think of Todoist's natural language parsing, but in Apple's own Reminders app.
The biggest features in macOS Monterey
Whew. That's a lot of stuff. But there are even more features that are both cross-platform and bring enormous changes to macOS.
Shortcuts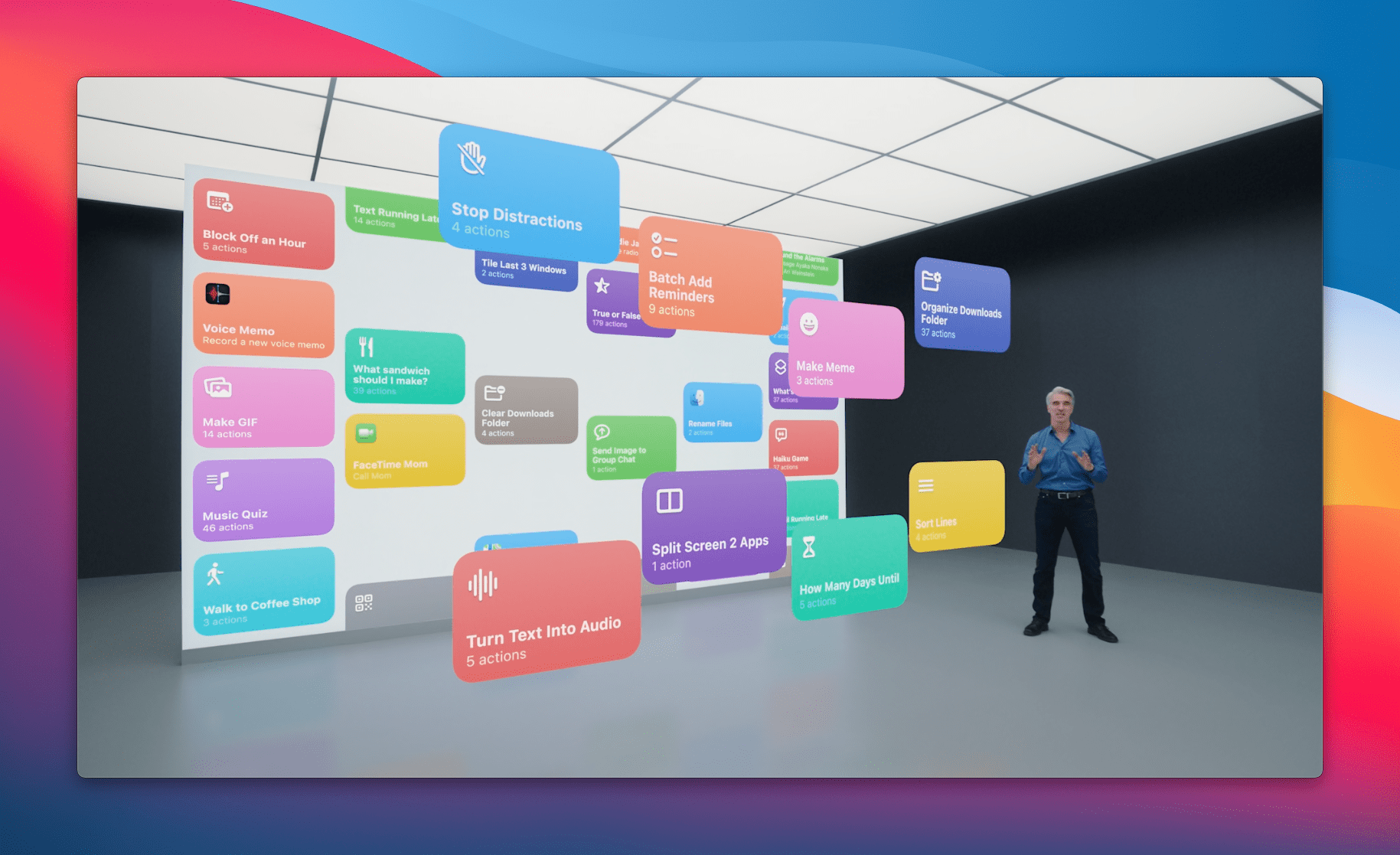 Before diving into the other features being added, the Shortcuts app is now available on your Mac. It's the same app that you already are familiar with from the iPhone and iPad. But now, you can create, use, and sync Shortcuts between your various devices.
You might be wondering what's happening to Automator. Not only is Apple making it possible to import Automator actions, but Shortcuts has been dubbed the "future of automation" on macOS. Apple didn't state exactly when Automator and AppleScript will be deprecated. But the introduction of Shortcuts on the Mac means that it's only a matter of time.
With Shortcuts on the Mac, you'll be able to use these across the entire operating system. This means you'll be able to run them from a Finder Window, Spotlight, your Dock, and many more areas. Since this is the same app as what's on your iPad or iPhone, you can also run shortcuts created on your more mobile devices from your Mac.
Safari
Safari is arguably bringing the most amount of changes across all of your Apple devices. There is a slew of new changes, including how you interact with your various tabs, bookmarks, and the way it looks. The new tab bar was redesigned in an effort to take up less room on the page. But what's even more interesting is that the Safari window will change its color to match the site you are visiting.
Since the tab bar was redesigned, this forced or allowed Apple to make changes to tabs on the whole. Tabs themselves are rounder making them easier to work with, while quickly adapting to fit the page based on other tabs. You can also now create tab groups, and then switch between those groups. So if you have a group of tabs based on research and another group based on sports, you can switch between the two based on what you're doing.
Apple is also taking this opportunity to change up how the Sidebar looks and functions. The new Sidebar makes it easy to manage tab groups, bookmarks, Reading List and Shared with You links. Extra features like Reader Mode or Translate have been moved to the "More" menu from its previous position.
Conclusion
At a glance, there's not much that has changed about macOS Monterey. But there are more new features and changes under the hood and in some of your favorite apps than meets the eye. Apple is going all out this year across all three device categories, and we're excited about it. While we're still awaiting the arrival of the M1X chipset, Apple is still plowing forward ensuring that its software is up to the task.
Andrew is a freelance writer based on the East Coast of the US.
He has written for a variety of sites over the years, including iMore, Android Central, Phandroid, and a few others. Now, he spends his days working for an HVAC company, while moonlighting as a freelance writer at night.