We are fully entrenched in a smart home war, with the likes of Google, Apple, and Amazon at the helm. These companies have provided various products that aim to improve our lives at home, in more ways than one. From smart speakers and smart lighting to smart plugs and streaming devices, there's something for everyone.
Related Reading
To be honest, Apple was a little late to the game, as it didn't release the HomePod until 2018. For comparison, Amazon was on the scene with the Echo all the way back in 2015, while the Google Home launched in 2016. But both Amazon and Google continued to have a leg up on Apple even after the HomePod's emergence.
What's so great about the HomePod Mini?
The reason that the likes of Google and Amazon continued to have a leg up on Apple was due to the variety of products offered. Not only could you get a primary speaker to ask questions or commands, but there were "mini" versions available. These could be placed pretty much anywhere in the home, giving you access to Google Assistant and Amazon Alexa. Plus, you can connect all of those speakers together and pump up the tunes while you clean the house.
We won't even get into the whole idea of a smart display, as both Amazon and Google have had options for years now and Apple still does not. Nevertheless, Apple is attempting to eat away at the competition's lead with the launch of the HomePod Mini.
Another one of the biggest gripes regarding the original HomePod was the price – $300. Google's Nest Hub Max is priced the same, but it's a complimentary product. The HomePod was the product for Apple's smart speaker "lineup". Having a HomePod in your living room was great, especially if you snagged two and paired them to your Apple TV. But that's an expensive venture by itself.
Enter the HomePod Mini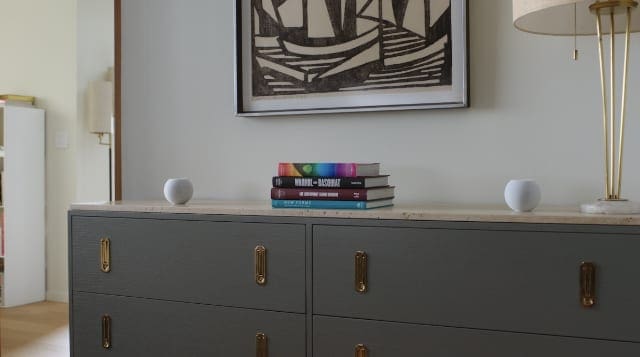 Fast forward to October of this year, and Apple finally brought us the smart speaker we have been wanting. The HomePod Mini was introduced, providing a familiar design with the mesh fabric outer cover. The top provides visual feedback whenever Siri is invoked, along with touch controls to adjust the volume or to play/pause.
Without getting to the price just yet, another great aspect of the Mini is that it's just so small and compact. Just like the Google Nest Mini and Amazon Echo Dot, you can put these anywhere. Want a smart speaker in the office, or bedroom, or kitchen? Now you can get Apple's option instead of the competitions.
Being able to have Siri at your disposal, without using your Watch or iPhone is truly amazing. And now you can do so without taking up so much space on a table.
Added benefits
We would have been just as happy if Apple said "here's the HomePod Mini and it works the same as your current HomePod". But that's not the Apple way. The company also introduced the new Intercom System, which helps to send voice messages through the HomePod and Mini.
If you're like me, and have an office with an Apple TV, you can grab two of these and create a studio pair. Then, sync them up with said Apple TV and enjoy stereo sound. No, it's not going to be as loud or have as much bass as the standard HomePod, but for an office setting, that's just fine.
There's also the amazing ability to have music playing on your iPhone, tapping the top corner of the Mini, and the music instantly transferring. It's something that none of the "other guys" are capable of. It's that good old-fashioned "Apple Magic" at work.
The Price
If you've been reading this long, then you probably already know what the price of the HomePod Mini is. Coming in at just $99, and offered in either Black or White, these are designed to give you Siri while matching up with your existing HomePod(s).
But the fact that you can get two (or three) of these for the price of one standard HomePod is absolutely phenomenal. Of course, as time progresses and we march towards new device launches next year and beyond, there are likely sales to crop up every once in awhile. So you'll be able to save even more money than forking out for just one HomePod.
The Holidays
If you pay attention to Black Friday shopping, or holiday shopping in general, these smart home products are always atop the charts. Amazon's Echo lineup of devices are practically lining up the aisles at your local big box store. Google's in the same boat, with steep discounts to try and get you to switch from Alexa to Assistant, or to entice you to get started in building a smart home.
But Apple fans have had to sit idly by for too long now, and may not like either platform. Whether it's because too much information is retained by the company's, or because the integration just doesn't work. But now, with the arrival of the HomePod Mini and the explosion of available HomeKit-enabled devices and accessories, your Apple-centric smart home can finally be put together.
How to get your hands on the HomePod Mini
So here's the big catch with the HomePod Mini. Apple's announcement couldn't have come at a worse time. The 2020 Holiday Season has arrived, and if you try to pick up the HomePod Mini from Apple, you're looking at a long wait for shipping. Those who want to try and venture into their local Apple Store may get lucky, as we have seen some Apple Stores with these in stock, albeit for a short period of time.
Your better bet will be to head to your local Best Buy, or keep an eye on Adorama for them to become available. For example, the HomePod Mini in White is available for pick-up and shipping at my local Best Buy, but the Space Gray version is nowhere to be found. So all we can say is that your mileage will vary. But one place you will be out of luck will be Amazon, as the online retail giant is not currently offering these. Likely because it's welcoming competition in an ultra-competitive space.
Andrew is a freelance writer based on the East Coast of the US.
He has written for a variety of sites over the years, including iMore, Android Central, Phandroid, and a few others. Now, he spends his days working for an HVAC company, while moonlighting as a freelance writer at night.