2020 was an interesting year in more ways than one. Just looking at the tech market, we saw a rise in devices firmly placed in the mid-range market, with Apple even getting in on the fun with the updated iPhone SE 2. But at the top-end of the smartphone spectrum, there's another war brewing.
Related Reading
Apple and Samsung are the two biggest names in smartphones, regardless of how you look at the market. But it seems that Samsung may have taken a pretty big step forward in terms of innovation. With the release of the Galaxy Z Fold 2, this provides a usable and reliable folding device. Meanwhile, Apple took the time to release its largest phone ever in the iPhone 12 Pro Max. So how do these two flagship monsters match up?
iPhone 12 Pro Max vs Samsung Galaxy Z Fold 2: Spec Comparison
| | | |
| --- | --- | --- |
| | iPhone 12 Pro Max | Samsung Galaxy Z Fold 2 |
| Display(s) | 6.7-inch OLED | 7.6-inch AMOLED + 6.2-inch AMOLED (Cover) |
| Refresh Rate | 60Hz | 120Hz |
| Processor | Apple A14 Bionic | Qualcomm Snapdragon 865+ |
| RAM | 6GB | 12GB |
| Storage | 128GB / 256GB / 512GB | 256GB |
| Battery | 3,687mAh | 4,500mAh |
| Selfie Camera(s) | 12MP | 10MP |
| Rear Cameras | 12MP (main) + 12MP (telephoto) + 12MP (ultra-wide) | 12MP (main) + 12MP (telephoto) + 12MP (ultra-wide) |
| Dimensions | 6.33 x 3.07 x 0.29 inches (160.84 x 78.09 x 7.39 mm) | 6.27 x 5.05 x 0.27 inches (159.2 x 128.2 x 6.9 mm) |
| Colors | Pacific Blue / Gold / Silver / Graphite | Mystic Black / Mystic Bronze |
| Water Resistance | IP68 | N/A |
| Biometrics | FaceID | Side-mounted Fingerprint Scanner |
iPhone 12 Pro Max vs Samsung Galaxy Z Fold 2: Where the Galaxy Z Fold 2 excels
Before diving too far into the nitty-gritty, Samsung takes an easy W in terms of innovation. The company has a few years of real-world experience under its belt following the release of the original Galaxy Fold. Meanwhile, Apple is only rumored to be working on a folding iPhone. We're keeping our fingers crossed that a flexible iPhone is in the works, but it's likely still a few years away.
Flex Mode
Samsung knew that there would be multiple ways that you would interact and use the Galaxy Z Fold 2. That's why the company added a slew of improvements for those situations, including Flex Mode.
Flex Mode takes advantage of the new folding system under the hinge which allows you to prop up your Z Fold 2 in different ways. Flex Mode is available in a range from 35 to 155 degrees, all without needing to use other accessories to prop up the phone.
When activated, you can prop your phone up on a table, fire up Netflix, and enjoy the movie on one side of the screen. The downward-facing display will show off all of your playback controls. This works with plenty of apps and is just another useful way to take advantage of the Z Fold 2.
Camera enthusiasts will love Flex Mode, as there is some extra fun thrown in. Launch the camera with the primary display wide-open, and then slightly fold the device until it reaches about 35-degrees. Capture View Mode is automatically initiated and provides a viewfinder in the top display, along with thumbnails and camera controls on the bottom.
Multi-tasking
There are some that don't believe true-multitasking is possible, but we would argue that. With the Galaxy Z Fold and its enormous 7.6-inch inner display, you can run three apps at the same time in split-screen mode. Regardless of the reason, having this flexibility cannot be understated.
Imagine taking a Zoom call on your phone while taking notes at the same time. All without needing to grab your laptop or tablet. That's because the tablet's already in the palm of your hand.
App Pair is a software feature that Samsung has been implementing for a few years now. This creates a quickly-accessible shortcut for two apps that you regularly use at the same time. There's even an "Edge Widget" which makes it easy to swipe over, tap the App Pair, and start using your favorite apps.
In combination with App Pair, another app can be used in "Pop-Up View". This opens another application in a floating window that can be dragged and moved around. Meanwhile, you can continue interacting with it as you need, along with having your App Pair taking up the screen real estate in split-screen mode.
Holding the future in your hands
It should come as no surprise that where Samsung nailed the Galaxy Z Fold 2 has everything to do with the foldable display. This isn't like the Galaxy Note lineup, although rumors claim that the Z Fold 3 could support an S Pen.
Regardless of what the future actually holds, the Z Fold 2 makes you forget about all of the other phones. This is the kind of phone that you expect to see in episodes of Star Trek, or other futuristic Sci-Fi movies and shows. But instead of seeing it on TV, you have it in your hands.
That's a feeling that just can be replicated at this moment in tech. Even when looking at the first iteration of the Galaxy Fold and the Z Fold 2, it's like these are two different devices entirely. Compared to the rest of the market, and it's not even a contest. The Z Fold 2 is just different.
iPhone 12 Pro Max vs Samsung Galaxy Z Fold 2: Where the iPhone excels
It's for good reason that the iPhone is arguably the most popular handset across the globe. Instead of rushing features and design changes, the company takes a more calculated approach. Sure, there's no 120Hz refresh rate on the 12 Pro Max, but that can be overlooked simply due to the size of the display and how smooth iOS is to use. Here are a few more places where the 12 Pro Max is a better option.
Improved Camera System
If you're someone who has to have the best camera, regardless of platform, head over to Apple and grab the iPhone 12 Pro Max. This is the best camera system that the company has ever implemented into a device. It blows everything away that we have used, short of an actual DSLR (although it's closer than you think).
When you look at the spec comparison between the 12 Pro Max and Z Fold 2, it looks exactly the same. Three 12MP cameras with different focal lengths for different scenarios. But Apple has turned things up a notch when compared to the competition.
Apple Just Put Android Phone Makers on Notice With the iPhone 12 Pro Max
The 12MP telephoto sensor features an aperture of f/2.2 and is a 65mm-equivalent. This is important as Apple is clearly trying to provide a camera capable of snapping "classic portrait style" images. Even the optical zoom has been upgraded, providing up to 5x zoom.
All of these changes, along with the image processing and new Sensor-Shift image stabilization, makes for an incredible combination. Sensor-Shift will greatly reduce camera shake, removing the need to try and hold your breath while snapping a picture or recording a video. Plus, we haven't even touched on the improvements between the software and hardware for some night-mode updates.
MagSafe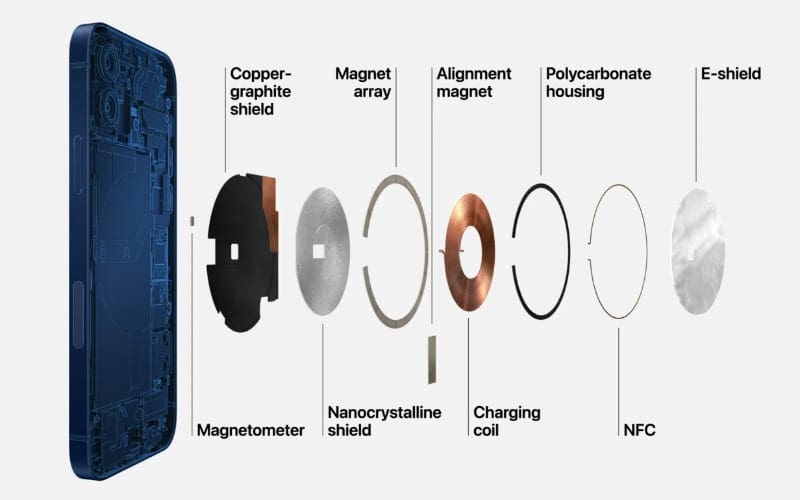 To be honest, this could be one of the bigger reasons to use one of the new iPhone 12's. The MagSafe brand was re-introduced, and we've covered what it does and all of that already (with more coverage on the way). But MagSafe has the ability to change how you use your phone, how you charge it, and what you take with you when you leave the house.
Don't want to carry around a bulky wallet? Slap on the MagSafe wallet to take only the essentials. Want to get rid of the cables and charge wirelessly (and faster than other iPhones), grab the MagSafe puck and charge it up. There are more and more accessories that either work in tandem with the MagSafe puck, or have the technology directly integrated.
Apple didn't reinvent the wheel with its recycled branding. It just changed how you think about accessories.
Biggest iPhone Screen ever
Measuring in at a whopping 6.7-inches, Apple swung for the fences with the 12 Pro Max. Part of the reason that this change in size was possible came down to the change in design. For years, iPhone fans have been clamoring for a reintroduction of the iPhone 4's design language.
It was first introduced with the iPad Pro update back in 2018. That got rid of the curved edges and gave us the squared-off rectangle we have been hoping for. But the iPhone was still stuck in its now-defunct design language.
Picking up the iPhone 12 Pro Max, even with this enormous display, is comfortable, to say the least. Sure, you might have to play some finger gymnastics to reach the top, but iOS has features built-in to make it easier. The display is just stunning to look at, and a joy to use for playing some Call of Duty Mobile, or just browsing the likes of Twitter or Reddit.
iPhone 12 Pro Max vs Samsung Galaxy Z Fold 2: Android vs iOS
We aren't going to take the time and hash out the age-old argument about whether iOS or Android is better. Obviously, this is an Apple site, but it's always fun to see what's going on elsewhere in the world. But the truth is that Android has advanced well enough to even make the Galaxy Z Fold 2, other foldable phones, possible.
Despite sporting the largest display ever found on an iPhone, the 12 Pro Max lacks any true multitasking capabilities. Sure, you can use picture-in-picture for watching some YouTube or Twitch. But that's not what we're talking about.
Switch from Android to Apple: The Ultimate Guide
Imagine an iPhone where you could have Twitter and your messaging app open at the same time. Or maybe you play in multiple Fantasy Football leagues and want to track everything. Well, on the iPhone, you're stuck with switching and swiping between apps.
On the Galaxy Z Fold 2, you can have three apps open on the display at the same time. That's all thanks to the customizability of Android, and the software tweaks that Samsung has made to enhance the experience.
iPhone 12 Pro Max vs Samsung Galaxy Z Fold 2: Final Verdict
We aren't going to say that the iPhone 12 Pro Max is without a doubt, better than the Galaxy Z Fold 2. This is a comparison of the two best phones that either Android and iOS has to offer. Apple and Samsung have pushed the limits of what our smartphones can do, and we are the ones that get to benefit.
If you really want to live on the cutting edge of technology, then grab the Galaxy Z Fold 2. The cameras are not as good, but that's one of the few sacrifices you would have to make to have a phone that folds in half, and still sports an outer display to use at your leisure.
The iPhone 12 Pro Max is the best, fastest, and biggest iPhone ever to hit the market. It's enormous with a beautiful display coupled with an even better design. You'll find the best cameras in the business, along with battery life that will surprise you every step of the way.
With the introduction of MagSafe, iPhone accessories will never be the same. And you'll be able to get rid of the charging cables for good with the fastest wireless charging found in an iPhone.
Andrew is a freelance writer based on the East Coast of the US.
He has written for a variety of sites over the years, including iMore, Android Central, Phandroid, and a few others. Now, he spends his days working for an HVAC company, while moonlighting as a freelance writer at night.