Apple's iOS system is a very robust platform. Apple (and App Developers) tests most Apps meticulously, and they are very stable before being released in the App Store. There are however times when you will find the annoying problem of either Apps Stuck while installing or frequently crashing after the install. In this article, we provide you with some tips on solving some of the common aspects related to your App experience for your iPhone. And we offer some workarounds if you are having issues with your Facebook App.
Related Articles
Apps Stuck: Is it my iPhone?
When the Apps crash or are not working correctly, it is natural to assume that there is something wrong with your iPhone or iPad. Stay Calm and breathe deeply. The first thing is to check and make sure that the problem is not with Apple's servers. There are many times when the Apple Store or the Apps such as Safari are hit with outages, and this will impact your experience until Apple fixes the problem on their side. Sometimes this happens when Apple is trying to release updates to their software.
Check the status of Apple's apps at any given point by clicking here.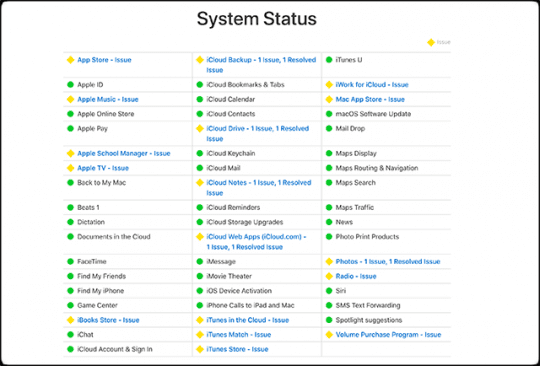 Apps Stuck Or Hanging
This problem usually happens when you are trying to install an App. While installing, the app hangs in the process. To fix this problem, please try the following steps
Step – 1 Restart
When in doubt, always Restart. Worked with good ole' PC's and works now as well! Press and hold the Sleep/Wake button until you see the red slider appear. Drag the Slider to turn your device completely off. After the device is turned off, press and hold the Sleep/Wake button until you see the Apple logo appear.
Step – 2 Check Usage
Go to Settings > General > Usage. You will see all the Apps listed on the screen. Tap on the App that is not installing
Step – 3 Delete App
On this screen, please go ahead and tap on Delete App and confirm on the next screen.
Step – 4 Go to App Store
Now that you have successfully deleted the App from your iPhone 6, go to your home screen and tap on App Store App. Tap on Purchased in the Updates screen.
Step – 5 Install App Again
Locate the App under "All" tab and install it again by clicking on the iCloud button.
Didn't Work?
Your next option would be to Reset the settings on your iPhone or iPad. This action will not erase any data on your phone, but it resets your wallpapers and WiFi networks and removes any stored network info. To reset your Settings, Go to Settings > General > Reset > Reset All Settings.
Once the device powers on, try installing the App by following the Steps 4 and 5 from above.
My App keeps Crashing or Unresponsive
The first order of business for this issue is to force the unresponsive app to close.
Step – 1 Force Close
You can force the app to close by:
Press the Home button two times quickly. You'll see small previews of your recently used apps.
Swipe left to find the app you want to close. Swipe up on the app's preview to close it.
Step – 2 Uninstall
If the App in question is a third party App that you downloaded from the App store, then try to uninstall it by going to the home screen and tap and hold on any icon. When the Apps start to wiggle, tap the 'X' in the corner for the app and delete the app.
Step – 3 Reinstall
Go to your iTunes store and install the latest version of the App.
My Facebook App is not working
 Facebook is one of the most popular Apps that are used by everybody. This is also one of the most resource intensive apps in that it consumes a lot of storage as well as drains a lot of battery on your iPhone.
Step – 1 Open Facebook (if possible)
If you are experiencing issues with your FB App, Open the FB App on your iPhone. Click on "More" at the right-hand corner of the screen. If you are using your iPad, you will see this at the right-hand bottom corner of the screen.
Step – 2 Go to Settings
Tap on Settings >Account Settings >Browser and choose clear data. By clearing the browser data, it will speed up your Facebook experience and hopefully fix any problems that were happening related to external web pages that you were accessing in FB.
Use Facebook on the Web, not the App
Since the FB App consumes so much life out of your iPhone, you may also want to decide to remove the app from your iPhone and use an alternative way to access FB. Delete and uninstall your Facebook App from your phone.
Step – 1 Open FB on Browser
Open Facebook on your Safari by going to www.Facebook.com and enter your credentials.
Step – 2 Add to Home Screen
Tap on the Share button and add it as a web app by choosing "Add to Home Screen." This will install the Facebook page on your home screen for you to quickly access your account thereby eliminating the need to install the app on your device.
Please Feel free to Share this article if it helped you with your crashing and unresponsive Apps on your iPhone or iPad. If you have additional tips that you would like to share, Please share it via the comments.
Obsessed with tech since the early arrival of A/UX on Apple, Sudz (SK) is responsible for the editorial direction of AppleToolBox. He is based out of Los Angeles, CA.
Sudz specializes in covering all things macOS, having reviewed dozens of OS X and macOS developments over the years.
In a former life, Sudz worked helping Fortune 100 companies with their technology and business transformation aspirations.