The iPhone 7 showcases some cutting edge technology and incredible features. But the most important part of the smartphone experience is THE APPS. And for iPhone 7 owners, there are a few amazing apps that get even better when used on the iPhone 7 models! Most of these apps take advantage of the 7's new camera and its upgraded stereo speakers. So we've compiled a list of 7 iPhone apps that are amazing on the iPhone 7–let's call this the magnificent 7!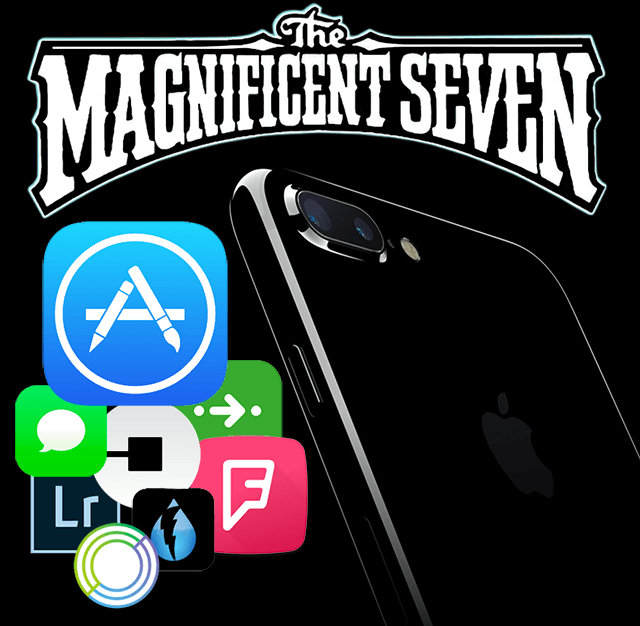 Most apps are the same old ones that you just cannot live without while few are relatively new on the block. There is so much you can do with these apps from sending money to friends to taking that perfect shot. So without further ado, here are 7 such apps that are a
So without further ado, here are 7 must-haves apps for your new iPhone 7
Adobe Lightroom
If you upgraded your iPhone for taking excellent pictures, you made the right decision. Adobe Lightroom allows you to edit images like a professional and share them with the world. It serves as a robust test for the new iPhone 7 camera, especially the dual cameras in the iPhone 7 Plus. Not only does this app let you edit pictures, but it also enables you to capture in professional formats like RAW or DNG–and that's a game changer for many practitioners and prosumers!
Your pictures have the same quality as if it was taken by a professional-quality camera, without the sticker shock. Lightroom supports the dual camera in iPhone 7 Plus, and that is the magic that helps it produce bright photos even in the dark. There is a free and paid version of the app. The paid version includes features like importing, editing and syncing raw pictures and a Local Adjustments tool that lets you selectively apply Exposure, Brightness, Clarity, and other adjustments to a particular part of a photo.
For Adobe Creative Cloud members, we really love that Lightroom syncs across devices, between my computers, iPads, and iPhones. And sharing photos is easy in any way you want, including Instagram, Facebook, Twitter, Flickr, and more.
Uber
Uber needs no introduction as it is the world's most famous ride app. So what is new about Uber in iPhone 7? You order a ride in Uber through Siri, as if it was not easy enough already. With iOS 10, third-party apps now access Siri which is fantastic for all of us. All you have to do is tell Siri that you need an Uber and it shows you what is available, and then you order your ride. You get estimates on cost and an interactive map. And if you are not a big fan of Uber, Siri also works for Lyft, another very popular ride app.
CityMapper
CityMapper is a very useful app for navigation, and with the 3D Touch on your iPhone 7s, it gets even better. You access shortcuts by pressing the icon of the App and do things much faster. Find nearby bus stops or stations, share your location with friends and family on Whatsapp, or discover quick shortcuts to places around the city or neighborhood.
You can even save landmarks and route stops which the appear on the widget. Just a quick tap begins your journey. City Mapper makes your life incredibly easy especially in the towns with difficult road and transit networks.
Foursquare
With iOS 10, Apple paid some serious attention to the notifications bar and made it much more detailed and interactive. Foursquare, an app that serves as a guide for cities now sends smart notifications customized for you. It uses your likes in food and shopping and your previous visits to recommend similar places for eating out. And thanks to the improved notifications, it sends you recommended restaurants or cafés with pictures and the location so you locate the place easily.
Circle Pay or Smart Cash Apps
These are probably one of the most useful things you get out of the revamped Messages app on your iPhone. Besides glittery graphics and myriads of stickers, with the Circle Pay or Smart Cash apps, you share money with your friends and family using iMessage. Sending payments is now as simple as sending an emoji.
These apps allow you to send money from your bank account to another account for no charge. And set up's a snap. Just take a picture of your debit card. Even send cash with Siri! Circle Pay and Smart Cash are secure, quick and free digital ways for transferring money to someone. Circle Pay supports Touch ID, PIN and is FDIC-insured!
iMessage Mayhem
iOS 10 marked iMessages crossing the threshold into real maturity! Since it opened to developers, iMessage has exploded with growth, opportunity, and a heck of a lot more fun. Draw custom messages, doodle on pictures, send stickers and much more. And there is a partner iMessage store where you download or buy stickers, games, productivity tools, city guides, food and drink recommendations, even photo & video manipulation tools.
So why not, paint your cat into your next iMessage photo?  For those that adore playing Super Mario Run, share the love to your friends and family with Super Mario Stickers for iMessage. Some of them are downright hilarious.
Dark Sky
Dark Sky is one of the best weather apps on the App store as its forecast is the most accurate. Much like Foursquare, Dark Sky sends you smart notifications, only this time about your local weather. The notification itself is filled with everything you need to know, from the time it is about to rain to the time it is about to end.
You don't even need to unlock your iPhone. Just read your local weather report on the notification itself. Or head to your widgets screen, and get the nitty gritty details of your weather without even unlocking your phone.
Wrap Up
All the apps on this list except Dark Sky offer free versions which make them even more desirable. And for those still with iPhone 6S and below, many of these apps do the same stuff they do on iPhone 7s, just with a little less flair! All you have to do is update your iOS to the latest iOS and get your hands on these exciting new features and fantastic apps.