Some users report an issue in which Photos (or iPhoto on older OS) no longer recognizes the iPhone as a camera. Consequently, you are unable to import images from the device to your Windows or Mac computer.
We see this problem most often after an iOS, macOS or OS X software update, or following a firmware update. And of course, sometimes it's just totally random.
Fixes for Photos or iPhoto Won't Recognize iPhone
Make Sure Your Computer is Trusted
When you connect your iPhone, iPad, or iPod to a computer for the first time or after a reinstall, you might see an alert that asks whether you trust the computer. 
Confirm on your iPhone, iPad, or iPod that it trusts your Mac.
Close Other Apps 
If you have other programs open that connect to your device (especially apps that use your photos), quit those apps first and then launch the Photos App on your Mac.
Close Final Cut or iMovie
In some cases, Final Cut or iMovie interferes with Photos' ability to recognize the iPhone.
Try quitting both of these applications then disconnect and reconnect your iPhone.
Quit Photos and iTunes
Try quitting both iTunes AND Photos. Then unplug your iDevice and plug it back in.
Once both iTunes and Photos launch, see if your device is recognized.
If so, quit iTunes and use Photos normally.
Manually Select Your Device
If Photos does not automatically recognizes and open your device, try instead to select your device from the View Menu or Sidebar manually.
Go to the top menu or the left sidebar in Photos, and choose Devices then choose your device. Wait for your photos to populate.
Don't see the Photos app sidebar?
For macOS versions, try viewing the Photos app in Full-Screen Mode by selecting View > Enter Full Screen or using the keyboard shortcut of Command + Control+ F.
Also, make sure that Always Show Toolbar and Sidebar in Full Screen is enabled for your View settings.
For older OS X, to display the sidebar in Photos, choose View > Show Sidebar, or press Command-Option-S.
On MacBooks, try hovering your mouse over the left edge of the Photos app window until you see a crosshair. Then, drag that crosshair to the right to reveal the Photo app sidebar.
Change Photo Settings
If using iOS 11 and above, it's possible that your Mac doesn't recognize the new HEIC format for images.
So turning off the new HEIC image file format often does the trick.
On your iPhone, go to Settings > Camera > Formats > and select Most Compatible.
Help Photos Locate Your Device
Open Photos then click the device under Devices in the sidebar.
Also, try using the Import option under Photo's File Menu. Then unlock the iPhone or iDevice and see if the app recognizes your device. 
Another option is to click on View in the Photos main menu, then select Devices, and finally locate and choose your Apple iDevice.
Plug Directly into a USB port on Mac
If you use a Hub or plug into your keyboard's USB ports or via another device, try plugging directly into a USB port on your Mac–this often solves the problem!
If you're already plugged directly into one of your Mac's USB ports, try a different port.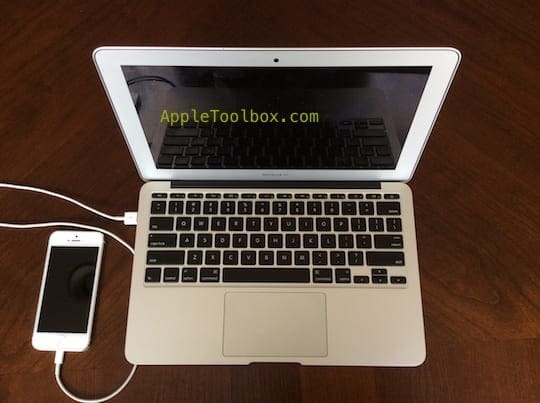 Check Your Cables!
Make sure that you use the original cable that came with your iPhone. If that's not available, check that your cable is Apple Certified Made For iPhone (MFI.)
Many cables purchased via third-parties no longer work with Apple Products.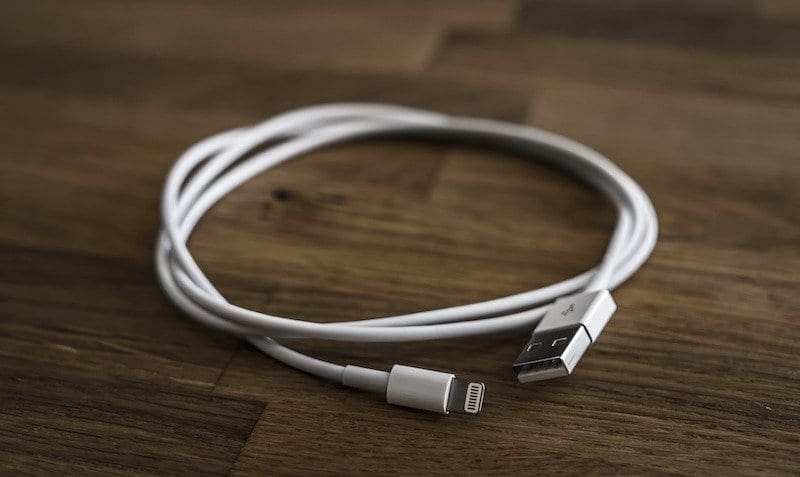 A few readers tell us that simply switching the lightning plug ends around worked–so remove the cable from both the Mac and the iPhone, then swap sides.
So plug the end that was going into the Mac into the iPhone and vice-versa.
Disconnect From iTunes
Eject your iPhone from iTunes, then see if your iPhone shows up in the Photos App on your Mac.
Other readers report that turning their iPhone off while Photos is open and then turning it back on works.
Reset Location and Privacy Info
On your iPhone, go to Settings > General > Reset > Reset Location & Privacy. Performing this action resets all connections between your iPhone and your Mac. 
Restart!
Sometimes it's as simple as restarting your iPhone and/or your Mac. This action refreshes the connection between the devices and forces iTunes to scan for all connected devices.
If a restart didn't do the trick, try a forced reboot on the iPhone while it's connected to iTunes.
Perform a Forced Restart
On an iPhone 6S or below plus iPads with Home buttons & iPod Touches, press Home and Power at the same time until you see the Apple logo
For iPhone 7 or iPhone 7 Plus: Press and hold both the Side and Volume Down buttons for at least 10 seconds, until you see the Apple logo
On an iPhone X Series, iPads without a Home button, or iPhone 8 or iPhone 8 Plus: Press and quickly release the Volume Up button. Then press and promptly release the Volume Down button. Finally, press and hold the Side button until you see the Apple logo 
Delete photos
It appears that the presence of some imported images or strangely enough screenshots taken on the iPhone can cause this problem.
Try deleting all pictures on your iPhone except for those that were made with the device's camera, then disconnect and reconnect your iPhone.
Quit iTunes
Close and quit from iTunes, then unplug your iPhone from the cable, reopen iTunes, and after it's fully open reconnect your iPhone to your computer.
Turns out that for many readers, just quitting iTunes and restarting it solved the problem.
Turn your iPhone off then back on when still connected
Failing the above, try opening Photos App/iPhoto and connecting your iPhone, then turn the iPhone off. Wait a few seconds then turn it back on.
Contact Apple Support
Sadly, this is a common complaint we hear about the Photos App!
Consider reporting your problem to Apple via this link.
Reader Tips 
Plug in your device to your Mac and then do a soft reset (forced restart.) See if your device now shows up in Photos
Hover over the Photos App sidebar where it says Import. Your iPhone or iPad may only be hidden. When you hover, if it says show, click on that. If you still don't see it, try going to the View menu and choose Import
Whenever I start Photos, it doesn't start automatically. I select View in the top menu in Photos, then select Devices. There, I find my iPhone, and when I choose it everything worked as expected
I actually did two things, and it worked: 1) I clicked to eject my phone from iTunes and closed the iTunes app 2) My iPhone didn't show up in Photos after that, BUT I clicked on View in the Photos toolbar, and then clicked Devices, and then Apple iPhone. It's like Photos defaulted to hide my iPhone from automatically showing up in Photos, every time I plug it in!
Open iTunes and wait for the phone to come up. Then eject the phone. I had Photos running in the background, and as soon as I ejected it from iTunes it showed up in Photos
Select the View menu in Photos then choose Devices. Look for your iPhone there and select it
Check if there is a pop-up on your device to "trust this computer." Select "Yes" for your device to connect via the Lightning connector cable to your Mac
On Import options, uncheck Enable camera uploads for and under Sync options, deselect Photos from iPhoto (untick the checkbox)
My workaround is to use Image Capture instead of the Photos App. Image Capture, for whatever reason, sees my iPhone and then I just copy all photos from my iPhone over to my Mac
Check that there are no other users logged into your Mac. If so, log out of those users and then try again. You may need to restart your Mac with just that single user account active
Close both iTunes and Photos apps on your Mac, and then reopen just the Photos app
It might sound stupid, but make sure your Mac has enough free space to import any photos!
Check your iCloud settings on the phone and Mac computer, if you have iCloud Photo Library enabled try toggling it off (even if temporarily)
Obsessed with tech since the early arrival of A/UX on Apple, Sudz (SK) is responsible for the original editorial direction of AppleToolBox. He is based out of Los Angeles, CA.
Sudz specializes in covering all things macOS, having reviewed dozens of OS X and macOS developments over the years.
In a former life, Sudz worked helping Fortune 100 companies with their technology and business transformation aspirations.