For over a decade, OS X has been the cornerstone of the technology industry. Ever since launching in 1998 alongside the original iMac, the operating system has continuously become more and more powerful, resulting in what is quite possibly the best operating system on earth.
Every year since 1998, Apple has been updating OS X to reach new heights and continuously stay on top of the operating system market. This year, however, is a little bit different.
This year's update is called macOS Sierra, not OS X, the first name change of the OS in quite some time. While many believe it is time for Apple to do a full refresh of their desktop operating system, the new update, beyond a name change, is a typical update compared to the past few years.
The last few macOS updates have centered around making iOS and macOS harmonize together, and getting the point across that if you have one, you should really get the other. I've been using macOS Sierra for a while now and have gotten a chance to test out all of the new features. Here's everything that I liked, and everything that I thought should have stayed the same:
Siri
The Good – This is an amazing thing. It appears Apple has made Siri for Mac more powerful than on other devices, which makes sense considering the Mac has more power. Siri on Mac can complete just about every instruction you could give it on a phone but additionally, can do more complex things for your computer. You can ask it for information about your processor speed and even ask for files.
The Bad – Siri and Spotlight seem fragmented, both capable of doing mostly the same thing but no connectivity between each other. Ideally, Siri should just have a type option and it would be the same as Spotlight.
Additionally, Siri File Search doesn't appear to be working yet, and every time I launched Siri some weird application would pop up requiring a force quit each time to stop it from jumping.
iCloud
The Good – iCloud Drive now works exactly how it always should have. The service will now automatically sync your Mac's desktop and documents folder across your devices, and if you have enough storage you could even tell the service to sync everything. Throughout the past few days, I've gone and gotten access to things on my phone that I would've normally had to go on my computer to get a copy of.
The Bad – I had quite a bit of trouble with setting up the new feature. When I told it to begin syncing the documents folder, it removed my previous one and put the local copy into the iCloud folder, and then began uploading everything. I didn't have enough iCloud storage, and the OS wouldn't let me move anything while syncing, so I had to restore from Time Machine to fix everything.
Apple Watch Unlock
The Good – When wearing an Apple Watch, your Mac will now automatically unlock, and be able to understand whether it is you or someone else trying to access your computer. A really nice way to get around the passcode.
The Bad – I've yet to get this to work once. All of my devices Handoff are set up correctly, and it is possible it's entirely on my side, but It just isn't happening. I presume that'll be working by the time it hits the public, but for now, I haven't tried it.
Universal Clipboard
The Good – Universal clipboard makes your clipboard harmonious between devices, meaning you essentially have one clipboard, and everything is synced with everything else. This way, you can find a picture on the internet on your phone, copy it, and paste it into something on your Mac. It works exactly how you'd expect it to, and when it works it work great.
The Bad – I also had a lot of trouble getting this to work. I did succeed sometimes but it was very finicky. I'll also chop this up to beta-ness, but again not a good first impression.
Optimized Storage
The Good – macOS will now help you optimize storage in your drive. It does this through four main options – Storing in iCloud, removing iTunes and Email clutter, Erasing Trash automatically, and reviewing and deleting old documents.
There's really nothing bad to say about this feature, it works and I succeeded in removing about 50GB of clutter from 500GB of data on my first go around.
Gatekeeper Tweaks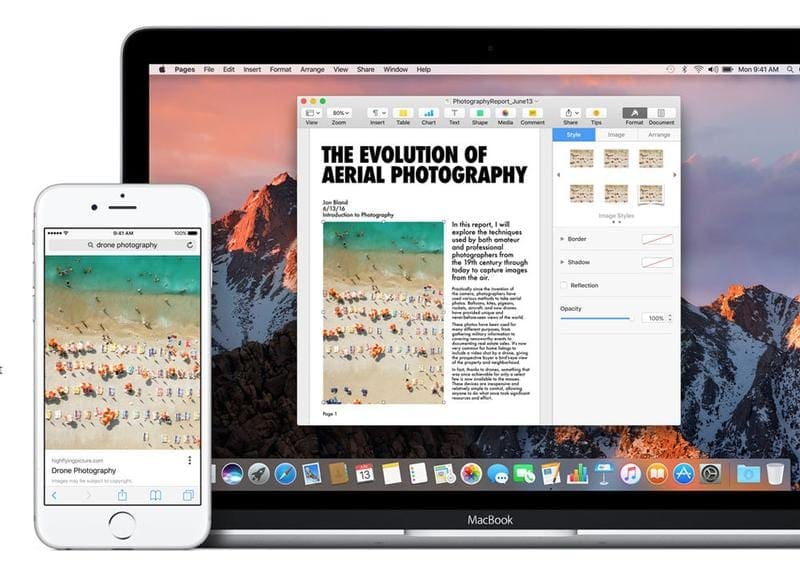 The Bad – As a developer, this is really a mostly unnecessary and bad change for consumers. Previously, to install unsigned apps, there was a simple menu to allow that process, and it was off by default. Now the process has become much more complicated.
Apple's signing mechanism has some ridiculous rules, and some apps will now have to instruct users to jump through hoops to install apps.
iTunes / Apple Music
The Good – iTunes has received the new Apple Music update that will be joining all OS's in the fall, and it works pretty well. The new Apple Music is certainly better than the old, and the interface is much cleaner and easier to use.
The Bad – Unfortunately, iTunes still desperately needs an overhaul, and little has changed from previous iterations of the app.
Photos
The Good – The Photos app has received the same overhaul as iOS, with a bigger emphasis on facial and object recognition and the new moments feature. This all works pretty well, and most users will probably be satisfied with the new updates.
Tabs
The Ehh – One thing that Apple spent an oddly medium amount of time on during their WWDC event a few weeks back was the addition of tabs across the OS. These new tabs are supposed to be available by default, and not require any extra development from the developer.
While I originally understood that to mean they'd be there in every app, it is clear that this does require the developer to push an update for the OS, just that it's a core feature like windows and can be enabled easily. I personally don't know what the big deal is; if an app would be better with tabs the developer would've likely put them in, to begin with.
Apple Pay
The Good – Apple Pay will now work in Safari on macOS, allowing users to purchase things by authenticating with their phone. There are no sites to try this out yet, but I presume it'll work fine.
Compatibility
The Good – Surprisingly, Apple has not moved any Macs out of the upgrade pattern with this update. All iMacs and MacBook Pro's from 2009+ will get the update, and all other Macs 2010 and later will receive it as well.
With macOS Sierra, Apple is clearly pushing for an even more continuous experience between Apple devices. By making all of your documents available everywhere, and allowing things like Apple Watch to unlock your Mac, Apple's walled garden continues to become more interconnected.
Take a look at our beta download guide and get ready to take macOS Sierra for a test ride today!