Screen Time on iOS gives you the power to maximize productivity and minimize unhealthy digital habits. But using it requires the creation of another passcode! For some people, that's two too many, which is why this post shows you how to reset the Screen Time passcode if you forgot it.
Apple's iOS software introduces a range of features that promise to boost device performance and enhance our digital health. One particular feature from the latter camp is Screen Time, available in iPadOS and iOS 12 and above.
Screen Time monitors app usage and gives us a new tool to minimize unhealthy digital habits, such as excessive gaming or social media usage.
Related Posts
Screen Time allows you to schedule Downtime or set App Limits for your and your family's iOS devices. Downtime dims the screen and blocks apps that aren't listed under Always Allowed. App Limits creates a time limit for app usage in categories such as 'Social Networking.' 
Screen Time also includes Content & Privacy Restrictions, replacing the Restrictions setting from iOS 11 and earlier.
Through Content & Privacy Restrictions, parents can limit adult content and privacy settings on their children's devices. It's also possible to monitor your family's screen time and app usage over iCloud.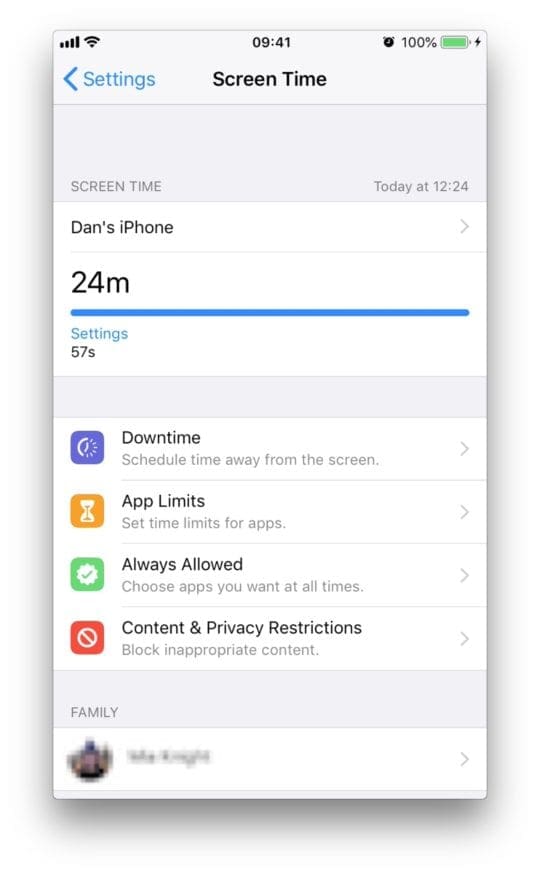 What Is the Screen Time Passcode?
The Screen Time passcode is used to secure the Content & Privacy Restrictions or to allow time extensions on App Limits. iOS prompts the creation of a Screen Time passcode when you activate Screen Time on a child's device or access Content & Privacy Restrictions on any device.
You can also choose to create a Screen Time passcode if you want to option to Ask For More Time on blocked apps.
The 4-digit Screen Time passcode is separate from the passcode used when locking and unlocking your device. That way parents can keep it secret while letting kids know the standard passcode.
Unfortunately, it does mean there's an extra passcode that could get forgotten. While it's possible to disable the Screen Time passcode after creating it, you need to remember and enter it to do so.
What If You Can't Remember Your Screen Time or Restrictions Passcode?
If you can't remember your Screen Time passcode, Apple suggests that you wipe and erase your device, then set it up as a new device to remove the Screen Time Passcode.
Unfortunately, following Apple's advice, you must set it up as NEW. Restoring your device using a backup does NOT remove the Screen Time Passcode.
Most of us would rather not lose all our data, photos, messages, and other files just to work around a forgotten Screen Time Passcode.
So, in this article, we outline some tips to help you avoid having to set up your device as new.
Trying to change your Screen Time passcode but it's not working?
If you are trying to change your Screen Time passcode or your kids figure it out and now you NEED to change it, and you find it's not working, you are not alone. A lot of parents tell us that even after changing the Screen Time passcode, the old passcode still works and their kids can still bypass all those restrictions and/or change their app limits.
If this situation sounds like you, the most reliable solution we have is to reset all settings on your children's' devices.
Reset all settings (should be a last resort since it resets all your personalized features back to factory defaults)
Go to Settings > General > Reset > Reset All

Choose to Reset All Settings on your iPhone oiPad.

This resets to default everything in Settings, including notifications, alerts, brightness, and clock settings like wake up alarms
Resetting all settings also reverts all your personalized and customized features like wallpapers and accessibility settings back to factory defaults.
Performing this action does not impact any of your personal device data, including photos, texts, documents, and other files
You need to reconfigure these settings once your iPhone or iDevice restarts
Updated Your iOS and Screen Time Is Asking For A Passcode?
Heading into Settings to take a look at Screen Time? But then it asks for a passcode–one that as far as you know, you never even set up? And you're not able to change to passcode to get things going?
If you updated your iOS from iOS 11 or an earlier version and Screen Time is asking for a passcode, try entering your Restrictions Passcode (or Guided Access passcode if you use that feature)
Screen Time Inherits Restrictions Passcode From Earlier iOS
It seems that folks that have Restrictions or Guided Access enabled before they updated, find that the updated automatically turns on Screen Time's Content & Privacy Settings and links it to the older Restrictions (Guided Access) passcode. 
Several of our readers tell us that they see this issue even when Restrictions is Disabled but in the past, they used a restriction or guided access passcode (which they no longer remember.)
Never Had a Restrictions Passcode?
Some readers never set up a restrictions passcode, but when launching Screen Time for the first time, it still asked for a passcode.
What worked for some folks was to enter their current or a previous device passcode–the passcode they use or used to use to unlock their iDevices. 
Another tip some readers discovered was just to use any four digits–totally random numbers having nothing to do with their device's passcode. And it worked! Go figure
So try entering any four digits that you will remember in the future–or better yet write it down or save it manually to your Passwords & Accounts by turning it into a pseudo website (like restrictions.me or screentime.me–it only works with a dot address at the end) 
Forgotten Restrictions (or Screen Time) Passcode?
If you cannot remember your previous iOS Restrictions Passcode, Apple's advice is to erase your device and then set it up as new to remove the Screen Time passcode that you don't know.
Restoring your iDevice using a recent backup doesn't work as the Restrictions Code follows you and becomes that Screen Time Passcode.
Both your older iOS Restrictions Passcode and iOS 12 Screen Time passcodes, are stored in backups and return when you restore your device. Unfortunately, Apple no longer stores the Screen Time passcode in any iTunes backup including encrypted backups.
However, there are some alternatives Apple does not mention
For iOS 7-12.4, use pinfinder
If you use iTunes to back up your device on a Mac or Windows, developer GWatts created a small application for Mac & Windows called PinFinder that tries to find the restrictions passcode for an iDevice (see this article for more details–look in the section Forgot Your Screen Time or Restrictions Password)

Pinfinder ony supports iOS 7-12.4 – iOS 13 & iPadOS are not supported
Some readers saved a backup to their computer (Windows or Mac) using iTunes and then used pinfinder to get the restrictions passcode
If a regular iTunes backup doesn't work, try connecting your device to iTunes and make a local encrypted backup. Then use pinfinder to scan that encrypted backup and locate the restrictions passcode for that specific device
For more information, check out GWatts GitHub info page for PinFinder

There are some third-party tools to extract Restrictions passcodes. We don't have any specific recommendations since we haven't used these tools. But they are available–look for programs labeled as backup extractors

Remember to read user reviews and reports to see if these tools actually work
For iOS 13 & iPadOS and above, try restoring to an encrypted backup
Since iPadOS and iOS 13 do not include a copy of your Screen Time's passcode in your iTunes backup, pinfinder doesn't work because the password isn't there. What we recommend you try instead is a restore from an encrypted backup.
Turn Find My off for your device by going to Settings > Apple ID > Find My and turn it off
Connect your device to your computer with iTunes (Windows and macOS Mojave and below) or Finder (macOS Catalina+)
Before you encrypt your backup, we suggest you first archive a recent backup for safekeeping (plus, it's super easy!)
Create an encrypted backup of your device, if you don't have one already available. When creating an encrypted backup for your device, you also need to unlock your device with its device passcode
All encrypted backups have a password. Make sure you write this password down or save/store it. We also recommed you tick the box to remember this password in your keychain. You cannot use an encrypted backup without this password. Encrypting backups ALSO immediately overwrites and encrypts your previous backups so it's critical to know the password!
Once you have an encrypted backup, press the Restore button and confirm your selection

Make sure you have a recent backup of your iPhone before you confirm you want to restore it.

When asked, choose your encrypted backup to restore from
If that didn't work, erase the device again and restore it from a backup that was made before you established a password for Screen Time. If you do not have such a backup, you must fully erase the phone and set it up again from scratch.
Are You Part of a Family? 
If you are part of a family, you need to be designated as a parent to stop sharing your screen time information with others in the family and change or reset your passcode.
To get full access to disable Screen Time features, ask the current family organizer to grant you parent privileges by going to Organizer Settings > Apple ID Profile > Family Sharing > Select Your Name > Change Parent/Guardian to ON.
You can also visit iCloud online via Safari or a web browser and go to Settings > Family Sharing and make changes there.
How to Disable the Screen Time Passcode
If you know the Screen Time passcode but you don't want to use it anymore, you can choose to disable it in Settings. Go to the Screen Time settings page and tap Change Screen Time Passcode.
From there you'll have the option to Turn Off Screen Time Passcode, enter the 4-digit code and you're done.
If, however, the Screen Time passcode is lost or forgotten, your options are either erase the device using iTunes and restore it from a backup made prior to setting up your Screen Time (or Restrictions) passcode, try out PinFinder, or use a third-party backup extraction tool.
Even if you don't know the Screen Time Passcode, you can still make new backups with iCloud or iTunes.
Tools like PinFinder and those third-party extractors recover the screen time passcode from an encrypted iTunes backup.
How to Reset the Screen Time Passcode
If you have a backup from before you passcode enabled Screen Time and set up a password, you can restore your device from that pre-Screen Time Passcode backup.
Don't have or know of a backup made before you set-up a Screen Time password?
Then follow these steps to create an encrypted backup via iTunes and use Pinfinder (or a third-party backup extraction tool) to recover your lost passcode.
If you don't want to use pinfinder or a similar tool and can't remember the passcode, your only option other than to ignore it is to erase your device, then set it up as a new device to remove the passcode.
Unless you made a backup before you forgot your passcode, there isn't a way to save your device's data. Erasing your device removes all of your data and settings.
Make a New Backup of Your Device
Before you reset the Screen Time passcode, you'll first want to make a backup of your device. This process can be done over iCloud or by connecting your device to a computer running iTunes.
It's important to backup first because later we erase all the data from your device!
How to Create a Backup Using iCloud
Go to Settings > [your name] > iCloud
Tap iCloud Backup > Back Up Now
Stay connected to Wi-Fi until the backup is complete
How to Create a Backup using iTunes
Open the latest version of iTunes and connect your device to the computer
If prompted, unlock the device and tap Trust This Computer
Select the device when it appears in iTunes
Choose Back Up Now if connecting to an older backup or setting up as new
If using PinFinder or another Backup Extractor, under the Summary pane, choose to Encrypt [your device] Backup (a Screen Time or Restrictions passcode is only stored in encrypted backups)

Check the "Encrypt iPhone backup" option if you are using iOS 12 and above and need to use pinfinder to locate your passcode
Pinfinder recovers Screen Time and Restrictions passcodes from encrypted backups. You need to know the password you used to encrypt the backup with iTunes

Create a memorable password for the encrypted backup and wait for it to complete

Tick this box to create an encrypted iTunes backup
Erase Your Device Using iTunes
Since the Screen Time password is needed to erase the device through the Settings App on your iDevice, you must erase your device using iTunes instead.
If you've synced your device with iTunes, you can restore your device using your backup. This erases the device and its passcode.
To do so, you'll need a computer running the latest version of iTunes. If you don't have one, or can't borrow one, you should visit an Apple Authorized Service Provider for further help.
How to Erase a Device Using iTunes
Open the latest version of iTunes and connect your device to the computer
If prompted, unlock the device and tap Trust This Computer
Wait for iTunes sync with your device
Click Restore [your device] and wait for the process to complete
If the restore fails for any reason, you should put your device in Recovery Mode and try again. This is the step that resets the Screen Time passcode, so it can't be skipped.
Recover Data From Your Backup
Once your device is back to factory settings, you should see the Hello and Set Up screens. Follow the onscreen instructions to Set Up your device until given a choice to restore from a backup on the Apps & Data screen.
Here you'll have the option to Restore from an iCloud backup or to Restore from an iTunes backup.
Select a backup by reviewing the date and time. Remember to choose a backup created BEFORE you set up your Screen Time Passcode.
The backup recovery might take a while to finish. But when it's done, your device will be right back to normal — without that pesky Screen Time passcode getting in the way!
No Time? Check Out Our Video on How To Reset Screen Time's Passcode
There's a high chance if you've been through all that, you never want to use Screen Time again
But that would be a real shame. Screen Time offers an excellent opportunity to seize more control over your time. It allows you to ensure your devices work to improve your life instead of simply distracting you from it.
Reader Tips 
Sign out of your Apple ID from the Settings app to disable Screen Time on your device, bypassing the passcode.
I turned on the setting for Share Across Devices and I was able to set a new Screen Time passcode
Try changing your iPhone unlock passcode from a six-digit number to a 4-digit alphanumeric passcode. Once changed, try using this 4 digit number for Screen Time's passcode. It worked for me when nothing else did!
What worked for me was restoring my iPhone from an ipsw file using iTunes. To do so, you need to press the Alt/Option Key when selecting the Restore iPhone option in iTunes (for Windows, use the Shift key)
Before you do anything, try entering 1-2-3-4 , 1-1-1-1, or 0-0-0-0.  Or even the first four digits of your device's passcode. These 4 digits are often used as defaults
If you get the message to "Try again in X Minutes," go into your Settings > General > Date & Time and move the time forward. Then try entering another passcode
A DFU restore would skip the passcode restriction and allow you to erase any iDevice
I used a third-party tool called iPhone Backup Extractor to identify my Screen Time Passcode. It's not free but saved me from having to reset my iPhone as new
Dan is a freelance writer based in South West England.
He spent two years supervising repairs as a Genius Admin for Apple Retail and uses that knowledge to keep our troubleshooting guides up to date.
Long before that, Dan turned to Apple products from a musical background. Having owned iPods for years, he bought a MacBook to learn sound recording and production. It was using those skills that he gained a first-class Bachelor of Science in Sound Technology.