Nowadays, fashion and style have become the most important factors for people all over the world. We can see this even on the mobile market in the covers section. Fashion-conscious persons are willing to pay more for stylish phone covers. They may not buy designer dress for themselves but their iPhone must have a designer's cover. There are varieties of fashionable iPhone covers in market including printed, monogrammed and cartoons. You will find something that you like for sure at these days there are more and more options to choose from. Let us discuss the top 7 fashion covers for iPhone.
1. Case Mate Chrome Barely There case
If you are a fashion-conscious person, then you are going to love this iPhone case. It works as a case as well as a mirror. Instead of covering your iPhone with some thick colorful stuff, you can retain your iPhone's identity with the metallic design of this case. Additionally, you won't have to take a mirror with you – it's already on the phone. This mirror cover is going to cost you about $31. Not that much regarding the fact that it's pretty useful.
Url: http://www.case-mate.com/Apple-iPhone-Cases/Apple-iPhone-Cases.asp
2. Twelve South BookBook case
This iPhone case is also a two-in-one, but a little different. It's made for keeping your iPhone safe but it also acts as a wallet. It is made up of leather consisting of a fashionable storage unit. Besides being stylish, it is also practical. If you don't like to carry your wallet and phone together, this case can be the perfect choice for you. Besides that, it looks like a book so you can say that you are carrying a book in your pocket. You can get this iPhone case for around $55 and it will make you look good.
3. EXOvault Belt Buckle and Holster case
This EXOvault Belt Buckle and Holster case consists of aluminum or brass sheath, which allows you to keep your iPhone safe and your looks stylish. As described by its name, you can use it either as pocket sheath or belt buckle – it's up to you and your mood that particular day. So, just forget all irregular belt buckles of neon and just try it once. You are surely going to love it. It costs $301 which is rather costly, but look at the bright side: you will have plenty of space in your pockets.
Url: http://www.etsy.com/shop/EXOvault
4. Case Mate Stacks case
Nothing is more fashionable than putting a stamp of your choice on your own stuff. That is why this case is straight-forward cool! It allows you to create your own design by assembling six colorful modular pieces, thus customizing your iPhone. If you don't like or don't want a particular color that is no problem, they have more than one. And the best part is that you can mix them as you want. The price of this iPhone case is approximately $41 which is pretty neat.
Url: http://www.case-mate.com/
5. Proporta Ben Allen Zebra case
The animal print is in fashion for a long time but this year it has been trending. It is used in everything like clothes, shoes, bags and now phone covers. In order to make it more attractive, its designer, Ben Allen describes it as "a vision of the streets and the wild becoming one". Some of the celebrities like Jade Jagger, Richard Branson and Stephen Dorf have this case on their iPhones. The price of Proporta Ben Allen Zebra case is about $31. This is actually cheap for a designer case and, keep in mind, that it will add you to the celebrities group above.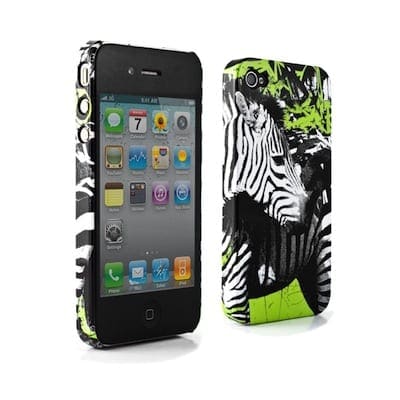 Url: http://www.proporta.com
6. Intrecciato leather iPhone sleeve by Bottega Veneta
This leather iPhone case is a fashionable case which can add more style to any of your outfits. It's 7cm wide, 13cm long and 1cm deep, so it's that big. It's suitable for any model of iPhone since iPhone 4. It is made up of fully lined, dark-taupe leather with fastening fold-over and it comes in nice colors. It can be very costly as compared to other phone cases, as can get it for around $472. Along with providing safety to your phone, it also helps you stand out of the crowd so the price is justified.
Url: http://www.bottegaveneta.com/us
7. Metallic Stardust Logo iPhone case by Marc Jacobs
This iPhone case is definitely going to make your iPhone look more stylish, scratch-free and glossy. The jumble prints on the phone case will make you love your phone even more than earlier. It measures 7cm in width, 17cm in height and 1cm in depth. It is made up of metallic ABS plastic. The curved edges, back having designer stamp and embossed with jumbled prints make it more stylish than any other iPhone case. It is going to cost you $56 so it's a good suggestion for a Christmas present.
Url: http://www.marcjacobs.com
Related:
---
About the author: Gabriela is a tech enthusiast, passionate about the mobile industry and gadgets. She's a technology entrepreneur, co-founder of UnlockUnit.com.
Obsessed with tech since the early arrival of A/UX on Apple, Sudz (SK) is responsible for the editorial direction of AppleToolBox. He is based out of Los Angeles, CA.
Sudz specializes in covering all things macOS, having reviewed dozens of OS X and macOS developments over the years.
In a former life, Sudz worked helping Fortune 100 companies with their technology and business transformation aspirations.