2021 was supposed to be a banner year for the iPad Pro. Especially after the new versions were released with XDR-like displays and the ultra-powerful M1 processor. But when Apple took to the stage at WWDC 2021 to unveil iPadOS 15, we were left with a bit of disappointment. There are still quite a few features making their way to the iPad family. And if you're wondering what iPads will be updated, we've got you covered.
What's new in iPadOS 15?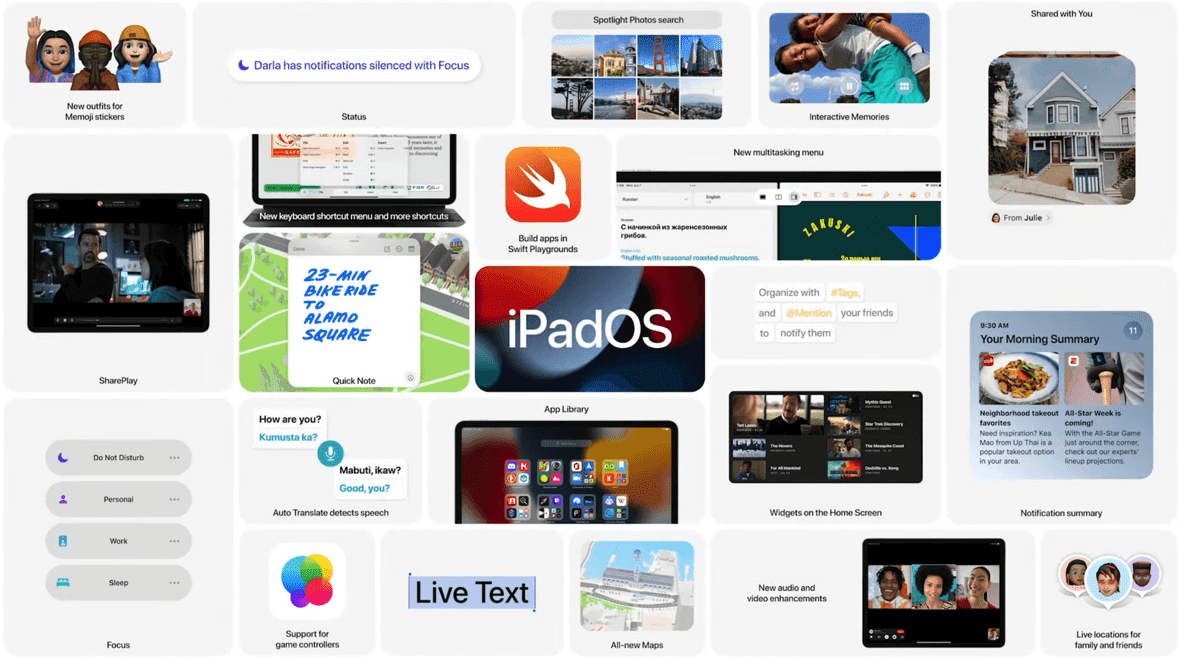 As you would expect, many of the features found in iOS 15 are also coming to the iPad. This includes things like Live Text, Focus Mode, and all of the new FaceTime features. While we were hoping for a major change to iPadOS 15, that's not the case. Here are some of our favorite features that are available in iPadOS 15.
Multitasking is much easier: One of the more frustrating aspects of trying to stay productive on an iPad has been multitasking. The gestures are useful most of the time until you start working with Slide Over windows. iPadOS 15 adds a new multitasking button to put windows where want them in split-screen or Slide Over.
Widgets on the Home Screen: We were disappointed when iPadOS 14 didn't include widgets. You still had the Today View that can be pinned to the Home Screen. But widgets on the iPad would have been awesome. Apple righted its wrongs here and now you can use widgets on iPadOS 15.
App Library is here: Another feature that is being ported from the iPhone is the App Library. Essentially, this is a LaunchPad from macOS. There's also a new shortcut added to the dock, and you can remove or rearrange home pages.
Notes and Reminders updated: The iPad is seeing the same improvements to Notes and Reminders as the iPhone. These include the addition of tags and collaboration tools. But the iPad also gets Quick Notes. This is activated by swiping up from the bottom right corner of your iPad's screen.
Safari enhancements: Just like iOS and macOS Monterey, Safari is also being updated for the iPad. This version aligns more with what we see from macOS with the redesigned address bar. Apple is also bringing Safari Extensions to its mobile browser with iPadOS 15.
Develop apps with Swift Playgrounds: Much of the Apple community continues to wait for "pro" apps to arrive on the iPad. The requests include the likes of xCode, Logic Pro, and Final Cut. However, Apple made a slight concession here with Swift Playgrounds. Now you can build an app and submit it for review, right from the iPad Pro.
Universal Control is mind-blowing: This is more of a feature designed for the Mac, but it will be best used when you have an iPad next to it. Instead of SideCar that just extends the display, Universal Control will allow you to drag and drop files between devices. You'll even be able to use the trackpad and keyboard on your MacBook right on your iPad.
What iPads will get iPadOS 15?
Keeping in line with iOS 15, Apple is continuing support for iPadOS on devices dating back to 2015. This includes the original iPad Mini, while also being compatible with the iPad Air 2 from 2014. We'll also see the new iPadOS arrive on all versions of the iPad Pro and the iPad. As you might expect, certain features may not be available on older models.
iPad Mini (2015) / (2018)
iPad (2017) / (2018) / (2019) / (2020)
Air 2 / Air 3 / Air 4
Pro (2015) / (2017) / (2018) / (2020) / (2021)
When will iPadOS 15 be released?
Just like all of Apple's other new software, iPadOS 15 is currently in the first Developer Beta. Apple has plans to bring this update to more iPad users sometime in July with the Public Beta. Unfortunately, we still don't know a specific date for that release just yet.
As for the final version, expect to see iPadOS 15 launch sometime this fall alongside iOS 15. But unlike iOS 15, we're not expecting any new major hardware releases. It's possible that the fabled iPad Mini refresh could be on the way. But we're not getting our hopes up for that just yet.
Andrew is a freelance writer based on the East Coast of the US.
He has written for a variety of sites over the years, including iMore, Android Central, Phandroid, and a few others. Now, he spends his days working for an HVAC company, while moonlighting as a freelance writer at night.