iMessage may display the following error when you try to send out a message: "iMessage is Signed Out. An error occurred and your account is signed out of iMessage. You may miss messages as a result. Please go to Settings to address this issue.". However, when you go to Settings, you'll notice that iMessage is often greyed out and you can't turn it on. Let's explore what solutions you can use to fix this problem.
Why Is My iPhone Saying iMessage Is Signed Out?
Set Date and Time Settings Automatically
Go to Settings, tap General, and select Date and time settings. Let your terminal select the date and time settings automatically based on your current time zone.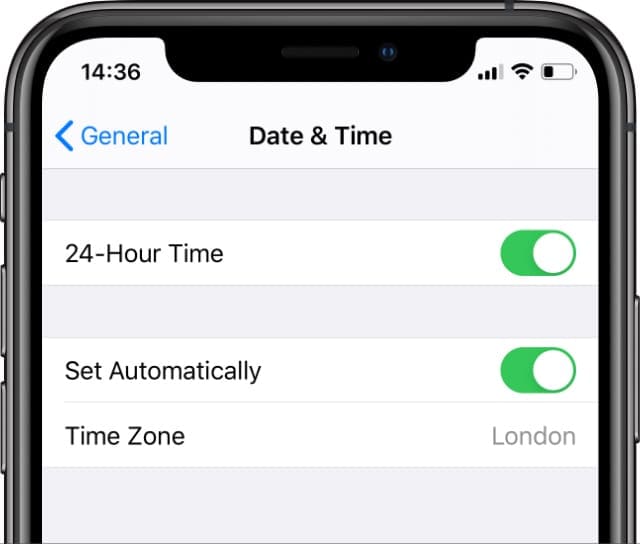 Allow your iPhone to access your current location in order to determine the right time zone for you. Go to Settings, select Privacy, and tap Location Services. Select System Services and select Setting Time Zone.
Check Your Apple ID Settings
Go to Settings, and navigate to iMessage app settings.
Select Use your Apple ID for iMessage.
Make sure the existing Apple ID details are correct.
Then go to Message settings, and select the Send & receive option. Check the existing Apple ID details.
If there's no Apple ID available under Send & Receive, edit the settings and add your Apple ID.
Turn Off iMessage and FaceTime
Navigate to Settings, select Messages, and turn off iMessage if this option is available. Then, go back to Settings, select FaceTime and disable the app. Restart your iPhone, enable iMessage, and check if the app is working properly now.
Check for iOS Updates
Install the latest iOS updates on your device and check if the problem persists. Go to Settings, select System, and tap System Update. Restart your terminal after installing the updates.
Launch iMessage and check if you can send text messages now.
Check Your Network Connection
Make sure your network connection is working properly. As a quick reminder, to use iMessage, you need a stable cellular data or wireless connection. Enable Airplane Mode, wait for 30 seconds, and then go back online. Switch to a different connection, and check if you notice any improvements.
Reset Network Settings
Incompatible network settings could also trigger this error message. The good news is that you can quickly fix the problem by resetting your network settings.
Go to Settings, tap General, and scroll down to Reset.
Then select Reset Network Settings, and restart your iPhone.
Enable cellular data or connect to a wireless network, launch iMessage, and check the results.
Contact Your Carrier and Apple Support
Contact your carrier and check if there are any message limitations affecting your iPhone. If nothing's wrong on your carrier's end, contact Apple Support. Let the support agents know what troubleshooting methods you've already tried.
Conclusion
To fix the annoying "iMessage is Signed Out" error, let your iPhone set the date and time automatically. Then, check your Apple ID settings, and install the latest iOS updates. Additionally, switch to a different connection, and reset your network settings. Did these solutions help you get rid of the error? Let us know in the comments below.