We haven't heard much from Apple since the launch of the AirPods Max back in December. But that hasn't stopped the rumor mill from getting everyone excited for some new products.
Related Reading
Recently, leaks and rumors have suggested that Apple will be holding a virtual press conference on March 23rd. The problem is that we still don't have confirmation of this supposed event, nor do we know exactly what will be announced. But we've rounded up some of the products that could be prominently featured.
AirPods 3
It's been over a year since we've seen a new version of the in-ear AirPods, but that could change. One of the biggest rumors for the March 23rd surrounds a potential AirPods 3 announcement.
The AirPods have revolutionized the truly-wireless earbud market, but this upcoming version may not be all that special. Instead, it seems that the AirPods 3 will bring a design similar to the AirPods Pro. Those earbuds require the use of silicone tips, which help with the Active Noise Cancellation.
However, the problem is that those tips are not exactly comfortable for everyone. That's why many folks continue to rely on the older AirPods 2, as these just sit in your ear.
It's likely that while the AirPods 3 will sport an AirPods Pro design, they will not include Active Noise Cancellation. This will likely help keep the cost down, possibly coming in around the same $199 price point for the 2nd-gen AirPods (w/ wireless charging).
iPad Pro
2021 could be a big year for the iPad, but we aren't expecting to see an M1-powered iPad Pro. Instead, Apple could announce an all-new iPad Pro series with the oft-rumored mini-LED display and updated processors.
New Displays
Current iPads use LCD displays, which are pretty great already, but a mini-LED panel would offer a wide variety of improvements. These include deeper and darker blacks, richer colors, and better contrast. The mini-LED panel is also much more power-efficient, which would be quite impressive considering how great the iPad Pro is on battery power. Unfortunately, it seems that the new display would only be coming to the larger 12.9-inch iPad Pro refresh.
Performance Gains
On the performance front, there will be an expected upgrade in the processor department. This is likely to be either the A14X or A14Z while providing some performance improvements over last year's A12Z Bionic.
We've already started seeing some 11-inch iPad Pro cases make their way to big-box retailers. In one case, the customer attempted to purchase the case but was unable to because the case was not due to go on sale until early April. This aligns with a potential announcement on March 23rd, before being made available just a couple of weeks later.
New Apple Pencil?
New Apple Pencil pic.twitter.com/CWGQrkU2Yn

— Mr·White (@laobaiTD) March 3, 2021
The final rumor surrounding new iPad Pros comes via a new Apple Pencil. A leaked image appeared to show an updated and upgraded third-generation Apple Pencil. The design seems to look more like the original, glossy, Pencil with a more rounded design. Unfortunately, not much else has been shared regarding a potential new Apple Pencil.
Apple TV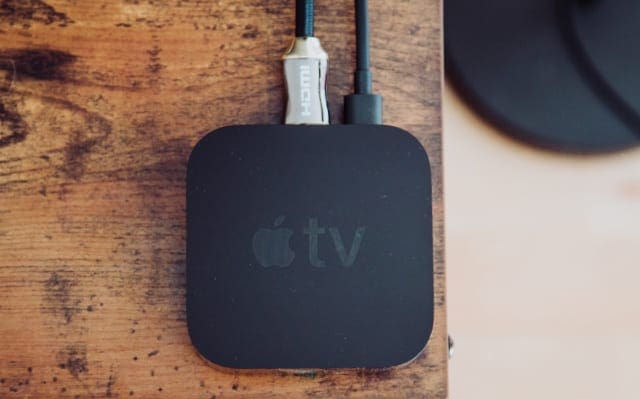 If you thought that it's been a long time since the AirPods have been updated, it's been even longer for the Apple TV. The current Apple TV 4K has been available since its launch all the way back in 2017.
Rumors have been churning about a potential new Apple TV for the last year or so after there were mentions of an updated version in iOS. The new Apple TV will feature a faster processor, potentially the Apple A14 chip. This is the same processor found in the iPhone 12 lineup and could help turn the Apple TV into a true gaming console of sorts.
A new Apple TV will also likely feature the Apple U1 chip. This was introduced in the iPhone 11, and brings 'nearby interaction' frameworks. That may not seem like a big deal, but it would help the new TV act as a HomeKit base-station.
It's exciting to see a new Apple TV on the horizon, but it could finally be time for a new ATV Remote. The glass and aluminum slab has not been the greatest experience, as it's not exactly intuitive. Plus, it doesn't take much effort to accidentally break the glass on the remote. So a redesigned remote would be extremely well-received.
AirTags
Apple has been rumored to be working on a Tile competitor for a couple of years now. The company has been expected to release AirTags at various past events, but those have come and gone without any mention of them. Code and references in iOS have let the cat out of the bag, suggesting that AirTags should have already been introduced.
Nevertheless, it seems that the wait is finally over and Apple will unveil this line of accessories on March 23rd. AirTags feature a built-in chip, likely the U1, which make it easy to find the location of the AirTags with the help of the Find My app. You will be able to do things such as put your AirTag in Lost Mode, along with creating 'Safe Locations'.
What about the Mac?
This is one of the more interesting prospects of the March 23rd event, but it seems that we won't be seeing any new Mac announcements. Recently, the iMac Pro started to see inventory shortages from Apple and other retailers. Then, Apple confirmed that it would be discontinuing the iMac Pro, but nothing has been announced that would replace it.
Rumors have been swirling about a redesigned iMac, which could replace the entire current available lineup. It's likely that this updated iMac would be powered by the Apple M1 processor, or a newer (more powerful) version.
The redesigned iMac would bring a design similar to that of the Pro Display XDR, with thinner bezels and an all-aluminum build. It's also possible that we could see five new colors, similar to those found on the redesigned iPad Air which launched last year. Mark Gurman has even suggested that Apple could be gearing up to finally replace the Thunderbolt display. This has been a big request from Apple users, as the Pro Display XDR is not exactly the perfect solution for everyone.
As for the MacBook line, it seems that we'll have to wait until the second half of the year for the good stuff. Apple is rumored to be working on a new 14-inch and 16-inch MacBook Pro, while bringing back some of the ports and functionality of these laptops. Current MacBook Pros feature nothing but USB-C, which requires you to enter Dongle City. But these upcoming models could feature an HDMI port, SD card slot, along with being powered by an Apple M1 (or similar) processor.
Are you excited?
Things in the Android and Windows world have been pretty exciting already, as we've seen the release of the Galaxy S21 lineup, along with new GPUs from AMD and NVIDIA. But this is what Apple does. It waits until the right moment before unleashing the wrath of new products that will dominate headlines for weeks.
There's a rather interesting aspect to the March 23rd event. Not only did this date seemingly appear out of nowhere, but one of the major Android OEMs is also slated to hold an event the same day. Here's to hoping that Apple delivers everything that's being rumored, along with potentially giving teasers for new products to come later in the year.
Andrew is a freelance writer based on the East Coast of the US.
He has written for a variety of sites over the years, including iMore, Android Central, Phandroid, and a few others. Now, he spends his days working for an HVAC company, while moonlighting as a freelance writer at night.