If you thought that the Apple Watch didn't get much love during WWDC 2021, the Apple TV got even less. Apple didn't even mention the new version of tvOS in name, but we now know it will be bumped up to tvOS 15. Just like every other Apple software release, tvOS 15 is coming this Fall and does include some pretty useful features. Let's dive into it.
tvOS 15 – Spatial Audio
Spatial Audio is Apple's latest "buzz phrase", as the company is currently in an initiative to provide better sound quality and features with things like Lossless Audio and Dolby Atmos. Spatial Audio is finally arriving on the Mac with macOS Monterey, along with the Apple TV with tvOS 15.
When connecting your AirPods Pro or AirPods Max to the Apple TV, the content that you're watching or listening to will be much more immersive. Apple will also be bringing dynamic head tracking to make you feel like you're in a movie theater instead of just sitting in your living room.
At launch, Spatial Audio will be available in the following apps:
Dinsey+
HBO Max
Hulu
Peacock
Discovery Plus
Paramount+
Tidal Music
One name notably missing from this list is Netflix. However, we are expecting that this will change as it might require a bit of an agreement between Netflix and Apple.
Sharing content was one of the biggest features across all of Apple's software updates, including tvOS 15. SharePlay and Shared with You are coming to the Apple TV. SharePlay allows you to share what you're watching on the Apple TV while being on a FaceTime call. But the best part is that the content will be synced across everyone who is on the same FaceTime call. The Shared with You feature adds a new row on the Home Screen. From here, you can see movies, TV shows, and even specific episodes if a friend tells you that you "just HAVE to watch this". Now you can jump right in, instead of trying to search and locate the right show.
tvOS 15 – HomeKit enhancements
With tvOS 15, HomeKit integration has been upgraded, as you'll be able to better view the different connected HomeKit cameras. As you can see above, four cameras are split into different blocks. This provides the ability to see what's going on around your home on the big screen. But it also will allow you to control HomeKit accessories like turning on the porch lights.
tvOS 15 – HomePod Mini integration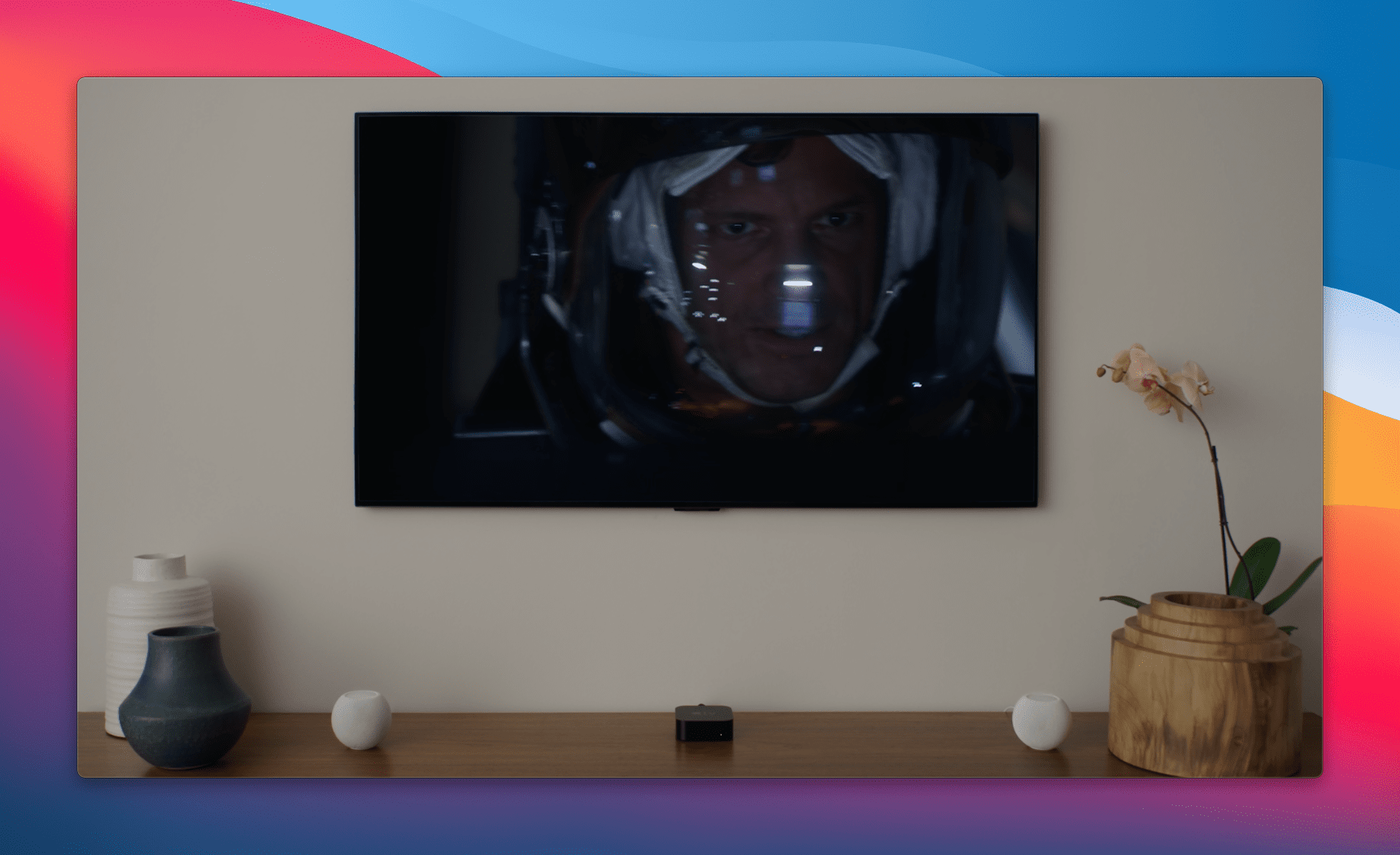 Even though the original HomePods are not being sold anymore, they were the only way to get studio sound when connected to the Apple TV. It was a questionable decision for Apple to not enable this with the HomePod Mini, but tvOS 15 changes that. Moving forward, you'll be able to pair two HomePod Minis together in a studio pair and connect them to your Apple TV.
Conclusion
There were more than a few rumors going around suggesting that tvOS might be rebranded into HomeOS or something. That's because Apple considers the Apple TV to be the "hub" for your HomeKit home, so it would make perfect sense. Unfortunately, this was the lightest announcement of the entire WWDC 2021 Keynote. Maybe Apple is just getting things in place from the backend ahead of a major announcement next year.
We're excited to see things like HomePod Mini studio pairing and Spatial Audio with the AirPods arrive. However, considering that the Apple TV 4K was just updated, it's a bit surprising to see that there really wasn't much going on for tvOS 15 at WWDC 2021.
Andrew is a freelance writer based on the East Coast of the US.
He has written for a variety of sites over the years, including iMore, Android Central, Phandroid, and a few others. Now, he spends his days working for an HVAC company, while moonlighting as a freelance writer at night.