Is FaceTime giving you trouble or not working after an update to your device's iOS or iPadOS? Wondering how you can get FaceTime to work like it used to? If so, you are not alone! Several readers tell us that after updating their iOS or iPadOS, they cannot get FaceTime to work, make calls, or use features.
Quick Tips 
Try These Quick Tips to get FaceTime to Work in iOS (iOS 12 & iOS 13) and iPad OS
Toggle FaceTime off wait 20-30 seconds, and toggle it back on
Tap your Apple ID and Sign Out and then Sign In again in using the same or a different Apple ID

Add a restart after signing out if it doesn't work the first try

Group FaceTime requires iOS 12.1.4 and above (including iOS 13 and iPadOS)

 Apple permanently disables Group FaceTime for any devices using iOS 12 through iOS 12.1.3
When making a group FaceTime call, all call members must use iOS 12.1.4 and higher or macOS Mojave and later
Group FaceTime does not work with iOS 12.1.4 and earlier or macOS High Sierra and below

Reset your network's settings by going to Settings > General > Reset > Reset Network Settings
For Poor Connections, stop using any effects or Animoji/Memoji to reduce bandwidth burden
Sometimes resetting all your settings helps problems with FaceTime. Go to Settings > General > Reset > Reset All Settings
For problems with iOS 13 or iPadOS FaceTime getting stuck on "connecting" when trying to video or audio FaceTime call an older iOS version, update to iOS  and iPadOS version 13.4.1 and above (which Apple says fixes this issue)
Related Articles
What's New in FaceTime for iOS 13 and iPadOS?
FaceTime got a major facelift in iOS 12, so with iOS 13 and iPadOS, Apple continues to grow its support for those features including Group FaceTime and animoji/memoji options and effects.
Dual SIM and eSIM fully supported in FaceTime (and iMessage)
With iOS 13, Apple now offers full support of both your SIM and eSIM phone numbers on any dual-SIM iPhone in both FaceTime and iMessage.
That means you can start a FaceTime call from either number–your physical SIM or your eSIM/dual SIM.
In iOS 12, only one mobile number could be used for iMessage and FaceTime. With iOS 13, when you activate a physical SIM card and eSIM (or dual physical SIM where applicable), you no loner need to select the mobile number you'd like to use for iMessage or FaceTime from their respective settings menus.
How to activate both SIM and eSIM phone numbers for FaceTime
Visit Settings > FaceTime and checkmark both your phone numbers under the sections "you can be reached by FaceTime at" and "Caller ID"
For iMessage, go to Settings > Messages > Send & Receive, and checkmark your two phone numbers under "you can receive iMessages to and reply from" and "start new conversations from"
Restart your device
When making a FaceTime call or sending a new iMessage, just select which number you want to use when starting a new text or making a FT call
Remember, that you currently cannot switch phone numbers when picking up on an existing conversation. By default, an existing conversation uses the phone number you originally used.
New Memoji customizations and Animoji to use in FaceTime (and other apps too!)
Awesome Memoji customization for FaceTime fun
We got a lot of makeup options in iOS 13 and iPadOS to customize everything from blush and eyeshadow to adding braces on your teeth with braces and even piercings to your nose, eyebrows, eyelids, or around your mouth.
And of course, there's a bunch of new hairstyles, hats and headwear, and a heck of a lot more choices for earrings and glasses.
New Animoji
iOS 13 and iPadOS introduce three new Animoji characters to use in your FaceTime conversations— mouse, octopus, and cow!
Animoji and Memoji come to older devices with stickers!
While Memoji and Animoji are only available on devices with Apple's TrueDepth technology, iOS 13 offers ALL DEVICES with an A9 chip and greater options for creating Animoji and Memoji stickers. Stickers are static images that are super easy to share!
And best of all, you can use your animoji or memoji stickers in FaceTime!
With FaceTime open, tap the Effects button
Tap the Memoji icon to open all your Memoji and Animoji stickers
Choose the animoji or memoji sticker that you want to share on your FaceTime call–that's it!
iOS 12+ FaceTime improvements: Group FaceTime and more!
In past years, FaceTime was the neglected child, especially when compared to Messages and iMessage. But with iOS 12, Apple totally redesigned FaceTime–it looks and feels different.
Group FaceTime
The big news is that with iOS 12.1.4 FaceTime finally supports Group FaceTime video and audio calls! We waited a long time for this feature, and with iOS 12.1.4 and above and macOS Mojave+, it finally arrives.
With Group FaceTime, you can make calls with up to 32 people simultaneously–that's a heck of a lot of folks!
You can even start a Group FaceTime from a group conversation in the Messages app!
FaceTime's Automatic Detection of Active Speakers
Using iOS and iPadOS on-device intelligence, FaceTime can highlight and enlarge the image of the call's active speaker.  This helps users avoid confusion during the call.
Your iDevice and iOS automatically highlights the person speaking and resizes any other on the call to give prominence to the active speaker.
Folks that are listening appear at the bottom of the screen until they speak. But a simple tap brings that person to your device's front and center.
Here's a round-up of additional FaceTime features from iOS 12
iMessage integration

Start a FaceTime or Group FaceTime call directly from an iMessage conversation

Animoji and Memoji

Trade your face for an Animoji or Memoji in FaceTime when talking to your friends and family
And you can even add live filters to your Animoji and Memoji

Fancy camera effects

If you love using effects in the camera app, you're sure to enjoy them in FaceTime and iMessage
FaceTime now supports all those built-in filters, text effects, shapes and sticker packs
Find Effects in the new FaceTime Menu

Camera effects in FaceTime require an iPhone 7 or later model

Apple Watch Audio Support

We can now use FaceTime audio on our Apple Watches and join in a group chat–all from the watch
The Walkie Talkie Watch app also utilizes FaceTime audio and uses your FaceTime account (Apple ID) to chat with friends and family 
Missing Live Photos for FaceTime?
If you're still using the first version of iOS 12, it did not include Live Photos. And we really don't know why!
To get it back, all you need to do is update your iOS. Any iOS version 12.1.1 and above and all iPadOS versions reintroduces the Live Photo feature for FaceTime calls! 
FaceTime Calls Fail, Keep Disconnecting, or Immediately Start Reconnecting?
Is FaceTime hanging up when you're in the midst of a call? Shows that it's Reconnecting but then isn't able to and instead says Call Failed? 
If you notice that your FaceTime App isn't working like it used to and isn't allowing you to either make calls or stay on calls for more than a few seconds, you aren't alone.
While there is no one reason why FaceTime exhibits this behavior, here's a list of our top tips to help.
More a more detailed explanation, see our article on this issue: My FaceTime Keeps Disconnecting! How Do I Fix Failed FaceTime Calls?
Update your iOS or macOS to the latest version
Check Apple Server status for any ongoing problems
Toggle FaceTime off, wait 20-30 seconds, and toggle it back on
Sign out of FaceTime, restart, and sign in again
Delete and reinstall the FaceTime App
Turn off Screen Time or Restrictions
Check that your date and time is Set Automatically
Reset your network settings
Does FaceTime get stuck at connecting? Can't call a legacy iOS device using Facetime?
Folks updating to iOS 13.4 discovered that their devices could no longer connect to older iOS devices running iOS 9.3.6 and earlier or Mac's running OS X El Capitan or earlier. Some of our readers tell us this issue is also present when trying to call folks using iOS 10 versions as well.
To fix these issues, update to iOS and iPadOS 13.4.1 or above. Apple says the issue is now fixed in this version and higher.
FaceTime Activation Not Working? 
Toggle FaceTime & iMessage OFF, wait for 30 seconds and toggle both on

Go to Settings > FaceTime (and Messages > iMessage) > Toggle OFF then ON 

Sign out of your Apple ID in FaceTime. Go to Settings > FaceTime and tap your Apple ID. Choose Sign Out. Then sign back in with your Apple ID or an alternate Apple ID
Check that your Apple ID lists your current iPhone's phone number (not an old number or worse, a landline!)

Turn FaceTime and iMessage off
Go to Settings > Apple ID Profile > Name, Phone Number, Email > Reachable At 
Edit information if necessary so your iPhone and email is listed
Once updated, toggle FaceTime OFF and Back ON

Reset All Settings. Go to Settings > General > Reset > Reset All Settings

Removes WiFi passwords and any personalized iPhone settings
For more tips, read our article on Activation problems with FaceTime and iMessage.
Not Seeing Camera Effects in FaceTime?
If your FaceTime isn't showing you all those fun filters, check that Apple supports these effects for your iPhone, iPad, or iPod model. 
Camera effects in FaceTime require an iPhone 7 or later and for iPads the iPad Pro 12.9 second generation+, iPad Pro 10.5+, and an iPad 6th generation or higher.
Models that support camera effects in FaceTime
iPhone 7/7 Plus and above
iPad Pro 12.9-inch 2nd generation, iPad Pro 11 & 10.5, iPad Air 3rd generation, iPad 6th generation,  iPad Mini 5th generation, and all above models
iPod 6th generation and above
Using a supported model but no FaceTime Effects?
For iOS 12.1.1+, slide up the bottom bar to bring up additional FaceTime options on your calls
For iOS 12.0-12.1, make sure you navigate to the correct screen by pressing the menu button (three dots) then on the second screen choose Effects 
Try just tapping the screen again if you don't see the Effects button–this may bring the option up! 
Close the FaceTime app by pressing the Home button or swiping up the Home gesture bar and then swiping up off the top of your screen the FaceTime App Preview.

Then, restart your device
Open FaceTime again–see if the effects are now there
Group FaceTime Not Working? Shows Waiting? 
We loved FaceTime's Group Calling feature! It makes calling up to 32 people a breeze–be it an audio conference call or a group video call. It just works!
If you can't find this feature, make sure you use iOS 12.1.4 or above
If not, update your iOS to a later version
Due to a privacy bug in iOS 12.1-12.1.3, Apple disabled Group FaceTime. So to use Group FaceTime in iOS 12+, you need iOS 12.1.4 or above.
If you already updated to iOS 12.1.4 or higher and Group FaceTime still isn't working with more than 1 person, check out these tips.
If you and your friends, family, or colleagues are trying to FaceTime together and it's not working, check the following:
All participants must use iOS 12.1.4 or later. Group FaceTime does not work any earlier iOS versions

Group FaceTime only works on Apple devices
Everyone you're trying to group FaceTime with has to be on at least iOS 12.1.4
Anyone using iOS 12.1.3 or lower shows up greyed out

You cannot Group FaceTime with devices or folks who share the same Apple ID
Everyone on the call must use an Apple device. You cannot call an Android device from FaceTime
Don't use any effects including Animoji and Memoji, filters, stickers, shapes, and text
Group FaceTime Video only works for iPhone models iPhone 6s or later, iPad Pro or newer, iPad Air 2, or iPad Mini 4

Video Group FaceTime is not available on these models: iPhone 5S, iPhone 6, iPhone 6 Plus, iPad Air, iPad Mini 2, iPad Mini 3, iPad Mini 4 and 6th generation iPod Touch
iPhone 5S, iPhone 6 and iPhone 6 Plus owners and earlier models of  iPad and iPod touch can join audio-only Group FaceTime calls
How To Correctly Make a Group FaceTime Call
Open up the FaceTime app
Tap on the "+" icon in the upper right corner
In the "To" field, type in a name, phone number, or use the + symbol to open your Contacts

Continue typing in all the names you want on the call
When done, tap on either the audio or the video button to place the call 
All recipients get a message on their devices that you want to FaceTime 
If you want to add a person on the call later (during the call), FaceTime uses a ringless notification where the device displays a notification that lets folks instantly join a call without being disruptive
Remember, when a participant receives an invitation, they can choose to participate using audio or video from their iPhone, iPad, and Macs (that support it.)
Privacy Protected!
And of course, all FaceTime conversations, including one-to-one and multi-person, are encrypted end to end, so they remain private and viewable only by the participants.
Or so we thought!
There was a major privacy issue with Group FaceTime in iOS 12.1-12.1.3 that forced Apple to disable Group FaceTime support while their development team fixed the problems. However, with iOS 12.1.4+, Group FaceTime returns to our devices–and hopefully, with the full privacy, we expect from Apple!
Make a Group FaceTime Call in iMessage
Group FaceTime is also integrated into Messages, so it's easy to start a Group FaceTime right from a group iMessage chat.
If people in a conversation have already started a FaceTime session, Messages shows the active call in the conversation list and inside your conversations.
It's often easier to open a previous group iMessage conversation and start your Group FaceTime call there
Open up a group iMessage chat

Or create a new one

At the top of your screen, tap on the profile icons 
Choose FaceTime or Audio to start a call
Audio calls may show an additional selection for Voice Call or FaceTime Audio

Choose FaceTime Audio
Voice Calls use your phone carrier 
Place a group FaceTime with FaceTime on Mac 
Open FaceTime on your Mac
Enter the names or numbers the people you want to call
Enter up to 32 total callers
Click Video or Audio to place your FaceTime call
Is Your FaceTime Call Failing, Won't Connect, or Continuously Connecting? 
If you are not able to connect to FaceTime without FaceTime ever opening a session, try reactivating your account
Go to Settings > FaceTime and toggle the switch OFF
Wait a few moments, and then toggle it back ON
A message appears "waiting for activation"
Enter your Apple ID and passcode if needed
If that doesn't work, reset your WiFi network
Go to Settings > General > Reset and select Reset Network Settings
This process returns your network settings back to factory defaults, so you must enter your WiFi password(s) again
For Failing FaceTime Calls
Try calling from your FaceTime call log (if listed) instead of initiating a new call
Call from iMessage

Open Messages App
Search for a previous conversation with the person you want to call
Open the message thread
Tap the person icon or picture in the top center 
For a video call, select FaceTime from the options
For an audio call, select Audio

Choose your call method: Voice Call (using your carrier) or FaceTime audio
Getting "Poor Connection" Message? 
Some of the enhancements of iOS and iPadOS, like Group FaceTime and using Animoji or Memoji, also increase the amount of internet bandwidth your iPhone or device needs.
If Facetime can't send and receive data fast enough to keep up with your device's demand, the video lags, is choppy and shows other symptoms of a poor connection.
Consequently, some folks see the "Poor Connection" notice while they are actively using FaceTime.
If you see this message, try these remedies
Remove any effects like Animoji and Memoji, filters, stickers, shapes, and text
If on a group call and you enlarged any person's tile to its biggest possible size, tap it to go back to the standard tile size
Go to Settings > WiFi and turn it Off. Wait 20-30 seconds and then turn it back on and choose your network
Switch to a different WiFi network, preferably 5GHz, or connect via LTE if available
Renew your IP Address. Launch Settings > WiFi > Tap the "i" button > Choose Renew Lease 
Toggle FaceTime off in Settings > FaceTime, wait 30 seconds, and toggle back on
Reset network settings by going to Settings > General > Reset > Reset Network Settings
Restart or reset your WiFi Router (see manufacturer's instructions)

If you suspect it's a router issue, contact your internet service provider or check with the router manufacturer

Force close the FaceTime app by double pressing Home or swiping up the Gesture Bar, then swiping the FaceTime App Preview up towards the top of your screen to close. Then relaunch FaceTime
Delete the FaceTime app and reinstall it

With iOS 11 and above, you can also offload the FaceTime app and then reinstall it
Offloading an app preserves its data and documents 
Don't See the Camera Button When on a FaceTime Call?
Wondering just how to take a photo during a FaceTime call on iOS or iPadOS? Just tap the white round live photo button that appears on screen.
Then find all your FaceTime Live Photos in your Photos App Live Photos Album!
Go to Photos > Albums > and scroll to Media Types to find Live Photos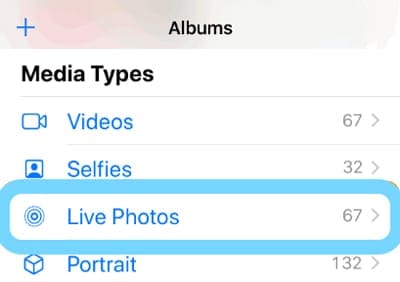 iPhone Stuck on FaceTime? Call Not Disconnecting and Hanging Up?
Some users note that their FaceTime calls are not hanging up, even when pressing the red circled x to end the call.
After tapping end call, nothing happens, and people still see and/or hear the person they've called. Additionally, their home screen still shows the live call indicator (a green bar) at the top left. 
This problem also occurs on macOS Mojave and Catalina!
For iPhones and iDevices, the only method that works is restarting your device via the Settings App
Go to Settings > General
Scroll all the way down and tap Shut Down 
Power your device back on
At this time, this restart is the only way to end the call and make another Facetime call.
For Macs
Open Activity Monitor (in Applications > Utilities or use spotlight search)
Click on the CPU tab
Locate and select FaceTime (use the search bar if needed)
Press the grey X to force FaceTime to quit or double click on FaceTime and choose force quit from the pop-up message 
Other Issues Causing FaceTime Not Working?
If these tips didn't fix your issue, please see the following articles for additional help
For most of her professional life, Amanda Elizabeth (Liz for short) trained all sorts of folks on how to use media as a tool to tell their own unique stories. She knows a thing or two about teaching others and creating how-to guides!
Her clients include Edutopia, Scribe Video Center, Third Path Institute, Bracket, The Philadelphia Museum of Art, and the Big Picture Alliance.
Elizabeth received her Master of Fine Arts degree in media making from Temple University, where she also taught undergrads as an adjunct faculty member in their department of Film and Media Arts.