If you're a proud owner of an M1-powered Mac but frustrated with the lack of Boot Camp integration, you're in luck. Until now, if you needed to run Windows on your Mac, you could use Parallels, but it was not yet optimized for the ARM technology provided by Apple's M1 chip. But that's all changed as the company has announced that Parallels Desktop 17 for Mac is now available.
With today's release, Parallels Desktop 17 not only runs natively on your M1 Mac, but it also provides the ability to use the Windows 11 Insider Preview. This is a real game-changer for those who not only need to use Windows for work, but also for those who just enjoy Windows and want to tinker around with Windows 11 ahead of its release this fall.
There's another added benefit to the release of Parallels Desktop 17, and that's the ability to run the macOS Monterey beta on a virtual machine. By doing this, you can test out the new features of Monterey, without sacrificing the "stability" of macOS Big Sur. It's really a win-win for everyone, regardless of whether you want Windows 11 or just a platform to play around with upcoming macOS features.
"Parallels Desktop 17 for Mac continues to deliver performance and stability improvements as well as innovative, easy-to-use features on Intel and Apple M1 Mac, offering users the most advanced Windows-on-Mac experience ever. We're thrilled to have created the world's first prototype of a macOS Monterey virtual machine running on a Mac with Apple M1 chip."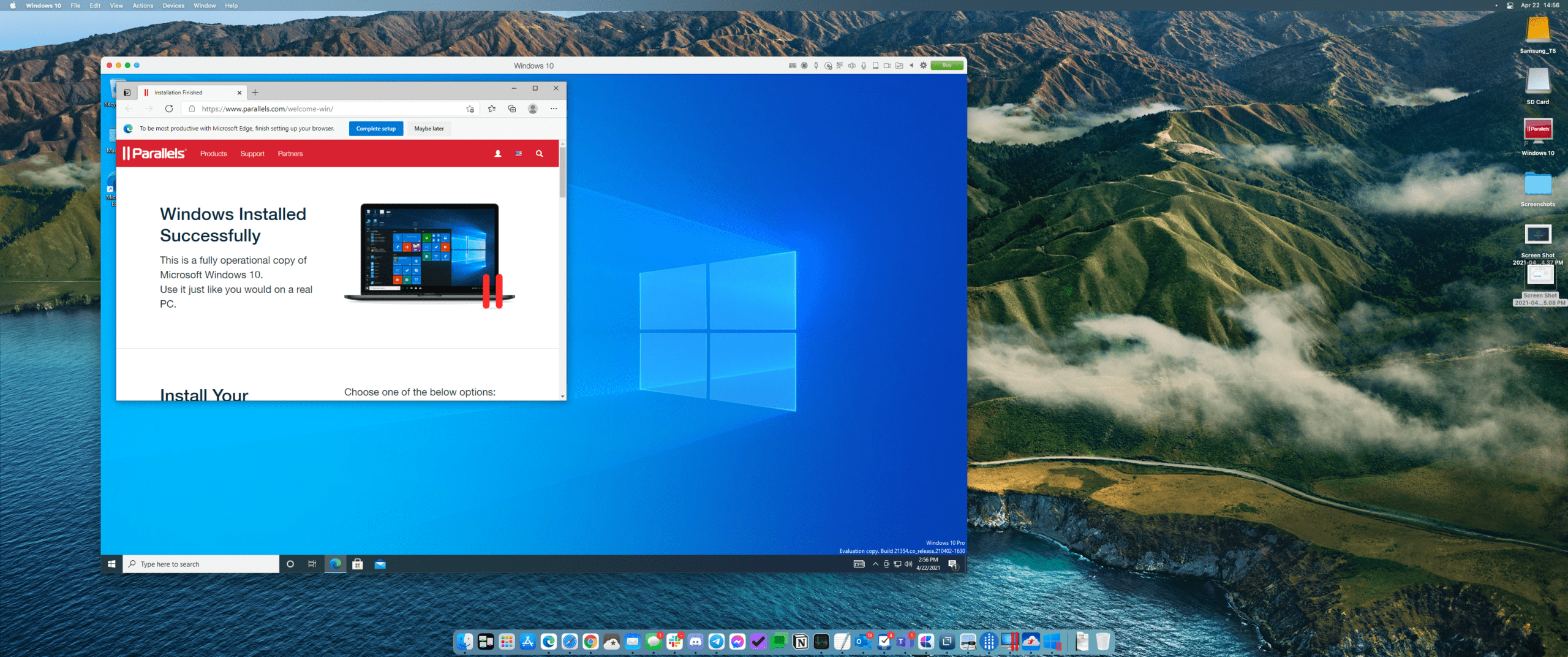 Now that Parallels 17 is built atop Apple's Universal Binary, this brings with it quite a few performance boosts and improvements. Here's a breakdown of what is detailed in the announcement post:
Using supported Mac computers:

Up to 28% faster Windows, Linux, and macOS resume
OpenGL graphics perform up to 6 times faster
Up to 25% faster 2D graphics in Windows

On Mac using the Apple M1 chip:

Up to 33% faster Windows 10 on ARM Insider Preview start
Up to 20% faster Windows 10 on ARM Insider Preview disk performance
Up to 28% better DirectX 11 graphics performance

On an Intel Mac:

Up to 50% faster network connection on macOS Big Sur (and newer) virtual machine.
But the improvements don't stop there, as Parallels Desktop 17 uses an improved display driver to deliver better responsiveness. This also provides a boost to the frame rate in 2D action-platformer games, providing you the ability to actually game somewhat natively on the M1 Mac.
Parallels Desktop 17 Pricing
If you're interested in trying out Parallels Desktop 17 on your M1-powered (or Intel) Mac, it's available starting today. Those who already own a copy of a previous version can upgrade for $49.99. Those who are new to Parallels and want to sign up, you can do so for $79.99 per year.
The company also offers a "perpetual license" for its virtualization software. For $99.99, this is a "buy once" approach to virtualizing Windows and future versions of macOS. Opting for this perpetual license guarantees that you will get minor updates, but will again need to purchase the next version whenever it arrives.
Thankfully, you can try Parallels Desktop 17 before pulling the trigger. The company includes a 14-day free trial, allowing you to fire it up and give a spin before deciding on whether it's something you need.
Andrew is a freelance writer based on the East Coast of the US.
He has written for a variety of sites over the years, including iMore, Android Central, Phandroid, and a few others. Now, he spends his days working for an HVAC company, while moonlighting as a freelance writer at night.