In 2016, alongside the headphone port-less iPhone 7, Apple introduced it signature wireless earbuds: the AirPods. Apple describes these as the best-ever Apple EarPods only wireless. And while that may not sound like much for $159, over the past year we've come to absolutely love them, and they are amazing. However, nothing is perfect, and AirPods are certainly no exception. Below, we've listed a few things that could make the next generation of AirPods even better.
Related Articles
Next Generation AirPods: A New Design
One drawback of the first-generation AirPods is they kind of look silly. I've certainly gotten looks walking down the street with them. While I don't think this is entirely an ascetic issue, many people don't even know they exist; I believe they do look a bit out of place.
Considering when you compare them to EarPods, they look obese, maybe slimming them down a bit would be a good start. Also, a Jet Black option would be awesome. And I'm sure there are plenty of folks wanting AirPods to match their iPhones–so how about a silver, space gray, rose, and gold option too, along with black and white?
Waterproof
You have this amazing, brand new, waterproof iPhone and the guy at the Apple Store recommends some AirPods. While AirPods are a great companion, they don't share the same abilities as the iPhone when it comes to wet situations.
I once wore my AirPods in the rain, and it felt like I should not have been doing it. When exposed to a significant amount of water, I am sure AirPods would stop working.
Additionally, this means they are not sweat-proof, which hurts what I think is one of its biggest selling points: exercising alongside the Apple Watch. They'll certainly hold up, but they aren't made for it.
Next Generation of AirPods: Siri
With AirPods and iOS 11, you have five forms of interaction with the AirPod Double-Tap. These interactions include Play/Pause, Next Track, Previous Track, and Off–you choose one interaction for your right AirPod and a different one for the left AirPod.
For some, that double-tap is hard to get right. Sometimes it works, sometimes not. It's unpredictable!
Siri and AirPods
When you activate Siri by double-tapping on an AirPod, it activates Siri on your iPhone and uses AirPods as a mic. When you use Siri on one of your AirPods, you can increase and decrease volume, skip tracks, and tell Siri what song you want to play. With Siri, there are a few ways to do the things you want. However, Siri often takes longer than doing it yourself! Useful if you can't reach your iPhone but Siri often results in both a delayed experience and an interface not made for AirPods.
My first request would be for Siri actually to be built into AirPods and second for it to work offline. This would elevate some of the struggles of getting things done wirelessly.
Volume Control
On a similar theme, the only way to control volume on AirPods is via Siri. This is intolerable. Let's say your listening to a great song and want to turn the volume up a notch or two. You don't want to have to pause your song to tell Siri to do it, so you either deal with it or pull out your phone.
Maybe either via a triple tap or something, but there has to be a native way to do this on AirPods.
Better Sound Reproduction
Many iFolks complain that their AirPods aren't reproducing lower frequencies (bass) as well as higher frequencies (treble.) So on our wish list, is a wider range of sound reproduction, particularly in the bass. And give us options, like an AirPod music equalizer, to control the boosting of these frequencies, so we can customize the sound to our liking.
An AirPod Dedicated App or Setting 
We'd love to see AirPods get their own App, like the Watch. Or at least their own Setting. We think this is one feature that Apple's AirPods have needed all along.
Currently, there is no AirPods app. All settings can be controlled in Settings > Bluetooth > tapping on the "i" beside the AirPod name. We think using the Bluetooth panel is cumbersome and oftentimes frustrating!
With its own App or Setting, AirPods could feature a host of customizations from sound quality to adding your own series of tap commands. And we think that would be just AWESOME!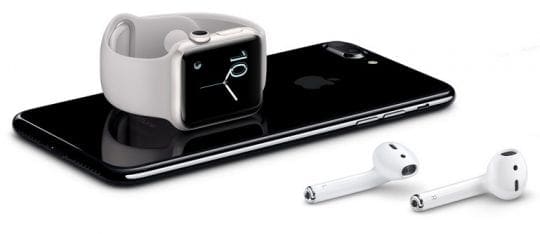 Onboard Storage and Fitness Tracking
This is more of a stretch, and I have a theory of how Apple is approaching this, but it would be cool to sync songs to AirPods and be able to take them on a run as a standalone product, along with something like heart-rate monitoring.
This could technically all be achieved with an Apple Watch paired with AirPods today, but it would still be cool to have it in one package.
More Sizes and Fits 
While AirPods fit excellently into my ears and everyone I've had to try them on, some users need different sizes. If Apple could figure out a way to resize without making things complicated, it would likely expand the user base.
Conclusions
AirPods are overall a fantastic product you should purchase as a companion to your iPhone. We think the future is really ripe with opportunity for AirPods to develop into a robust device on its own. And while there are flaws, they are one of the best products Apple has released in years.