For several years now, one of the best-selling and most exciting product lineups from Apple has been the AirPods. Whether you're talking about the originals, the Pros, or the Max, all three are fan favorites. If you're looking to upgrade your AirPods or grab a new pair, this post will help you decide between the AirPods Max vs AirPods Pro 2.
These are the two pricier AirPods options that users have available to them. One is a big, high-end beast, while the other pair of headphones is still pricey, but more compact and convenient.
In this post, we're going to be comparing their strengths and weaknesses so that you can make the right decision when purchasing a pair for yourself.
What are AirPods Max?
First off, in this AirPods Max vs AirPods Pro 2 comparison, let's break down what each of these pairs of headphones are. Just in case some of you haven't heard of them before.
The AirPods Max are Apple's biggest headphone offering. They're a large pair of over-ear headphones. That extra size means these provide the best sound quality that Apple has to offer.
It also means that these headphones can be a bit less convenient to lug around. If you're going to be carrying them around with you, then you'll need some kind of backpack or purse to do so.
That said, having owned a pair of these for over a year (my review is here), they have definitely been worth it. I'm a huge music fan, and these have really improved my music-listening experience in a myriad of ways. But more on that later in this post!
What are AirPods Pro?
The AirPods Pro 2 are Apple's mid-range AirPods, providing a quality listening experience without being too pricey. They have a few advantages over the AirPods Max, like being more affordable, portable, and sweat resistant.
Personally, I haven't used these AirPods, so my points for them will be from research and opinions shared by others online. I have owned a pair of standard AirPods, however, which seem to be mostly comparable to the AirPods Pro.
While I wouldn't necessarily consider the AirPods Pro 2 to be budget-friendly, in this AirPods Max vs AirPods Pro comparison, they're going to be the more affordable option.
AirPods Max vs AirPods Pro 2: The Key Differences
And with that out of the way, we can dive into the more direct AirPods Max vs AirPods Pro 2 conversation. I'm going to try and cover every key difference between these two products. That way, you have the most comprehensive idea of what makes them unique.
Size and Design
The first and most obvious difference to cover in the AirPods Max vs AirPods Pro conversation is the size and design. The overhead AirPods Max are much bigger than the in-ear AirPods Pro. If you're looking for maximum portability, it's not even close.
That's not to say that the AirPods Max isn't portable. I bring mine with me almost everywhere I go. But I have a specific traveling case for them that goes in my backpack. Meanwhile, a pair of AirPods Pro 2 can fit in your pocket, purse, backpack, and pretty much anywhere else you can think of.
Design-wise, these are both pretty stellar products. While the standard AirPods have looked like standard Apple headphones with the wires cut off for a while, the AirPods Max and AirPods Pro both feature unique designs.
Both are instantly recognizable as Apple products, though I think the AirPods Max are a bit more iconic. Simply because there are so many AirPods Pro knockoffs.
Additionally, I think just bout anyone should be able to fit the AirPods Max on their head. The ear muffs are telescoping, so you can easily adjust them to fit your head.
The AirPods Pro 2, on the other hand, have soft silicone tips that fit into your ear canal. Not only does Apple include multiple ear tips to choose from, but thanks to recent updates to iOS, you can even perform "ear tip fit" tests to make sure you're picking the right size. And in the event that the included silicone ear tips aren't your style, there are third-party foam ear tips which do a much better job at keeping your AirPods Pro from falling out.
Personally, I've never really enjoyed this style of headphones and find that they don't stay in my ears all that well. So from personal experience, I would say they're a bit less universal than the AirPods Max. If you like this style of headphone, however, then you may end up preferring the AirPods Pro 2 for this reason.
Price
The other major and obvious difference in the AirPods Max vs AirPods Pro conversation is the price. AirPods Max are listed at $549 on Apple's website, while AirPods Pro are listed at $249. That's a $300 difference, which is pretty significant.
You can close this gap a bit by shopping on eBay and other resellers, and this is actually how I recommend shopping for your AirPods Max. A used pair of AirPods Max is still going to perform just as well as a new pair, and you can replace the ear muffs if you're worried about germs. I purchased my AirPods Max this way and was able to save $100 in the process.
That said, I wouldn't necessarily search through eBay for a pair of AirPods Pro. I would be concerned with germs and such, since they go directly into a person's ear. I would just go ahead and grab these brand new. Of course, though, you can use your own discretion when purchasing a pair of either set of AirPods.
What I will say is that I don't think either the AirPods Max or the AirPods Pro 2 are overpriced. I do think the standard AirPods could benefit from a price drop, but the Pro and Max options provide enough benefits in the sound quality and comfort departments to justify their price tag. Plus, if you look to Pro and Max competitors, you'll see that these are priced pretty fairly. You can also use a website like CamelCamelCamel to notify you when the price drops, specifically at Amazon, where the latest AirPods Pro 2 have been as low as $199, offering a savings of $50.
Sound Quality
The next point to cover in this AirPods Max vs AirPods Pro 2 comparison is the sound quality. There are two important points to consider when looking at the sound quality.
The first is how important sound quality is to you. While these are headphones, you might prioritize things like being able to wear your headphones during exercise, carrying them on you easily at work, and being able to easily charge them at any time.
The second point is, of course, the objective quality of sound that the headphones provide. And, unfortunately, there seems to be a bigger gap between the AirPods Pro and the AirPods Max than you would expect.
For starters, let's be clear that the AirPods Max sound significantly better than the AirPods Pro 2. That shouldn't be a surprise to anyone. If you want the best sound experience Apple has to offer, then get the Max. No questions asked.
While the original AirPods Pro didn't offer much of a difference in terms of audio quality compared to the non-Pro AirPods, that's not the case with the AirPods Pro 2. Apple is relying on an all-new low-distortion audio driver, in addition to a custom amplifier which provides a much clearer soundstage compared to the first-generation AirPods Pro.
The soundstage, bass, and high-frequency performances are better on the Max. Meanwhile, the Pro doesn't seem to have much better sound quality than the standard AirPods, except when it comes to bass presentation. If you want a thorough breakdown from audiophiles, you can read here and here.
In short, if you're looking for a great pair of headphones, then either pair will do. If you're looking for a great music listening experience, however, then the AirPods Max are the way to go.
Some users have even gone so far as to say that they just use their AirPods Pro for listening to videos and podcasts, but switch to their AirPods Max when listening to music. That's not to say that you need both devices at all, but just to give you an idea of the difference in sound quality between them.
One other feature to point out is Spatial Audio with head tracking, which is available on both the AirPods Max and AirPods Pro 2. With this feature enabled, it can completely transform your listening experience, provided that you are listening to Dolby Atmos-certified music. Thankfully, if you pick up either set of headphones and fire up Apple Music, there are a few curated playlists that really show off the strengths of what Apple's headphones can provide.
Noise Cancellation
While it might not be a deciding factor for some people, one of the features that has become critical to me after using the AirPods Max regularly is the noise cancellation feature. And that's the next point we're going to be looking at in this AirPods Max vs AirPods Pro conversation.
For those that don't know, both the AirPods Max and the AirPods Pro have active noise cancellation (ANC). That means that they don't just block out sound by covering up your ears. They actively listen to your environment using microphones, then use that to block out background noise using competing frequencies.
The result is noise cancellation that feels like magic. I remember when I first grabbed my AirPods Max, I would just press the ANC button on and off because the difference was so shocking. It's like muting the world around you. My partner is neurodivergent, and they have found that using my headphones around the house helps them stay much more focused and calm.
It also helps the music listening experience, as you can listen to your music without needing to turn it up too loud. You can listen to music in loud environments while easily blocking out the sound, making it much easier to get work or studying done.
Based on my research, it looks like the AirPods Pro are nearly as good as the AirPods Max at blocking out noise. Both devices have ANC, and I'd imagine that Apple uses a pretty similar solution for blocking out sound on both devices. So I wouldn't worry too much about which device you end up getting if noise cancellation is a deciding factor for you.
The other side of ANC on the AirPods Pro and Max is Transparency mode. This is a mode that you can turn on that amplifies the sounds around you, allowing you to have conversations and be aware of your environment even while listening to music. So long as the music isn't too loud, of course.
Again, Transparency mode is more or less the same on both devices, so don't expect the experience to vary too much.
The Controls
Next up in this AirPods Max vs AirPods Pro comparison is the controls on both devices. This is a point that I personally would not consider a deciding factor when purchasing one of these devices. Both have relatively smooth and simple controls, and even if you have accessibility challenges, you can completely control both devices from your iPhone.
That said, I do think the AirPods Max have a slightly slicker control scheme. They have a Digital Crown, just like on the Apple Watch, that spins and clicks. This is your volume as well as your play, pause, and skip controls. It took a while for it to grow on me, as I wanted some kind of clicking feedback from them. But now I'm very happy with how they function.
There is also a dedicated button on the AirPods Max for noise cancellation, which is really handy. While there are only two buttons, they make for a great interface experience. I think it's just right, I wouldn't tweak it at all.
The AirPods Pro, on the other hand, have a very different experience when it comes to the controls. Each AirPod has short stem that extends from the bud. This stem has a single button that can be pressed or swiped on. Swiping up or down controls the volume, while pressing the button can play, pause, or skip your music. Or you can go into the settings for your AirPods and set this up to control noise cancellation.
Again, having not owned a pair of AirPods Pro, I can't speak from personal experience. But my understanding is that these controls are pretty solid. Changing the volume is a bit tedious, but handy enough considering how small these headphones are. And clicking them to change songs is easy and satisfying.
Resistance to Water and Sweat
That brings us to the water and sweat resistance segment of the AirPods Max vs AirPods Pro conversation. This one is pretty straightforward: The AirPods Max don't have any resistance, while the AirPods Pro have decent resistance.
Neither of these AirPods (nor the standard AirPods) have complete water resistance. Do not swim or shower with them, dunk them in water, wear them in the rain, etc.
The only reason the AirPods Pro have some resistance is that they're intended to be worn while working out. So they can handle a bit of sweat getting on them, but that's about it.
For those wondering why they aren't more water resistant, it's because speakers in general are very difficult to make resistant to moisture. That's because making the mesh of speakers resistant to water is challenging, expensive, and can lead to a less impressive audio performance. So you probably won't see these devices being made water-resistant any time soon.
The AirPods Pro 2 Have Slightly Better Performance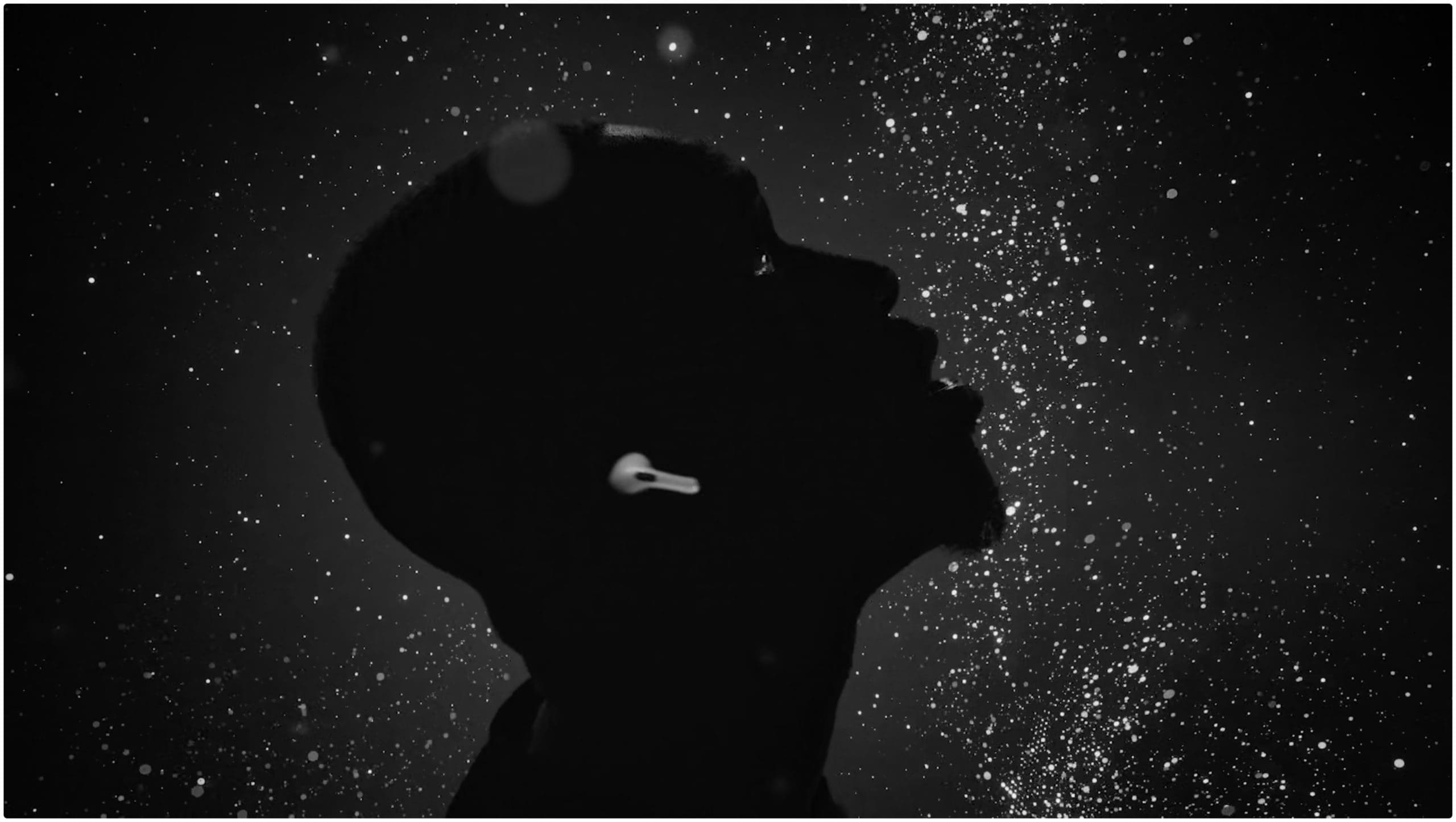 Another fairly straightforward point in this AirPods Max vs AirPods Pro comparison is performance. Both of these devices have relatively simple operating systems, so they run pretty smoothly. There isn't really any delay when changing the volume, settings, skipping songs, etc.
That said, the AirPods Pro do have a better chip than the AirPods Max. That's because the AirPods Pro have been updated, while the AirPods Max are still in their first generation (at the time of writing).
Again, this isn't really a selling point since it's such a minor difference. But it's worth pointing out that the AirPods Pro might have slightly improved computational longevity as a result.
The AirPods Max Have Much Better Listening Time
Something AirPods Max users will enjoy over AirPods Pro users is listening time. The AirPods Max, when new, can go about 20 hours between charges. The AirPods Pro, on the other hand, can only go about 6 hours.
I have to say, this seems to be a pretty accurate figure for the AirPods Max. I've been using mine for about a year and a half every single day and haven't noticed much of a drop-off in battery performance. They also charge pretty fast, in about one hour. And I only find myself charging them every other day or so.
That said, the AirPods Pro have a charging case, which the AirPods Max do not have. So the AirPods Pro can last 6 hours, be popped into the charging case for an hour, then come out and provide another 6 hours of listening. You can do this for up to 30 hours whenever your AirPods Pro 2 are new.
So with a charging case, the AirPods Pro actually beat the AirPods Max in battery performance.
Either way, you're going to be fine listening to album after album on these things. Both have great, long-lasting battery performance.
One thing I will say, though, in this AirPods Max vs AirPods Pro point, the AirPods Pro might not hold up as well over time. That's because they have pretty small batteries, and smaller batteries tend to get worn out faster than larger batteries. Especially when experiencing as much use as these are.
For example, my standard AirPods that I had back in the day stopped holding a charge after about a year and a half. You can replace the battery in these, but it's pretty expensive to do so. I imagine that the experience with the AirPods Pro 2 is pretty similar, while the AirPods Max have held up considerably better to daily use.
Care and Accessories
The last point in this AirPods Max vs AirPods Pro 2 conversation is the care and accessories available for these devices. It's been my experience that the AirPods Max are a bit delicate, while the AirPods Pro are pretty durable.
The ear muffs on the AirPods Max are going to wear out over time. Fortunately, they are extremely easy to replace. They can be pulled off with very little effort, and buying a new pair isn't too expensive. I will say that while mine are a bit grungy looking, they're still plenty comfortable to wear. You can also replace the batteries in the AirPods Max by taking them to an Apple Store.
The headband on the AirPods Max, however, has not held up as well. It's still comfortable, but it has lost its tension that it had when it was new. It's also very delicate, so while I haven't damaged it yet, I am pretty aware of the fact that it could easily rip if it catches on the wrong surface.
Unfortunately, for whatever reason, you cannot replace this part of the headphones. They are removable – that isn't the problem. The problem is just that Apple doesn't offer replacement parts. The only exception to this is the fact that you can purchase replacement ear cushions, which can be had in five different colors. Not only is this great if you have your AirPods Max for a few years and your ear cushions get worn out, but you can also grab a different color to add a bit of flair or just to change the way they look.
The AirPods Pro 2, on the other hand, are pretty easy to take care of. They just need to be cleaned with a cotton swab every now and then, and that's about it. The silicone tips and the batteries are all replaceable. So if you don't lose them, they should last quite a while.
AirPods Max vs AirPods Pro 2: Which should you buy?
Alright, now that you know all of the key differences to be had in the AirPods Max vs AirPods Pro 2 conversation, it's time to look at which ones you should buy. Here are some points to consider when purchasing one or the other based on the differences we just explored.
Sound Quality vs Portability
The first major point to consider when looking at AirPods Max vs AirPods Pro is the sound quality versus the portability. Though it may seem obvious, after all of the differences we've listed in this article, it should be clear that this is really the core difference between these devices.
The AirPods Max provide a better listening experience. They have better sound quality, are more comfortable, and are comparable to the AirPods Pro when it comes to features.
Conversely, the AirPods Pro 2 are much more portable, work better for exercising and moving around, are more discreet, and can be used in more situations.
So if you want a pair of headphones that you can wear throughout the day, casually listening to music while you complete other activities, then grab the AirPods Pro 2. If you're looking to elevate your music listening experience, want to spend time sitting and listening to music, and aren't going to be moving around too much while listening to music, then go with the AirPods Max.
The Level of Maintenance Required
Another point to consider when comparing the AirPods Max vs AirPods Pro 2 is the level of maintenance required. The AirPods Pro 2 essentially require no maintenance, except maybe replacing the battery after a year or two.
The AirPods Max, on the other hand, will require some looking after. You'll want to purchase a good case for them (see here), be gentle while using them, keep them away from kids, and periodically replace the batteries and ear muffs. And, hopefully, Apple will start offering replacements for the headband. Which, if that happens, will mean you'll want to replace that eventually, too.
This makes the AirPods Max a slightly more expensive and high-maintenance device than the AirPods Pro. If you're not up to the task, then maybe consider going with the AirPods Pro.
Comfort and Budget
Lastly, you'll want to consider your comfort and budget when looking at the AirPods Max vs AirPods Pro. Most people agree that the AirPods Max are more comfortable and universal, especially when listening for long periods of time. I can personally wear these for several hours a day without needing to take a break.
Additionally, think about your budget. The AirPods Max cost the same amount as a new PlayStation 5, nearly as much as an iPad Air, two Apple Watch SEs, and so on. It's a pretty serious investment.
The AirPods Pro 2, while still expensive, aren't nearly as big of a commitment. So you can grab a pair of those without feeling like you've just broken the bank quite as much.
AirPods Max vs AirPods Pro: Making the Right Purchase
And that's it! That's just about everything you need to know when deciding between the AirPods Max vs AirPods Pro 2. In short:
Grab the AirPods Max if you're a music fan looking for the best music listening experience
Grab the AirPods Pro 2 if you're looking for a great pair of earbuds to get you through the day
Let me know which pair you're thinking about grabbing in the comments below! And remember, don't hesitate to grab a pair secondhand to save some cash.
For more insights, news, and guides on all things Apple, check out the rest of the AppleToolBox blog.
See you next time!