FaceTime is an Apple app that allows you to call, video chat, and share your thoughts and feelings with your friends.  It's a fabulous tool for keeping up with everyone in your life and even getting some business done.
So when FaceTime isn't working as expected, it's potentially a huge inconvenience!  Or maybe you don't even know where to start to get FaceTime up and running.  So here are some FaceTime Help & Tips to get yours on the right road to using this app.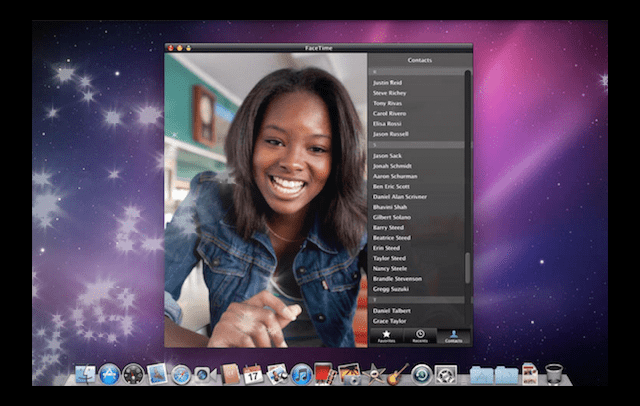 So, What IS FaceTime?
FaceTime is somewhat similar to Skype and Google Hangouts. FaceTime enables you to make a video or audio-only calls over WiFi from your iPhone, iPad, iPod Touch, and Macs.
It even works on mobile and cellular networks for iPhones and other iDevices.  And FaceTime is really easy to use, so it's safe for all ages, from your school-age children through your great-grandparents (and beyond.)
Related Articles
iOS Specific Articles
Setting Up FaceTime is a Breeze!
FaceTime lets you make video and audio calls with friends, family, or even business associates over the WiFi network on the iPhone, iPad, iPod touch, or Mac. Unlike many other calling apps, there is no need to set up an additional account; just sign in with your Apple ID.  It's that simple.
To use the app, find the person within Contacts and tap the FaceTime icon. Or, use Siri to start the call with a simply voiced instruction. The receiver gets an invitation, to which they must accept before the video call begins.
Visit this article to learn step-by-step how to set-up and use FaceTime.
How FaceTime Actually Works
FaceTime utilizes the two built-in (if available on your model) cameras to create the perfect picture quality and focal length for viewing. The unique features of the app automatically adjust the brightness and contrast levels of the image, so that you always are in the best possible light.
Also, callers can switch the camera's view, so that the other person can easily see surroundings. It's super useful for connecting with friends or family in another city or country.  And it's a great option for holding or attending important business meetings and conferences when face to face isn't possible.
FaceTime works by connecting an iPhone 4 (or newer), a fourth-generation iPod Touch (or newer), a second-generation iPad (or newer), or a computer with macOS or Mac OS X (e.g., MacBook Pro, MacBook Air, etc. ) to another iOS or macOS device.
Also please note that the previous generations of iPhone, iPod touch, and iPad are not supported. FaceTime is also not compatible with non-Apple devices (e.g. Windows OS, PC, or other tablets). More specifically, following Apple devices support FaceTime:
Over Wi-Fi, you can use FaceTime on any of these iDevices
iPhone 4 or later
iPad 2 or later
iPad mini (all models)
iPod touch 4th generation or later (only iPod touch 5th generation supports FaceTime audio calling)
With a cellular data plan, you can also use FaceTime without Wi-Fi on any of these devices
iPhone 4s or later
iPad (3rd generation or later)
FaceTime for iPhone & iPad
FaceTime is meant for mobile. And it's simple to get started and begin chatting with your friends and family. Just open your FaceTime app and sign in with your Apple ID.
Another option to do this is from Settings > FaceTime. If you're using an iPhone, FaceTime automatically registers your phone number.
You also need to register your email address on your iPhone.  So tap Settings > FaceTime > Use your Apple ID for FaceTime, and sign in. And if you're using an iPad or iPod touch, register your email address by tapping Settings > FaceTime > Use your Apple ID for FaceTime, and sign in.
You can also use the contacts app to place a FaceTime call. FaceTime has the option to use either the front or back camera.
If FaceTime isn't working for you on your iDevice, like your iPhone or iPad, take a look at our troubleshooting FaceTime for iOS article to get some tips and solutions.
Related Articles
FaceTime for Mac
Apple's signature calling app allows you to make calls to another Mac or an iPad, iPhone, or iPod touch. FaceTime is included with OS X Lion or later. And it is available for any Macs running Mac OS X Snow Leopard v10.6.6 or later.  You still need an Apple ID to use FaceTime on your Mac.
So if you have Mac OS X v10.6, you download the FaceTime app from the Mac App Store (it is free). This app supports high-definition (HD) videos as long as your Mac has a built-in FaceTime HD camera.
And of course, remember that your video quality depends on your camera AND the quality and speed of your Internet connection.
Related Articles
Let's Get A FaceTime Account
To get started with FaceTime on, you may need an Apple ID. To turn FaceTime on, just navigate:
iOS: Settings > FaceTime
Macs: FaceTime > Preferences
Related Articles
Hate FaceTime, Let's Talk Alternatives
If you tried FaceTime out, but don't like its interface or have some other issue with the app, we have some great options for you.
Check out this article "Hate Apple's FaceTime" to see what apps we think are great options.
Want To Make Audio-Only FaceTime Calls?
We've all been there.  A call comes in, but we're still in our Pajamas or sporting some clothing that we just don't want the world (or your mother) to see.  What we want is to talk old-school.  No image, just our lovely voices beaming through the microphone and speakers.
Yup, we want (okay, maybe we need) to make this call an audio-only call.  But hey, that doesn't seem as easy as it sounds.  I mean FaceTime is all about the face, right?
So if you are "facing" (had to use that one–sorry) this situation, check out Bin's article on how to make that audio-only FaceTime call.  Yes, let's do this old-school!
Is FaceTime a Data Hog?
Are you using FaceTime a lot with your mobile or cellular data plan rather than WiFi?  If you are always on the run, the chances are that you are burning through quite a bit of your monthly data allotment when making FaceTime calls, especially video calls.
But how do you know how much data those FaceTime calls are taking?  Well, Andrew looked into that very question in his article "How Much Data Does FaceTime Consume?"  So if you're finding that month after month you are burning through a lot of data, take a look at this article to check your FaceTime data use and learn ways to limit it.
What About Blocking Numbers or Contacts on FaceTime?
Okay, we all get calls from phone numbers that show up as Unknown or from folks that we just plain don't know. It could be an advertiser or even a prince from some unnamed place, bearing the good (and possibly very bad if you fall for this one) fortune of inheritance.
So yeah, we want and need to ability to block things like this OUT.
So the good news is that you can block contacts and phone numbers on your device. And filtering iMessages from unknown senders is simple too! And if needed, you also may report iMessages that look like spam or junk.
This feature's been around since iOS 7, but many of us still don't use it, know how to use it, or even realize it's there!
So if you want to block a number or a contact, take a look at Andrew's article on How to Block Calls and Messages on FaceTime.
Just remember that when you block a phone number or contact, they can still leave a voicemail, but you won't get a notification. Messages won't be delivered. Also, the contact won't get a notification that the call or message was blocked.
Troubleshoot FaceTime Problems
FaceTime Activation Issues
FaceTime Call Problems
What About Security and Privacy on FaceTime
Facetime communications are protected by end-to-end encryption across all your devices when you use iMessage and FaceTime. And with iOS and watchOS, your iMessages are encrypted on your device in such a way that they aren't accessible without your passcode.
Apple has no way to decrypt iMessage and FaceTime data when it's in transit between devices. So unlike other companies' messaging services, Apple doesn't scan your communications.  Therefore, Apple wouldn't be able to comply with a wiretap order even if they wanted to.
Also, Apple doesn't store FaceTime calls on any of its servers to protect your privacy.

The Nitty Gritty of Apple's FaceTime Security
So FaceTime uses what's called an Internet Connectivity Establishment (ICE) to establish a peer-to-peer connection between devices. Using Session Initiation Protocol (SIP) messages, the devices verify their identity certificates and establish a shared secret for each session.
The cryptographic nonce supplied by each device is combined to salt keys for each of the media channels, which are streamed via Secure Real Time Protocol (SRTP) using AES-256 encryption.
So what does this mean for you?  It means your FaceTime calls, texts, etc. AND your iMessages are pretty well protected and secure.
Secure Messaging Scorecard
Of the seven major criteria that are used by Electronic Frontier Foundation to rank the security strength of messaging platforms, Apple scores 5 out of 7, significantly higher than Skype. Please note that this report from EFF has not been recently updated.
The two areas where Facetime is not ranked are a) Verifying contact's identities and b) independent review of the code. These two characteristics are not a game-changer as you can easily verify who you are communicating with while using Facetime. Furthermore, by keeping the code intact and private, Apple is shielding its products from hackers. Recently, Apple launched a bounty program encouraging hackers to find vulnerabilities in its iOS platform.
In July 2016, a new piece of Mac-Targeting malware was discovered, allowing hackers to execute code and even control FaceTime's camera access remotely. But Apple's Gatekeeper security prevented the unsigned app from even being installed. So as long as you keep your computers and devices updated with the latest security patches from Apple, you should be good to go.
So place your fears aside.  Apple's Facetime app is very secure and provides users with end-to-end encryption affording peace of mind.
And Other Random Notes About FaceTime
FaceTime isn't available or might not appear on devices purchased or used in Saudi Arabia, United Arab Emirates, and Pakistan.
FaceTime Audio was announced at Apple's WWDC 2013 keynote speech on June 10, 2013 (iOS 7 and OS X Mavericks)
If you are having issues using a WiFi network with FaceTime