Want to save yourself from the prying eyes of hidden cams? Use the hidden camera detector app for iOS devices.
These days, spy cameras are everywhere to snoop into your private moments. Ultimately, it becomes your responsibility to ensure your privacy.
Luckily, there are some hidden camera detector apps for iPhone that can help you find spy cameras.
Hidden Camera Detector app can scan any room and find out whether any hidden spy cameras are there spying on you.
It comes with an all-in-one network scanner that can locate any GPS trackers, hidden cams, covert devices, and bugs in WiFi, Bluetooth, and any wireless network you connect to.
It's also capable of finding cameras in pens, watches, alarm clocks, fans, keychains, smoke detectors, and shampoo bottles. You can also explore the camera type from the find section.
You can even take help from the professional security experts of this app for a second forensic opinion about the camera.
Moreover, this app is capable of finding devices that can be remotely accessed over the Internet.
Did you just enter a hotel room and want to check if there is any hidden cam? Use Hidden Camera Finder.
This spy hidden camera detector app lets you detect hidden cameras in your home, office, hotel, and any public place and find their exact locations with augmented reality (AR) markers.
Even if you want to detect a spy camera in a low light ambiance, you can use the flashlight feature of this iOS app.
Its reliable camera detection technology and simplistic interface let you quickly and easily locate hidden cameras from your surroundings.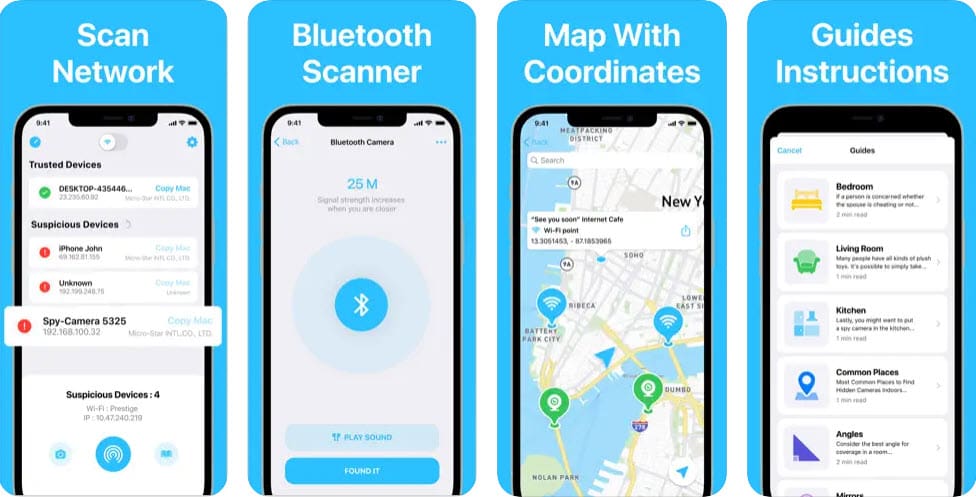 Hidden Spy Camera Finder Pro is another powerful iOS app for finding hidden cameras from any place and staying safe under any circumstances.
It allows you to check for suspicious devices that might be active under the current network in just one tap.
You'll also get exclusive guides and recommendations from this app to secure your privacy.
It also comes with the scan history feature that records all the events of scanning and finding cameras.
If you're in a hotel or bathroom, use this hidden camera detector app for iPhone to scan WiFi and Bluetooth networks for spy cameras.
The new feature of this app includes a map containing camera and WiFi coordinates and a better interface design.
4. Fing – Network Scanner
It's not unusual to enter a B&B room and think if there are any hidden cameras in that room. Fing – Network Scanner is here to answer that question in your mind.
This app can discover and identify all the devices connected to your WiFi and Bluetooth network, including the hidden cameras.
It can also accurately recognize the device name, model, manufacturer, MAC address, IP address, and vendor.
Moreover, you can use the spy hidden camera detector app to get alert notifications on network security and device straight to your phone and email.
Besides, this app can perform an internet speed test, scan posts, and analyze devices for device type, properties, NetBIOS, SNMP, and UPnP.
Use it in hotels, bathrooms, and fitting rooms to find hidden spy cameras and ensure your privacy.
This hidden camera detector app not only scans the connected LAN devices but also obtains the Mac addresses of the devices to determine their name, type, manufacturer, etc.
It also comes with a Bluetooth device scanning feature. Using it, you can find Bluetooth devices near you and get their approximate real-time distance.
Whether you're traveling or staying in a hotel, this app can help you ensure your privacy and security. It can also detect infrared cameras, WiFi cameras, and Bluetooth cameras.
It analyzes magnetic activity around suspicious objects and shows you red status for further investigation for a wired camera.
Its lens detector feature uses AI technology to detect different electronic devices such as mobile cameras, CCTV, and cameras.
This cam detector app also shares tips, tricks, and hacks so that you can stay protected.
Spy Hidden Camera Detector app functions as the lens reflection inducer. Later, you can manually inspect the target object to find out the hidden or spy camera.
This tool can easily detect disguised camera lenses that might be present in your room without your knowledge.
In manual detection mode, you can check the suspected area with the app to find the nature of the surface.
The automatic detection mode lets you find cameras through the presence of the magnetic field.
For best results in automatic mode, make sure the room lights are dimmed and the iPhone is completely steady.
Are you looking for a spy hidden camera detector app that can provide you with results with high accuracy? In that case, Hidden: Camera Detector app is perfect for you.
The app developers included advanced networking technology in this app to detect spy cameras accurately.
All you have to do is to connect your iPhone to the WiFi network of the place.
Then, the app can find out all online devices of that network, including the cameras that are recording or transmitting data.
This app can also locate the positions of the hidden cameras in your room.
9. Camera Detector: Find Spy Cam
It helps you protect your privacy from spies and hidden cameras. So, use it anywhere you suspect the presence of a spy camera, including hotels and bathrooms.
You can also use it in your house if you suspect that someone intruded there in your absence. It scans the current network to look for suspicious devices.
It can also search for Bluetooth devices in your area. Moreover, it provides you with a comprehensive anti-sneak shooting guide.
Magnetic field detection and multilingual support are also available on this app.
10. Electromagnetic Detector EMF
It only takes a few seconds for this app to discover the electromagnetic fields around you.
There is no need to get expensive devices as the app can locate the hidden cameras for you by detecting EMF.
However, you need to have a general idea about the possible location of the camera to get the best results.
In addition, this app can store up to 100 reading records with date and time stamps that you can use later for reference.
Most hidden camera-detecting apps primarily use three methods to detect spy cameras, wired cameras, and wireless cameras.
Firstly, most iPhones come with advanced cameras that detect infrared (IR) rays. You and I don't see such rays in a room. Most spy cams come with IR rays, so these cameras can record videos or take pictures at night.
Thus, when you activate the IR detection feature, you scan the whole room with the iPhone camera. If you see any bright white or blue lines on your screen, it means the room has an IR emitter. The source of this IR is most likely a spy camera.
Secondly, wired spy cameras create a magnetic field around them. Using the iPhone's magnetometer, a hidden camera detector app can reveal if any such device is present in the room or not.
Thirdly, wireless spy cameras use various radio frequencies for data communications. These are mainly Bluetooth and Wi-Fi. Some of the above-hidden spy camera detectors can scan the vicinity for active wireless networking to match the footprint with known spy cams.
A spy hidden camera detector app can use the hardware of your iPhone to help you spot hidden cams in the room. For example, the app uses the magnetometer, wireless network scanner, and the device camera.
However, the detection capacity and accuracy may not be 100%. So, you need to thoroughly check various spots in your hotel room where you think it's easy to hide cameras.
Do Camera Detector Apps Work?
Some of the highly rated cameras mentioned above work to some extent. These apps use smartphone hardware and software resources to spot places where the following activities are of high magnitude:
IR emission
Magnetic field
Wireless network activity
You need to cross-check places where you get the most activity from a hidden camera-finding app.
Can iPhone Detect Listening Devices?
You can use your iPhone to detect listening devices as well as spy cameras. For this, you must install iOS apps that can use the following hardware of your iPhone:
Camera
Magnetometer
Wireless network detector
Any listening device or spay cam-detecting app uses the above features to show some kind of audio-visual signal if it detects any listening device or spy cam.
Conclusion
One hidden camera is enough to ruin your privacy. Hence, you must be careful about the spy cameras in hotels, public bathrooms, B&Bs, conference rooms, and fitting rooms.
Here, I've curated a list of iOS apps that can detect spy cameras. Use any hidden camera detector app from this list and stay secure.
Have any comments? Tell us in the comment box. Also, don't forget to share this list with your family and friends.