Your iPhone might be the best camera you've ever owned. It's always on you, has an enormous viewfinder, and can capture beautiful photos in an instant. But even better than that, your iPhone camera also offers a range of different shooting modes you can use.
From slo-mo videos to panoramic landscapes, we'll explore all the different camera modes on your iPhone, explaining what they do and how to use them.
By the end of this guide, you'll know how to use every iPhone camera mode like a pro.
Related:
How to Change the Camera Mode on Your iPhone
Before explaining what all the different camera modes do on your iPhone, we first need to show you how to change between modes. This is super easy—you've probably already done it in the past.
To change your iPhone camera mode:
Open the Camera app on your iPhone.
Tap the mode you want to use at the bottom of the screen (or at the side if you're in landscape mode). Your current mode is highlighted in yellow.
Alternatively, swipe left or right across the screen to quickly switch from one mode to the next.

As you change between camera modes on your iPhone, you'll see a new selection of shooting controls appear around the edges of the screen. Tap the arrow to fine-tune these controls to your liking.
By default, the Camera app always opens in Photo mode. However, if you want it to open in the last camera mode you used instead, go to Settings > Camera > Preserve Settings and enable Camera Mode.
Photo Mode on the iPhone Camera
Photo mode is the standard mode on your iPhone camera; it's what you use to take normal photos. You can also use Photo mode to take Live Photos if your device supports them.
In Photo mode, you'll see a large white shutter button. Tap that to snap a picture.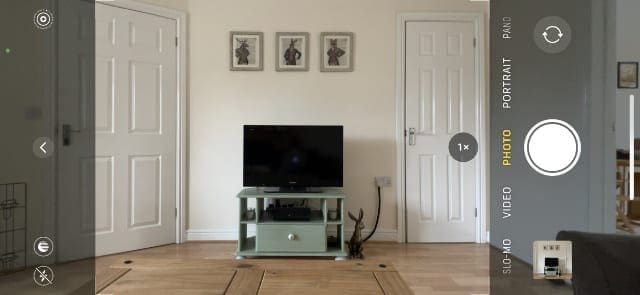 You can also tap and hold the shutter button to start recording a video with QuickTake. The video stops when you release your finger unless you slide over to the lock icon to keep recording even after you lift your finger.
Portrait Mode on the iPhone Camera
Portrait mode blurs the background of your photo while keeping the subject in focus to create what's known as a bokeh effect. This results in striking images that allow the subject of your photo (be it a person, an object, or a pet) to jump out from the background.
A camera traditionally achieves this depth-of-field effect by changing the aperture of the lens, but your iPhone uses software magic instead. Clever algorithms find the subject of your photo and then blur the background accordingly.
As a result, you can change the aperture (measured in f-stops) to increase or reduce the blurriness of the background.
You can also use Portrait mode on your iPhone to add software lighting to a person's face. These lights can enhance the highlights and shadows, creating the effect of a studio lighting effect out of nothing.
Portrait mode is only available on the iPhone 7 Plus, iPhone 8 Plus, iPhone X, and later.
Pano Mode on the iPhone Camera
Pano mode allows you to take a panoramic photo by slowly turning your iPhone to the side. The result is an ultra-wide photo that captures 180 degrees or more of your environment.
This essentially works by taking multiple photos and stitching them together so well that you can't see the seams.
To use Pano mode, tap the shutter button and follow the onscreen instructions to move your iPhone sideways. It works best if you stand in the same spot and turn your entire body to the side.
Your iPhone might tell you to move slower, move faster, move down, or move up. Follow the instructions to ensure your iPhone camera captures everything it needs for a good panoramic.
If people or objects are moving while you pan past them, they might appear distorted in the final photo, so try to avoid that where possible.
By default, Pano mode captures panoramic photos from left to right, but you can reverse this by tapping the arrow.
You can also create a shorter panoramic photo by tapping the shutter button again after you start to stop where you are.
Video Mode on the iPhone Camera
As you might expect, Video mode lets you use your iPhone to capture video recordings. When in video mode, the shutter button switches to a red record button.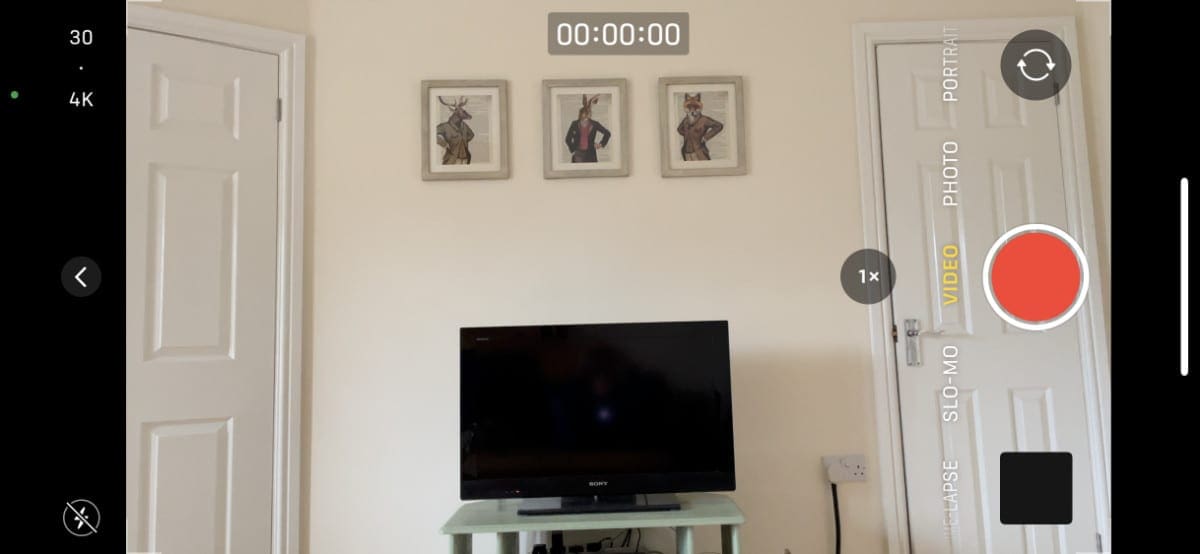 Tap the record button to start recording, then tap it again to stop.
While recording, you can also tap the white shutter button that appears to snap a photo without interrupting your video recording.
Various different options are available for the video quality and frame rate, depending on your iPhone model. You can see the current video quality and frame rate at the top of the screen; tap these options to change them.
Slo-Mo Mode on the iPhone Camera
Setting your iPhone camera to Slo-Mo mode lets you shoot a video, then play it back in slow motion. You'll know you're in Slo-Mo mode by the white outline that appears around the record button.
You'll only be able to watch videos in slow motion when you play them back from your photo library.
How much you can slow down your video depends on the frame rate you used in Slo-Mo mode. You can see this, along with the video quality, at the top of the camera screen.
Tap the frame rate or video quality to change it. The options available to you depend on your iPhone model.
Time-Lapse Mode on the iPhone Camera
Think of Time-Lapse mode as the opposite of Slo-Mo. Rather than slowing down the videos you shoot on your iPhone, Time-Lapse mode speeds them up.
For instance, you could record a time-lapse video of a sunset that takes an hour to film, but speeds up to about 30 seconds when you play it back.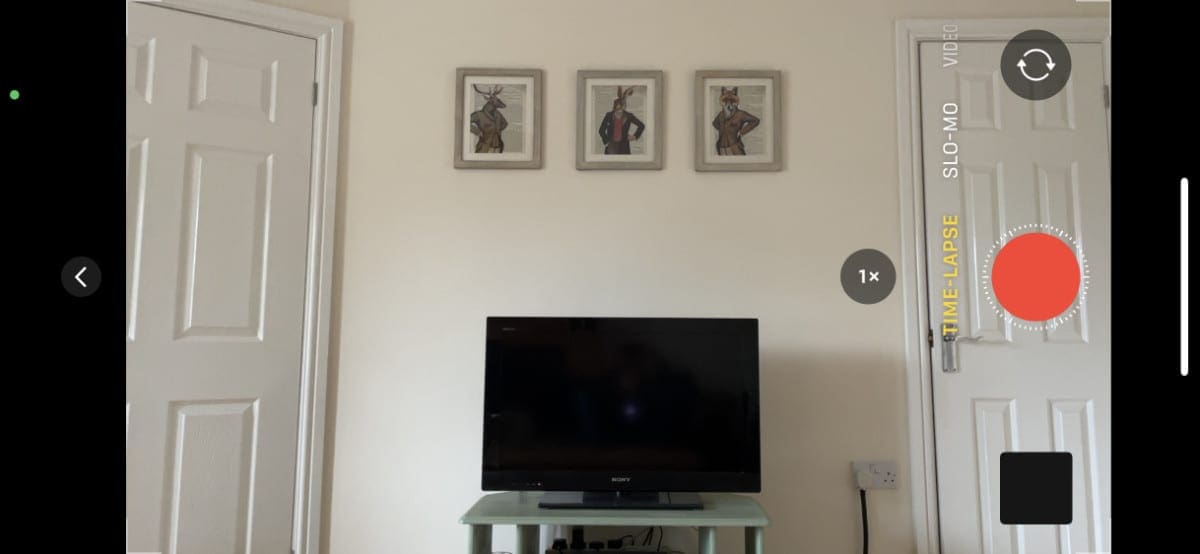 No matter how long your original video lasts, your iPhone usually speeds it up to around 30 seconds or so. This is dramatically different from most third-party time-lapse apps, which let you choose how much to speed up the resulting video.
Unfortunately, iOS doesn't offer any options to let you choose how much to speed up your time-lapse video, making it a little less useful than the other camera modes on your iPhone.
Edit Photos and Videos to Perfection With the Photos App
No matter which camera mode you use to take photos or videos on your iPhone, you can edit them to perfection using the Photos app. The editing options in Photos allow you to tweak the colors, adjust the exposure, crop, rotate, and make various other changes to your photos or videos.
If you're new to iPhone, take a look at our guide on how to use the Photos app to edit photos and videos. We'll explain all the different tools you have at your disposal—or show you how to use the Auto tool to let your iPhone edit photos for you.
What's Your Favorite iPhone Camera Mode?
Your iPhone offers a lot of different ways to take photos or videos of the world around you, but which is your favorite? Do you prefer taking videos over photos? Or are you a time-lapse master? Let us know in the comments below!