Want your images to come to life and pop with a brief bit of motion? Look no further than Apple's Live Photo feature, available on all recent model iPhones, iPads, iPods, and even Macs!
Live Photos aren't videos, and they not exactly photos either. They are moments moving briefly in time. Quick snapshots into the world slightly before and slightly after you capture an image.

They are the frown before the smile. The thought before the action. The moment before and after a pose.
And the best news, Live Photos is on by default for any iPhone 6S or later. So it's easy to take live photos of all your favorite experiences, places, and people!
Live Photos on iPhone is a Camera feature that Apple introduced in September 2015 with the release of iPhone 6s and iPhone 6s Plus. This exciting feature is now made available on the Camera App for most iPhone models.
What is a Live Photo?
Live Photo essentially captures 1.5 seconds of video and audio both before and after you press the shutter button to take a photo. You can add these Live Photos to your lock screen and make them special or even use them as wallpapers on your iPhone.
In this first section of the detailed guide, we answer some of the basic questions surrounding the use of Live Photos on iPhone and other Apple devices.
Live Photos, Basic Questions Answered
How Do You Take a Live Photo?
Taking a live photo is very similar to taking a normal photo on your iPhone
Once you have set the camera app to Photo mode, verify that Live Photo feature is ON via Settings > Camera
When the Live Photos feature is on, the related icon (concentric circles on the top middle of the camera app) is shown in yellow color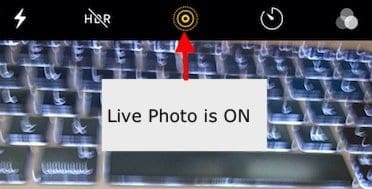 All you have to do next is point and shoot!
Take a Live Photo just like you do a traditional photo

Open the Camera app
Set your Camera to photo mode
Hold your iPhone still
Tap the shutter button (large white button at the center bottom of the image) 
Remember, the Live Photo feature is switched ON by default on your camera app.
Why Can't I see Live Photos Feature on my iPhone?
Most of the new iPhone models now support the Live Photos feature.
However, the iPhone 4, the iPhone 5 variants (5S, 5C, and 5) and the basic iPhone 6 do not support Live Photos.
The feature is also available on your iPad Pro.
If you are looking for Live Photos and cannot find the option in your camera app, the chances are that it is not supported on your iDevice.
How Do I Disable Live Photos on my iPhone?
Disabling Live photos is also done via the camera app
When you tap on the Live Photos icon in Photo mode, it toggles from the yellow color icon to a circle with a line through it and shows "LIVE OFF" 
This confirms that you are now taking pictures in the Still mode
How Can I Increase the Time of a Live Photo?
Unfortunately, there is no setting on your iPhone that can help you in increasing the time length of an associated live Photo.
You are restricted to the 1.5 seconds before the click and 1.5 seconds after the shutter click for a total length of 3 seconds.
How To View a Live Photo?
Open the Photos app
Go to the Albums tab at the bottom
Scroll down to Media Types 
Select Live Photos
Press and hold on the screen to see the live photo in action!
Much like your regular still photos, your live photos are also saved to your camera roll on the Photos App.
The only difference is that you will see the "LIVE" icon on the top left corner of the photo indicating that it is a Live Photo.
On the newer iPhone models that support 3D Touch, press the photo in full screen, and you will see the motion associated with the live photo.
Use "Peek and Pop" With 3D Touch
Simply tap and press an image thumbnail firmly until you feel a small, short vibration.
A large preview of the image you clicked on is displayed.
This is the "peek" part. If it's a Live Photo, then it'll play a short clip, confirming it's a Live Photo.
Working with Live Photos on your iPhone
Now that the basics around using Live Photos are out of the way, let's explore some of the advanced features available to you in the following sections.
How Do I Edit the Live Photos on my iPhone?
Apple has added a lot of new and interesting edit functions over the last few iOS releases when it comes to Live photos.
There are the familiar auto-enhance features available that help you improve the saturation and contrast of the images.
You can also use the remove red-eye tool and crop functions.
Here is a detailed guide that walks you through the various editing functions made available for Live Photos.
How Do I delete Live Photos From My iPhone?
In your Photos App, Live Photos Album shows you all your live photos in one place
Unfortunately, these are copies of the pictures, so it will not let you delete it from here
The only options that you have available here are 'Duplicate' and 'Edit'
To delete your Live Photos, you will have to go to the main 'All Photos' and delete it from there
How Do I Mute Live Photo Sound?
When editing Live Photos, you can trim the segment as well as mute the sound associated with the Live photo.
Tap Edit on the Live Photo and tap on the speaker icon on the top left corner of your screen to mute the Live Photo.
Bonus Tip for Parents: Go to photos tap on the Live Photo tap edit then select your keyframe from the scroll bar at the bottom. Easily lets you capture some of the best still pictures from your Live Photos
How Can I Add Effects to Live Photos?
Starting with iOS11, Apple introduced some new effects that you can use in Live Photos. Swipe up on a Live Photo and tap an effect.
There are three effects that you can choose from. They are Loop, Bounce and Long Exposure.
Live Photos Effects
Loop repeats the action in a continuous looping video
Bounce rewinds the action backward and forward
Long Exposure simulates a DSLR-like long exposure effect by blurring motion
When you use the Loop or bounce effects on your Live Photo, you can share these photos as MP4 Files with your friends who are on Android.
To add motion effects to your live photos
Go to your Live Photos Album in the Photos app and choose a picture
Tap on it so that it shows up on the full screen
Now swipe up from the bottom of the photo until you see the Effects Menu

If you go too far down to swipe, it might bring up the control center depending on your iPhone's model

You want to swipe from the bottom of the photo on your iPhone screen 
Now choose an effect that you want to add to the live photo

In iOS 11+, choose from Live, Loop, Bounce and Long Exposure
Can I Mark Up a Live Photo on my iPhone?
When you are editing a photo on the photos app, you can mark up a picture by choosing it and then choosing Edit.
Tap on the … button and select Markup to start annotating the photo.
This works with both regular still Photos and Live Photos.
BUT once you mark up a live picture, it will turn it into a still image automatically.
How Do I Convert a Live Photo into a Still Image?
Locate the Live Photo in the Photos app that you want to convert.
The easiest way to locate your Live Photos is to tap the 'Albums' tab and select the Live Photos folder
Open the Live Photo by tapping on it. You will see the familiar LIVE icon on the top left of the image verifying that you are on a Live Photo
Tap on the Edit icon at the bottom. This is the icon left to the trash icon.
Next, tap on the concentric circles' icon on the top left of the Live Photo. When this is blue, it indicates that the image is live.
This icon will turn to White from blue indicating that the live photo is now a still image. Tap on Done and the image will be saved as a still.
You can always go back and reverse it back to a Live Photo later if you choose.
Your iPhone also allows you the ability to preserve the original Live photo but create a duplicate still image from it. That way, you have the best of both worlds!
To duplicate a live photo as a still
Click on the share icon when you are on the picture. You will see two choices on the next screen. "Duplicate" and "Duplicate as Still photo."
The first option simply creates a copy of your live photo. The second option creates a still image from your live photo.
If you have a MacBook running macOS High Sierra, you can now easily edit the Live Photos. Photos app on High Sierra has some excellent editing capability.
How Can I take a Live Photo from FaceTime?
If you're in a FaceTime call with someone else running iOS 11+ or High Sierra+, tap the circular photo button to snap a Live Photo.
You'll be alerted if the person on the other end of the call takes a Live Photo, and you can stop people from doing it by turning Live Photos off in the FaceTime settings.
You will find this setting in Settings > FaceTime > FaceTime Live Photos. 
Noticed that iOS 12 dropped FaceTime Live Photos?
For whatever reason, iOS 12 -12.1 does not support FaceTime Live Photos. It returns in the iOS 12.1.1 update.
On your Mac, if you are running macOS High Sierra+, you will find this in FaceTime > Preferences > Settings at the bottom of the screen.
How Do I Change the Camera Settings for Live Photos?
Many users like to use Live Photos as the default mode on their iPhone camera while others prefer to use the still mode.
You can choose your preference so that when the camera starts up on your iPhone, it is set to your preference.
To do this, tap on Settings > Camera > Preserve Settings > Live Photo. You can set your preference by enabling or disabling this setting here.
Google Live Photo Features that are handy on your iPhone 
Since Google now lets users save Live Photos as. MOV videos, which can be posted to social media and emailed or texted to friends, we figure it will be a good idea to explore the Google Possibilities that one can use on their iPhone. This is important as many users save their iPhone photos to Google photos as well. Last year Google made it easier for users to automatically backup their iPhone Live Photos into Google Photos.
Uploading a Live Photo from Your Apple device to Google photos is straightforward
Once you log in using your Google credentials using photos.google.com, you can click on the Upload button if you are using your Macbook.
Browse to your photos library > Live Photos and select the photo that you want. Click on it, and it is automatically uploaded.
Note that in the Google world, Live Photos are known as "Motion Photos"
If you are using the Google Photos App on your iPhone, tap on Photos at the bottom, and then tap on the search bar at the top
Scroll down to locate "Motion Photos"
All your Live photos from your iPhone will be accessible in this folder
Tap on the photo and the animation will start playing automatically
You should see the familiar "Motion On" circle at the top right corner on your screen
Click on the '…' at  the top right corner and you will find the option to save the live photo as a video if you like
The save to video option is also available from the share options at the bottom of the picture
When you share the photo, its original format is maintained.
So for example, if you captured the photo using HEIC format on your iPhone, it will be sent in the same format when you use the mail app to share the photo from Google photos.
If you are sharing a live photo via a shared album or a link in Google Photos, make sure to check an important setting.
In Google photo Settings, look for "Remove Video From Motion Photos." Make sure that this is not enabled if you like to see the animation. 
Sharing Live Photos via iPhone to Social Media
How to Convert Live Photos into GIFs
You can choose to use Google's "Motion Stills" App to convert your iOS Live Photos into smooth GIFs and movie files
This app was made available in 2016 in the Apple app store
We have found the Motion Stills as the best course of sharing live photos as GIF's with others or social media
Other-Apps To Convert Live Photos
Other Apps that you can use to convert Live Photos into GIFs are LivePix and Lively
Momento App is another cool one that integrates very well with iMessage.
IntoLive App is another popular app that is used by many to convert GIFs etc. into Live Photos.
We have seen many users showcase these animated photos on their Apple Watch face.
We, however, liked the ease and features made available by the free Google Motion Stills App. A Live Photo of your dog on your Apple Watch could be a cool thing to try out!
Bonus Tip: 3D touching on a live photo while sending it via WhatsApp will send it as a GIF
If you plan on sharing a Live photo to Facebook, tap on the "Photo" button at the top of the News Feed

From there, select the Live Photo you want to upload and tap on the "Live" icon at the bottom right
Tapping on the "Live' icon is crucial otherwise it simply uploads a still photo when you post on Facebook

Sharing Live Photos to your Instagram account has been made easy with the IG Stories feature

There is a small caveat. You can only share photos that you have taken in the last 24 hours
To share your live photos, first, you have to convert your pics to Boomerangs
Here is a step by step guide from Mashable that walks you through the steps.
Summary
We hope that you found this iPhone Live Photos user guide helpful.
Please let us know in the comments below if you have any questions or additional tips that you would like to share with the readers.
Obsessed with tech since the early arrival of A/UX on Apple, Sudz (SK) is responsible for the editorial direction of AppleToolBox. He is based out of Los Angeles, CA.
Sudz specializes in covering all things macOS, having reviewed dozens of OS X and macOS developments over the years.
In a former life, Sudz worked helping Fortune 100 companies with their technology and business transformation aspirations.