Today, we're going to cover a super important topic for Apple users, especially if you're an artist: Apple Pencil alternatives.
It's no secret that the Apple Pencil paired with the iPad Pro is more or less the perfect tool for digital artists. None of the options in this list are going to give better performance than this combo.
However, not everyone wants to use the Apple Pencil or can even afford it. It's a pricey device, costing $130. Not to mention that some Apple users might not have an iPad at all, and are instead looking for a drawing tablet for their Mac.
That brings us to the topic of today. While I am not an artist, my girlfriend is a graphic designer, as is my sister, and I was at one point studying to be a digital artist. So I have a lot of experience not only with these devices but also with the medium they're used for.
In the first half of this article, I'm going to cover literal Apple Pencil alternatives. While some might be budget-friendly, they won't all be. The same goes for the second half of this article, which will cover drawing tablets.
Without further ado, let's get into it!
Side Note: As usual, I am not sponsored by any of these products, nor are any of the links in this post affiliate links. These are my honest and unbiased opinions on these products.
6 best Apple Pencil alternatives: Styluses
To kick things off, we're going to start with styluses. These are more true Apple Pencil alternatives, mirroring the functionality of the Apple Pencil pretty closely. These are all digital pens that you can use to draw on your iPad.
In no particular order, here they are!
1. Logitech Crayon Digital Pencil: A high-quality iPad stylus for writers and sketchers
First up is the Logitech Crayon Digital Pencil. Although I just said these are in no particular order, the Logitech Crayon is probably the most popular and well-received item on this list. It's only $69, putting it as close to half the price of an Apple Pencil.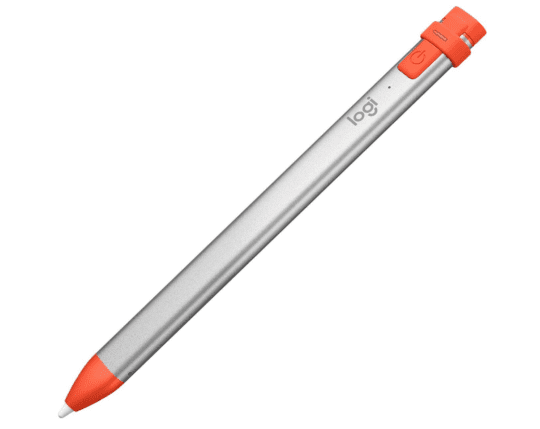 This item on our list of Apple Pencil alternatives works with pretty much every iPad currently available. And it can switch between those iPads seamlessly, no pairing required. Just turn it on and start drawing.
Tilting the Logitech Crayon allows you to adjust the thickness of your lines. Though it should be noted that this device does not support pressure sensitivity, which means it's not very good for shading.
In my opinion, this is a great alternative to the Apple Pencil for those who want to focus on sketching and writing. If you're a more serious artist, though, I think the Logitech Crayon is a bit lacking.
2. Adonit Pixel: The best Apple Pencil alternative for artists
A stylus I would recommend to artists is the Adonit Pixel. This device has everything artists need to work, though that's reflected in its price. The Adonit Pixel is $99 normally and $75 at the time of writing.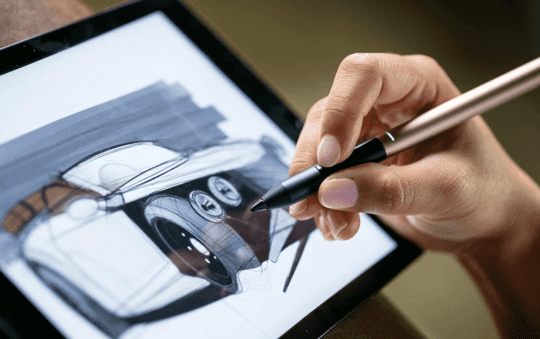 Although it's one of the pricier options on our list of Apple Pencil alternatives, it backs that price up. The design is simple and sleek, it works with everything, features a pointed tip, palm rejection, and 2048 levels of pressure sensitivity.
The Adonit Pixel doesn't have tilt support, sadly, but I imagine that pressure sensitivity is more important to artists anyway. And it has customizable shortcut buttons, which adds a unique value. The tip of this stylus is also meant to simulate the feeling of paper, which can make drawing on the iPad feel more natural.
I think this is a pretty one-to-one Apple Pencil comparison. In terms of value, they're about the same. You can't go wrong with any Adonit products (you'll see several on this list). This is the high-end, artist-centric solution from Adonit, and it's a great one.
3. Adonit Mark: A simple, affordable stylus for everyone (except professionals)
Next up is a much simpler and more affordable option from Adonit, the Adonit Mark. This one is a simple super device, with no extra features, connectivity options – nothing. And it only costs $9.
The Adonit Mark is just a well-made stylus with a tip for capacitive touchscreens. It'll work on iPhone, iPad, Android, Kindle – anything. This makes it versatile but also pretty underpowered.
Using this device doesn't offer any extra functionality than you get when you using your finger. I wouldn't recommend this to artists at all unless you're on a very light budget. Instead, this is a good option for kids and students who want to doodle and write on their iPad.
4. Awavo Stylus Pen: A budget-friendly Apple Pencil alternative for artists
Instead, for artists on a serious budget, I would recommend the Awavo Stylus Pen. Like the Adonit Mark, this is one of those Apple Pencil alternatives that will work with any capacitive screen.
Even though it's just a capacitive stylus, it's a pretty solid one. It can connect to the iPad's stylus API, increasing its sketching abilities. And it has a fine tip, which means it will be more accurate for writing and drawing than the soft, round tip of the Adonit mark.
It's only $15, making it a lifesaver for many iPad and iPhone users. This is the Apple Pencil alternative I would recommend to the young or aspiring artist looking to learn the basics on iPad.
5. Adonit Note-M with Mouse Sensor: For professionals who aren't worried about drawing
Next up on our list of Apple Pencil alternatives is a higher-end option. The Adonit Note-M with Mouse Sensor is probably the most interesting item on this list, priced at $79.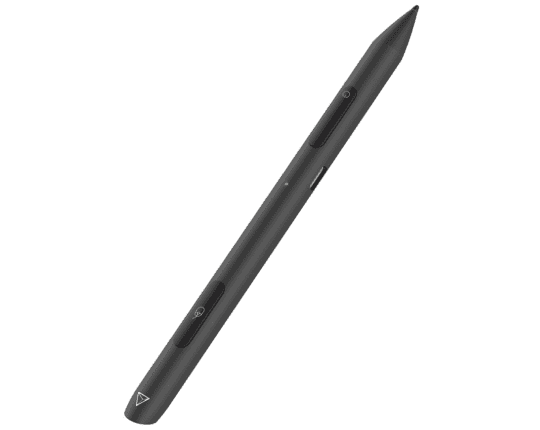 When using it in a normal writing orientation, it works just like a solid stylus should. It has a few shortcut buttons, is more precise than a typical capacitive stylus, has palm rejection, charges with USB C, and magnetizes to iPads with magnetic connection points.
The Adonit Note-M with Mouse Sensor starts to get more interesting, though, when you flip it over. After doing so, you'll be able to use the pen as if it were a mouse on your iPad. Sliding it around the surface of your desk and clicking the buttons will give you the same functionality that you get with a mouse on an iPad.
I would say that this device is still pretty limited in terms of features artists need. However, for professionals and writers, the Adonit Note-M is pretty slick. The versatility of being able to switch between a mouse and stylus is super creative and is sure to get a lot of use. And other smart features like USB C charging and magnetizing to your iPad will make this a great long-term stylus.
6. Adonit Dash 3: The best generic stylus on the market
To close things off, we have yet another Adonit product: The Adonit Dash 3. Unlike the other Adonit products on this list, however, the Adonit Dash doesn't satisfy any niche. Instead, it's just a very solid, above-average, generic capacitive stylus.
It doesn't have any special features. It just has a nice tip, a great feel and battery life, sleek design, and compatibility with everything.
I think this can be a great option for sketching, writing, and general iPad use. While I wouldn't say it holds up to the other Apple Pencil alternatives, it's a premium alternative to the Adonit Mark. For $44, it might be a bit overpriced, but it's solid nonetheless.
5 best Apple Pencil alternatives: Drawing tablets
With the styluses out of the way, it's time to get into the more robust Apple Pencil alternatives. In all honesty, I would recommend most of these over most of the styluses above for artists. That's because these are made for artists' needs, while the options above are made for general users.
It should be noted that these devices are not intended to work with an iPad or iPad Pro. Instead, these are complete alternatives to the iPad, not just the Apple Pencil.
Let's get started with a crowd favorite.
1. Wacom Cintiq 22: The king
The Wacom Cintiq 22 is by far the most expensive product on this list, at $1,200 a pop. Calling it one of our Apple Pencil alternatives is an understatement. This is an iPad Pro alternative for artists.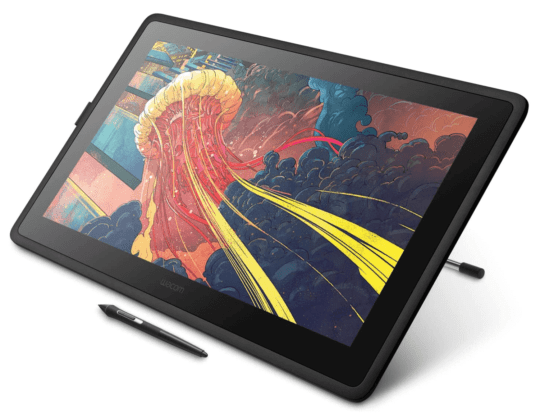 The Wacom Cintiq is a large screen with a super-advanced stylus. It's bigger than the iPad Pro in weight and dimensions and offers significantly more features for artists. I can't even begin to get into all of the features on this thing, it's just too much. You'll have to look at it for yourself.
The advantage that this device has over an Apple Pencil and iPad Pro combo is its adherence to the artists' niche. Every feature and element of this device is built for that audience. The screen is lightly textured, the stylus is packed with helpful buttons, the screen has a set of buttons on it, it works with all kinds of digital art mediums, etc.
The iPad Pro, by comparison, is just a really big glass screen that's also good for drawing. The Apple Pencil is extremely solid, so I won't say it's worse than the Cintiq. But you can tell while comparing these two devices that one is an all-purpose device while the other is an all-art device.
That said, the iPad does have some benefits over the Wacom Cintiq 22. It's significantly lighter, has a nicer display, is more useful for general tasks, and works better as a mobile device. But if you're an animator, designer, or 3D sculptor, there's no competition. The Wacom Cintiq 22 is unabashedly awesome.
2. Monoprice Drawing Tablet: The perfect starter
Of course, the Wacom Cintiq 22 is out of pretty much everyone's budget. So let's look at some more budget-friendly options, starting with the Monoprice Drawing Tablet.
For those that don't know, Monoprice is a site where you can get more affordable versions of tons of different kinds of products. Including drawing tablets.
While that might sound like a place to find crummy Apple Pencil alternatives, the Monoprice Drawing Tablet has pretty positive ratings. It's a display-less drawing tablet, so your hands draw on the desk while your eyes watch the screen – the same way you use a mouse.
Beyond that, this is a pretty standard and reliable drawing tablet. It has high-quality pressure sensitivity, hotkeys, a 10″ by 6.25″ drawing surface, and it works with macOS and Windows.
For only $44, I would consider this the perfect starter drawing tablet for artists.
3. Huion Kamvas Pro 24: A more affordable Cintiq alternative for students and pros
Taking things back to the high-end of Apple Pencil alternatives, we have the Huion Kamvas Pro 24. This device is comparable to the Wacom Cintiq, with a built-display for you to draw on. It's pressure-sensitive, comes with a stylus and lots of hotkeys, and is a drawing tablet that would excite any artist.
Like the Cintiq, the Kamvas drawing tablet has lots of features that have artists in mind. For instance, the screen was specially designed to prevent any glare or parallax effects while using it. So you can use it in any environment without the image being distorted.
It has a matte display as well, giving it a texture closer to paper while you draw. The pen doesn't have a battery inside it, making it unique among high-end products. Even still, it provides tilt support and a 266 PPS report rate.
In other words, this is another high-quality iPad Pro alternative for the professional. Though the dip in price from the Wacom Cintiq (this product is only $899) makes it more accessible to students and burgeoning artists.
4. XP-Pen Deco Pro Medium: A drawing tablet for the price of an Apple Pencil
While the XP-Pen Deco Pro Medium has the least catchy name of all the Apple Pencil alternatives on this list, it shows you just how expensive the Apple Pencil is.
This is a fully-featured, quality drawing tablet. And if I'm being honest, this is probably the item I would get if I didn't already have an iPad and Apple Pencil combo. It's an 11″ by 6″ drawing tablet with hotkeys, a stylus, and compatibility with all major operating systems (Windows, macOS, and ChromeOS).
It comes with most of the features artists are looking for, including tilt support and pressure sensitivity. And it has an innovative wheel on it so you can still navigate your computer without needing to reach for your mouse.
The biggest drawback of this product is that it doesn't have palm rejection, so you have to wear a provided glove while using it. But considering it's the same price as an Apple Pencil – $130 – I'd say it's a steal.
5. Wacom One: Wacom's "budget" option for beginners
When I first started writing this post, I assumed that tons of Wacom products would make it onto this list of Apple Pencil alternatives. But it seems like Wacom has discontinued a lot of its Apple-friendly styluses and other products, so we're down to just two. And both are pretty pricey.
The last item on today's list is the second Wacom drawing tablet. It's the Wacom One, which Wacom markets as being a drawing tablet for beginners in art and animation.
It's a $400 device, though, so I think it's fair to say it's for more than just beginners. Purchasing it also gives you a few months of free use of apps like Photoshop, Lightroom, and Bamboo Paper Pro.
While this tablet is marketed towards students and teachers, I think artists looking for an iPad alternative can make a lot of use out of this product, too.
Find the Apple Pencil alternatives that were made for you
While the Apple Pencil is certainly an excellent product, it's not for everyone. Hopefully, this post was able to provide you with plenty of solid options regardless of what you're looking for or which devices you currently own.
For more tips, tricks, and insights on everything Apple, check out the rest of the blog here at AppleToolBox.