In my experience, one of the most underrated features of the newest iPhones is MagSafe. "Pro" users have been loving using the best MagSafe accessories, but I haven't seen many others putting MagSafe to work.
Today, we're going to change that! Whether you're a pro user looking to add more MagSafe accessories to your collection or a new user just catching wind of this feature, you'll leave this post with some great ideas for upgrading your iPhone usage.
What are MagSafe accessories?
But first, for those that are new to MagSafe, what is it?
MagSafe is a new feature and an old feature from Apple. Let me explain.
Back in the day, the MacBook used to use a charging cable that magnetically detached and attached to the device. This meant that if someone tripped on your cable, it would harmlessly fall off instead of dragging your MacBook to the floor.
But in 2016, Apple swapped the MagSafe charger for a USB C cable. Whether this was a good idea or not is a big debate, so let's not get into it!
All you need to know is that Apple has reused this concept with the iPhone. Now that the iPhone supports wireless charging, Apple has decided to gently revive MagSafe. You can now attach MagSafe chargers to the back of your iPhone. They attach magnetically, making them secure and satisfying to use.
This also has the benefit of enabling you to use MagSafe accessories. MagSafe accessories are accessories that can magnetize securely to the back of your iPhone. Cases, chargers, stands, wallets, mounts, and more are all available as MagSafe accessories.
You will need an iPhone 12 or later to use this feature, so bear that in mind!
What you should know before buying MagSafe accessories
There is an important consideration you'll need to make before getting overly invested in the best MagSafe accessories. That consideration is your phone case.
As you might have guessed, the case you use with MagSafe matters. That's because it works via a magnet on the back of your iPhone. So if your case is too thick (and it doesn't have to be very thick to be "too thick") then none of these accessories will work. Even a thin case can make MagSafe less secure, which can defeat the point of a lot of these accessories.
With that in mind, it might be worth it to grab a MagSafe case to go with your MagSafe accessories. Otherwise, you'll probably wind up taking your iPhone out of its case to use it with MagSafe accessories.
The best MagSafe accessories
Alright, now that you know what MagSafe is, we're ready to cover the best MagSafe accessories. Rather than just offer up general ideas (which I typically do in articles like this), I wanted to provide you with devices that you can easily find and purchase.
So feel free to skim the list below and find the accessories that are right for you! I went through a lot of crummy options to find these, so I hope you enjoy them.
First on our list of the best MagSafe accessories is Anker's MagSafe battery pack/stand. It's a pack and a stand-in one, providing double the support for your iPhone!
To be more specific, this thing provides an extra charge to your iPhone. Just snap it on the back using the magnetic attachments and it'll start charging it right away. This provides you with an extra boost while you're out and about. It's perfect for days when you're not going to have easy access to a wall outlet, like when you're on a flight or vacation.
Anker doesn't say specifically how much extra battery life you can expect from this thing, but reviews suggest that it holds around an extra 65% of battery life for your iPhone. That's pretty good and should allow you to get through the day without needing to connect to a wall outlet to charge your iPhone.
In addition to charging your device, it also has a built-in foldable stand. This stand allows you to prop your iPhone up in a portrait or landscape orientation. And when you don't want it in the way, it folds away neatly.
Apple does offer its own battery pack on its website, but I believe this is the better option to go with when it comes to functionality and price. Anker's pack is $69 on Amazon (at the time of writing) while Apple's is $99.
MagSafe Cold Shoe Mount: Connect a piece of cold shoe equipment to your iPhone
Next up is one for the photographers. If you're a photographer, then you've probably heard of Moment. Moment is a brand that makes iPhone accessories for photography. They aren't your average accessories, either, but are instead designed to make the iPhone a professional device for shooting video and taking photos.
A new addition to their lineup is the MagSafe Cold Shoe Mount. This securely magnetizes to the back of your iPhone, allowing you to mount your favorite cold shoe accessories to your iPhone. That includes things like mics, lights, and more.
This accessory is just $39 on Amazon (at the time of writing). That's a pretty good deal, especially if you use your iPhone for photography regularly. And if you're just getting into iPhone photography, this item on our list of the best MagSafe accessories can help you get started.
The third item on our list of the best MagSafe accessories is the MOFT snap-on wallet. Long-time AppleToolBox readers will know that I'm a big fan of MOFT's products. I've even written an entire article about my favorite MOFT product, which also happens to be my favorite MacBook accessory.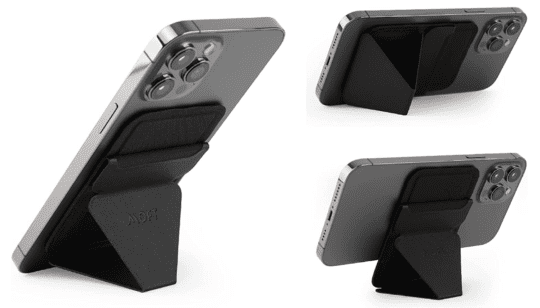 The item from MOFT in this list is no less awesome. It's a stand for your iPhone that discreetly magnetizes to the back. You won't even notice it when you aren't using it. And when you need it, it'll unfold at a moment's notice.
This handy stand can support your iPhone in three different positions at a 60-degree angle. I would've liked there to be more angle options rather than just different positions.
Not to mention that this accessory also doubles as a wallet! You can keep up to three cards at a time in this wallet, which is great for keeping your most important cards readily available.
It's a great and affordable MagSafe accessory for those that are looking for something simple they can use every day. Check it out!
Something you may not have known about your iPhone is that you can connect a gaming controller to it when you're playing mobile games. While that's not super helpful for games like CandyCrush, it can be a game-changer (haha) for more intricate games that mimic the experience of console gaming.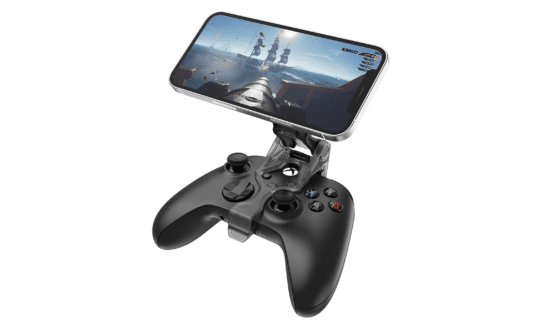 Specifically, you can connect certain Xbox controllers to your iPhone over Bluetooth. You can read this post to learn which controllers are supported and to learn how to do this yourself. The post is for iPads but the solution works the same for your iPhone!
And that brings us to the next suggestion on our list of the best MagSafe accessories. That would be OtterBox's mobile gaming attachment for MagSafe. It's an odd-looking device that snaps onto an Xbox controller.
From there, you can stick your iPhone to the attachment, allowing you to hold the Xbox controller while looking at your iPhone. It's super handy and a creative idea. If you're someone who likes playing games on your iPhone, then this can seriously take the experience to the next level.
If you are interested in playing games on your iPhone but don't know where to start, check out this post on the best Apple Arcade games. There are some great suggestions in there!
Peak Design Bike Mount: Ride with your iPhone using one of the best MagSafe accessories
We've covered the best MagSafe accessories for gamers and photographers. Now it's time for the bicyclists.
The Peak Design Bike Mount is an innovative (and much appreciated) solution for mounting your iPhone while riding a bike. I've used various accessories in the past for this purpose, and the best I've found is a pouch that awkwardly sits on the frame.
Needless to say that this iPhone bike mount is a big improvement! Since it uses magnets, you can clip your iPhone to your bike in no time at all. And it has additional locking mechanisms in the case to ensure that your phone doesn't fall out.
You did hear that right, though. You'll need a Peak Design case to go with this MagSafe accessory. The case is $39 and the mount is $99, so this isn't a cheap investment.
That said, the quality and security this provides are excellent. The business even shows this being used on motorcycles, which should clue you in to how sturdy this is. If this is up your alley and you don't mind the steep price, check it out!
Next on our list of the best MagSafe accessories is the Belkin magnetic fitness mount. This is another mount for those who want to keep their iPhone close by while they work out.
It's a little band with super strong magnets. This allows you to stick and/or wrap it around the bars of various gym equipment. Ellipticals, treadmills, that sort of thing.
Since this not only magnetizes to your iPhone via MagSafe but also to the equipment itself, it's super secure. The reviews on Amazon confirm this, too, which is comforting. After all, the last thing you want is to drop your iPhone on a spinning treadmill!
There isn't much else to say about this one! It's only $34 on Amazon right now, making it one of the more affordable accessories on this list. If you want to watch your favorite show the next time you're on the machine, give this one a go!
MagSafe PopSockets: Your favorite iPhone grip is one of the best MagSafe accessories
A more familiar item on this list of the best MagSafe accessories is the MagSafe PopSocket. I see these everywhere, and there's a good chance that many of you already have a classic PopSocket accessory.
Well, MagSafe PopSockets are just an upgrade for this fan favorite! Rather than gluing to the back of your iPhone, they adhere via magnets. This makes it easy to swap them out with other designs, share them with your friends, and more.
The design linked in the heading for this section is just a plain black one, but you can find plenty of colorful designs on Amazon and of course PopSocket's website.
There aren't as many MagSafe PopSockets as there are classic PopSockets, but that will hopefully change in the future! These are $30 a pop (pun intended), so find one that suits you and try it out!
One of the costliest and coolest items on this list is the Belkin MagSafe 3-in-1 dock. Docks are a super common MagSafe accessory, so don't hesitate to look for more options if this one doesn't suit your fancy.
Personally, though, I think this is a great choice. It features a simple, minimalist design. And it's capable of charging all of your wireless Apple devices at once.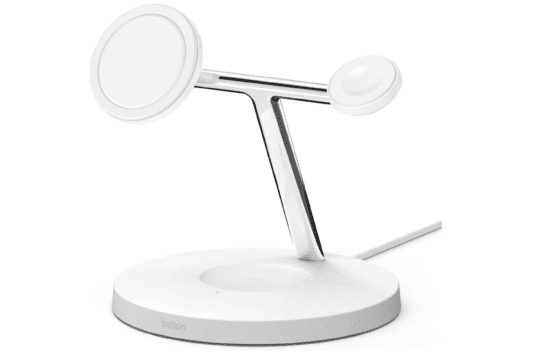 That includes your iPhone via MagSafe, your Apple Watch, and a wireless AirPods case. Just set them on or magnetize them into place and they'll start charging.
Because this is such a simple and understated piece, it can work well in just about any office or bedroom. It's one of the reasons I like this MagSafe dock so much. But again, if you're looking for something with a little more style, don't hesitate to find a MagSafe dock that suits your look!
The Belkin MagSafe 3-in-1 dock is $149 on Amazon right now, which makes it one of the most expensive on our list. Even still, this is a great accessory, so check it out!
Nearing the end of our list of the best MagSafe accessories is the ESR HaloLock adjustable stand. While many of the MagSafe accessories on this list have doubled as a stand, few of them have made that their primary purpose.
That's where the ESR HaloLock adjustable stand differs from the competition. It's a wireless charging stand that provides the best viewing experience when it comes to putting your iPhone on a stand.
This is an adjustable arm that can be displayed at a broad range of angles. You can use it whenever you're at any height, sitting or standing, wherever you decide to put this thing. It's such a simple and flexible design, perfect for those who want the maximum level of control.
Best of all, it's not too expensive! It's only $34 on Amazon right now, which isn't much more than a PopSocket. Pretty inexpensive when you consider the support this device offers. If you're looking for a high-quality stand for your iPhone, give this one a shot!
Spigen OneTap: Mount your iPhone in your car
Last on our list of the best MagSafe accessories is the Spigen OneTap. It's another straightforward and useful accessory made for the car. It uses the magnet in the back of your iPhone to hold your iPhone in place.
In other words, it does the same thing that nearly every other iPhone car mount does. But it uses the built-in magnet rather than clips and stands. This allows you to just snap your iPhone on top of it in an instant.
It's faster, sturdier, and more reliable than your average car phone mount. And for iPhone users who don't about MagSafe, it can be a fun way to impress them!
Start using the best MagSafe accessories today
And that's it! Those are our picks for the best MagSafe accessories. While many serve a similar purpose and all are based on a pretty simple gimmick, there's plenty of variety to create a MagSafe environment around your home, car, and workspace. So give these a shot!
For more insights, news, and guides on all things Apple, check out the rest of the AppleToolBox blog.
See you next time!