The iPhone 14 is the name of the game in 2022, as we have four devices that look pretty similar to last year's iPhone 13 lineup. However, there are plenty of differences that warrant an upgrade, such as longer battery life and improved camera hardware. And with these two specific changes, Apple is no longer trying to play the "slimmest and lightest" game any longer. Because of that, you'll need to jump in with both feet to find to the best iPhone 14 accessories, and we've rounded up our favorite options.
Related Reading
Best iPhone 14 Accessories: Cases
Apple's own Silicone Case is easily one of the best iPhone 14 accessories. The silicone exterior is soft to the touch, yet grippy enough to help ensure it doesn't slip out of your hands. And of course it's MagSafe compatible, so it works with all of your existing MagSafe accessories, plus any new ones that will be coming out.
When you think of Nomad cases, you likely think about high-quality, leather cases. The company is wasting no time jumping aboard the battle for the best iPhone 14 cases. Headlining Nomad's lineup is the ultra-popular Modern Leather Case. It offers a "modern & refined" design that is compatible with all of your favorite MagSafe accessories, and is available in three different leather color options.
Those looking to add a little bit of "spice" or "flair" to their iPhone 14 won't want to look past the Caseology Nano Pop. This case comes in five different color options, offering a slim and snug profile, along with a raised ring around the camera that shows off whatever color is used for the interior of the case.
Spigen has been making the best iPhone cases for years, and the trend continues as the company is offering some of the best iPhone 14 cases. The Rugged Armor series doesn't add too much bulk, while being flexible and including Spigen's Air Cushion technology. This provides better shock absorption without forcing you to use a case that is too big.
Best iPhone 14 Accessories: MagSafe
Designed with both style and function in mind, the new iPhone Leather Wallet with MagSafe is the perfect way to keep your ID and credit cards close at hand. It now supports Find My, so you can be notified of your wallet's last known location if it gets separated from your phone. Crafted from specially tanned and finished European leather, the wallet features strong built-in magnets that allow it to effortlessly snap into place on the back of your iPhone. You can even stack it on top of a case with MagSafe to create a look that's unique to you.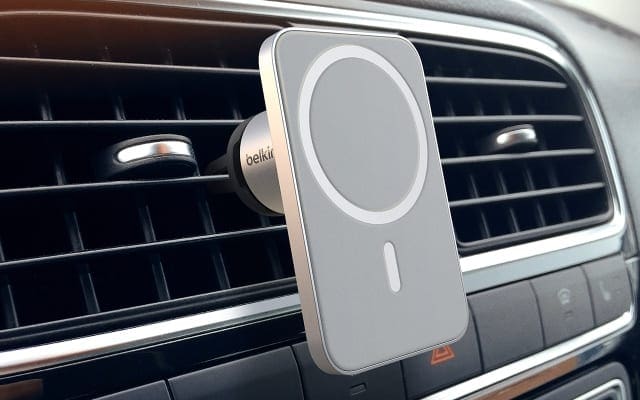 It can be a real pain to find the perfect car mount. You need one that's adjustable but that is also easy to either put your phone in or take it out. With the Belkin MagSafe Car Vent Mount, those problems are a thing of the past, as this can just attach to any of your car vents. And thanks to the strength of MagSafe, your iPhone won't fall off, even if you're driving over some really rough terrain.
Just about everyone loves PopSockets, but not everyone wants to actually have to stick something to the back of their case or iPhone. The PopSockets PopGrip for MagSafe solves that conundrum, as it takes advantage of MagSafe and just snaps into place. And in true PopSocket fashion, you can swap out the PopTops to match your mood, or to show off your excitement for the next season of The Mandalorian.
Works flawlessly as a grip on-the-go or a handy kickstand if you'd like to set it on a desk to scroll, watch, or chat. Lightweight ring holder with a strong magnetic grip ensures it sticks tightly to your iPhone 14/13. It's so strong that it can hold up to 28 oz (800 g), which is equivalent to the weight of 4 iPhone 12. Easily rotate your ring holder 360° and flip it up to 125° for a comfortable grip or different viewing positions when placed on a tabletop.
Best iPhone 14 Accessories: Chargers
By swapping out silicon for Gallium Nitride (GaN) we've been able to fit 30W of power into a charger that's just 1.12 inches thick, and 70% smaller than an original 30W charger. Deliver full-speed 30W charging for iPhone 14 Pro and Pro Max, or power up your iPad Air (5th Generation) to 50% in just 45 minutes. Also supports Samsung Super Fast Charging (25W).
If you're still mourning the loss of the Apple AirPower, there are some great all-in-one MagSafe charging accessories like this 3-in-1 wireless charger from Belkin. On the T-stand, there's a place to put your iPhone on the left side, while you can mount and charge your Apple Watch on the right side. Then, there's a little wireless charging ring at the bottom so you can throw your AirPods on the stand too.
In our testing, we found that the Anker 622 MagGo Magnetic Battery was arguably the best portable MagSafe charger. This makes it a perfect candidate to be one of the best iPhone 14 chargers with its 5,000mAh capacity, LED indicators, and several different fun and unique colors to choose from.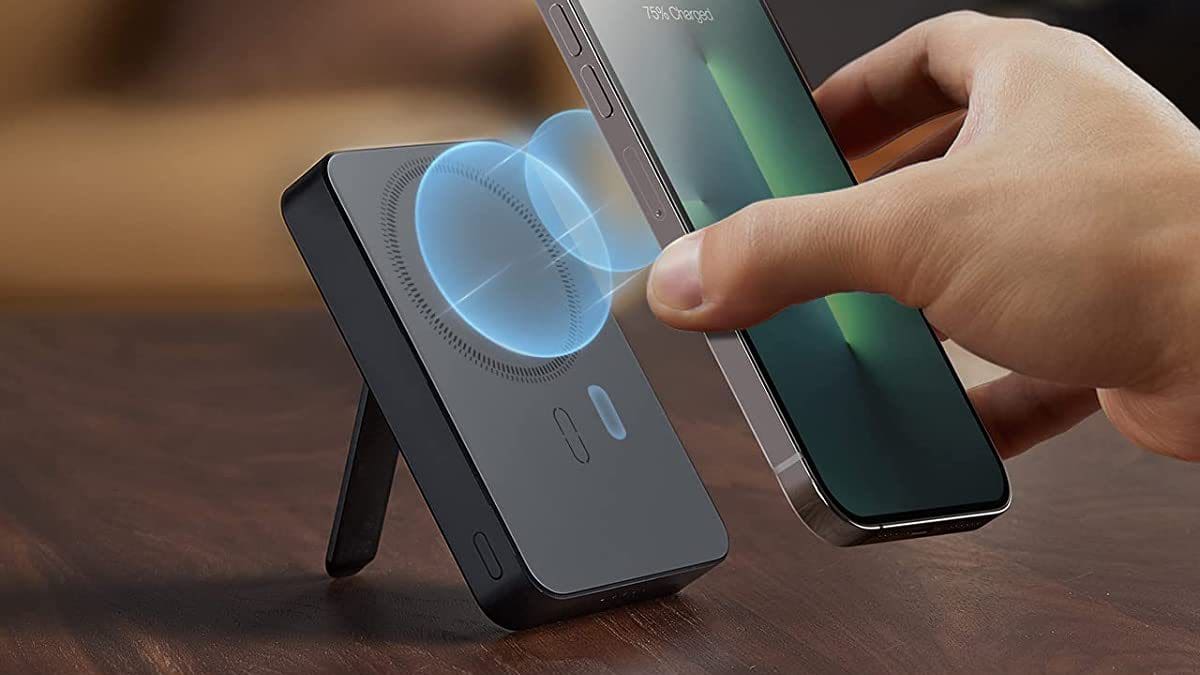 Built-in magnets align your phone with the power bank to automatically enable MagSafe-style charging as soon you attach the power bank, for a faster, more convenient way to wirelessly charge. This Battery Pack from ESR also features a built-in kickstand that transforms your power bank into a stand for browsing or using FaceTime on the go. It sports a massive 10,000mAh capacity, meaning you'll be able to always ensure that your iPhone has enough juice without needing to recharge the battery pack after just a single charging session.
Snap your iPhone 14 magnetically into place to enjoy safe and effortless wireless charging. The MagGo 637 features a built-in magnetic charging pad, two USB-C ports, two USB-A ports, and three AC outlets on the back. Connect to either USB-C port to give your laptop a 65W charge, power up tablets at high speed, or charge your iPhone 14 to 50% in just 30 minutes.
As with most of the best iPhone 14 chargers, this too technically it belongs under both the MagSafe and Charging sections. Being able to have access to the vast array of MagSafe accessories is one thing. But being able to wirelessly charge your iPhone 14 as fast possible is something else entireldy. And in order to do just that, you'll need to grab Apple's MagSafe charger.
One of the more surprising product releases was Apple's redesigned Power Adapter. This one features dual USB-C ports, along with the same detachable plug that we've enjoyed on pretty much every recently-released Apple Power Adapter. Charging speeds top out at 35W, so it's not the fastest, but you can rest easy knowing that your MacBook Air is paired with an Apple charger.
Powered by (GaN Ⅲ) technology, the Shargeek Retro 35W fast charger can deliver full-speed 35W charging for earphones, phones, tablets and even laptops. Power up your iPhone 14 from 0% to 50% in just 30 minutes, while maintaining low temperature, which is safer than ordinary chargers. The display of this wall charger has four display modes, white light for no charging, yellow light for normal charging, blue light for fast charging, and green light for super charging, clearly displays the power status while charging.
HiRise 3 has 3 charging surfaces. An Apple Watch Charger, a MagSafe-compatible iPhone charger, and a flat surface Qi charger for your AirPods or other devices that you want to charge wirelessly. The HiRise 3 has a small footprint, as the base is 5″ by 3.5″ and uses just a single USB-C cable. Unfortunately, the only catch here is that you'll need to provide your own 20W charging adapter in order to make use of the HiRise 3.
Best iPhone 14 Accessories: Cables
Anker makes some of the best iPhone 14 accessories, and that includes charging cables. The Anker Powerline III Flow is the perfect cable to pair with your new iPhone, as it comes in seven different colors and is compatible with Power Delivery for faster charging. It's also MFi certified, so it will work with all of your devices and accessories that use a Lightning port.
Sometimes you might find yourself wanting (or needing) a Lightning cable positioned at a 90-degree angle. With this UGREEN USB-C to Lightning Cable, you'll get just that. The USB-C end is like your traditional charging cables, while the Lightning charger is angled at 90-degrees so you can fit the charger into a tight space if need be.
Rounding out the pack is the Amazon Basics USB-A to Lightning Cable. There's nothing super-special about this, aside from its 10,000 bend lifespan. And although many of us believe that USB-C is the way of the future, chances are still have a few chargers laying around that rely on USB-A instead.
Best iPhone 14 Accessories: Extras
If you own an iPhone and either already play a lot of mobile games, or want to play a lot of games, then the answer the question above is a resounding yes. The Backbone One is easily my favorite iPhone controller and only the Nacon MG-X Pro comes even close to providing the same type of experience. But with that controller, you have to rely on Bluetooth instead of a wired connection. That opens the door for potential latency issues, which could ultimately result in subpar mobile gaming sessions.
Designed with cutting edge microswitch buttons, analog triggers, customizable triggers, and programmable macros to bring console level gaming to your phone. The Kishi V2 also features dedicated buttons to screenshot and record videos of your gameplay, without needing to fiddle around with the built-in options on your iPhone. Designed for both comfort and portability, enjoy long gaming sessions and a slim form factor for easy travel.
With a superb controller, games can also not be too less to expand your skills. X2 Lightning is definitely ready for multiple games, including MFi and Apple Arcade games. Popular cloud gaming platforms can also be supported, including Microsoft's Xbox game pass, Google's stadia, Vortex, etc. Wired connection is always the simplest and most direct way of solving lag problem. GameSir X2 Lightning is built-in with a Lightning port, enabling a fast setup. Pass-through charging allows you to play anytime you're in the mood for gaming.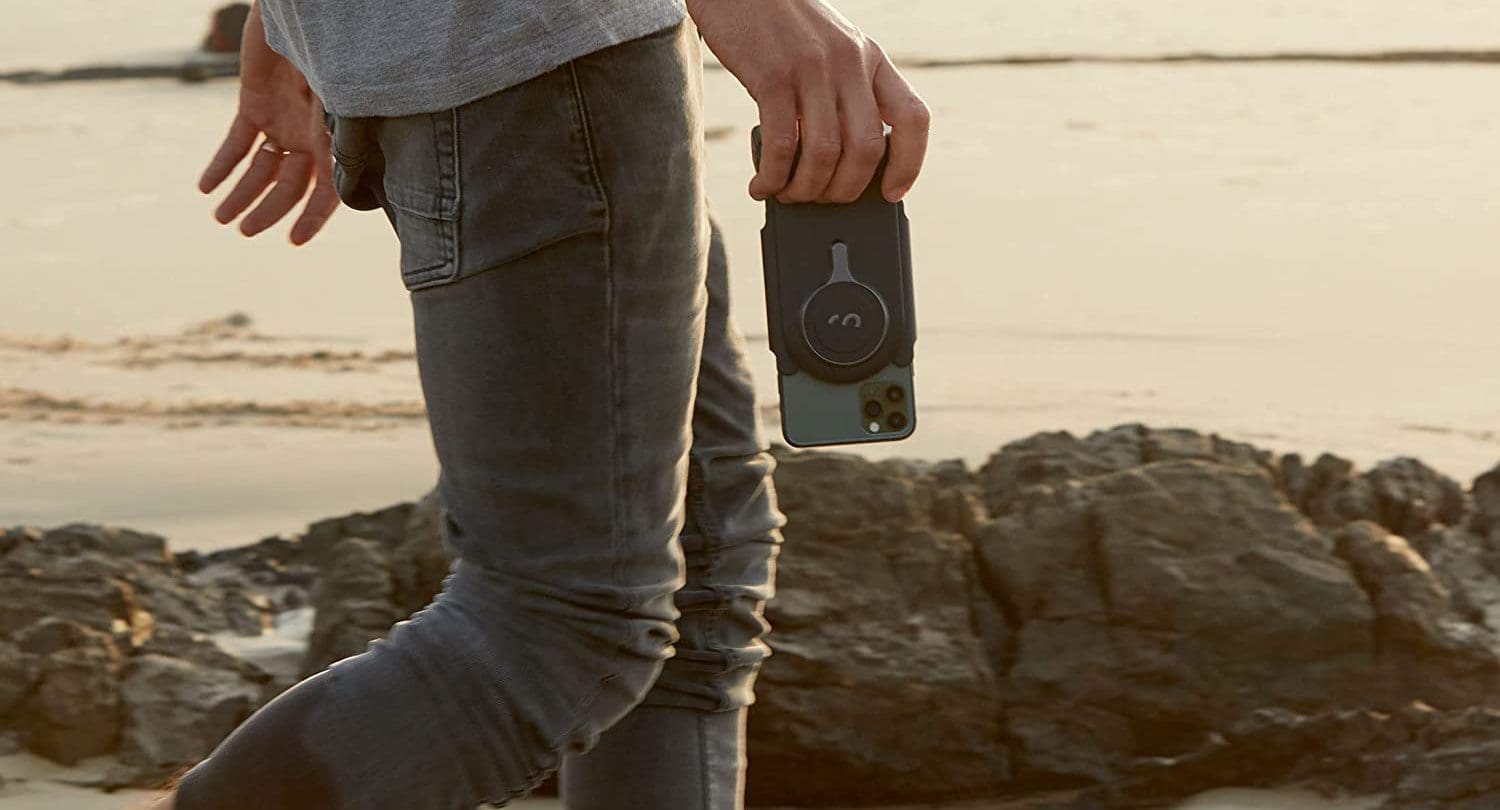 The ShiftCam ProGrip provides the balance and stability normally only found when shooting with a DSLR, closing the gap between camera and mobile photography. There's a built-in fast 15W Qi wireless charging keeps you shooting all day. Connect a second device via a cable and charge the two simultaneously. Use ProGrip as a tabletop stand for reviewing your shots and footage thanks to the rotating phone mount and dock, that also allows you to switch between landscape and portrait without changing your grip.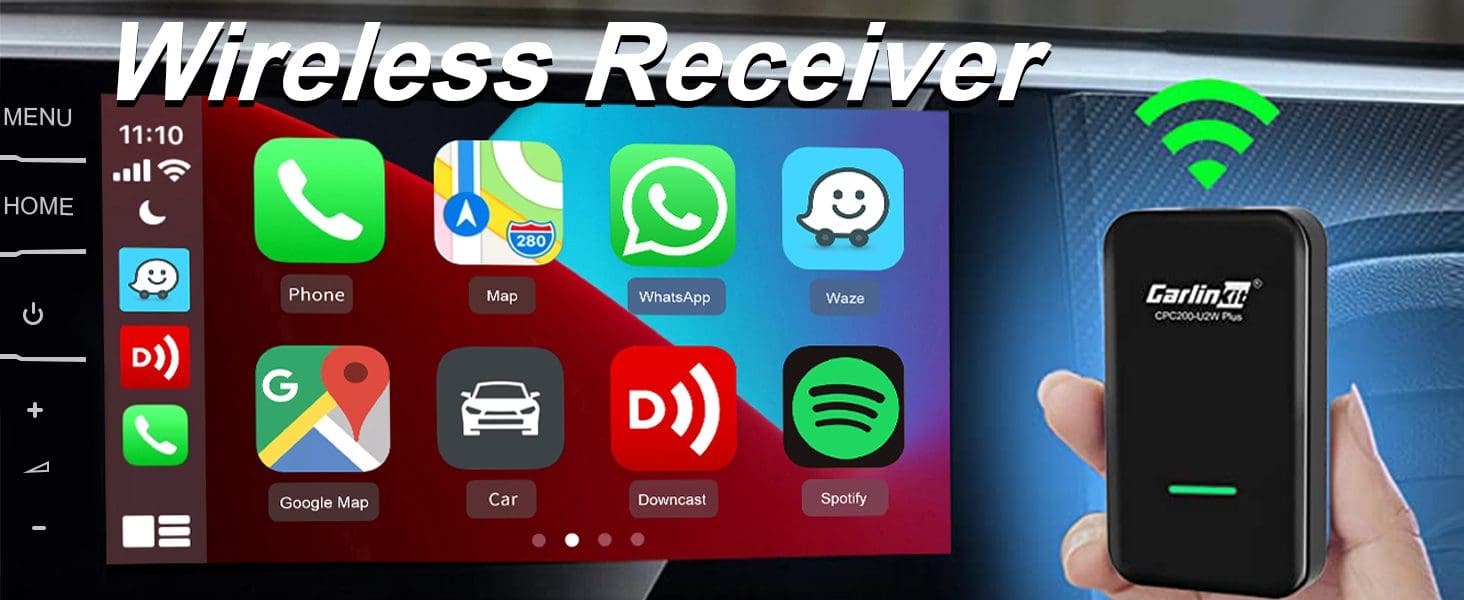 Super convenient to convert wired CarPlay to wireless CarPlay. Connects seamlessly to your iPhone every time you get in the car, So much easier than having to plug the phone in. Enjoy automatic and wireless connection to CarPlay without need of USB-cable. Check out this easy way to retrofit your existing CarPlay system to make it wireless. Wireless CarPlay makes it easy to play music, get navigation, or use Siri wire-free! Compatible with 98% of car models that have traditional CarPlay head units installed.
BPA-free, shatter and odor proof Tritan plastic bottle body features a carrying loop which makes it easy to take on-the-go. LED smart sensor puck glows to remind you when it's time to drink and tracks your water intake by syncing via bluetooth to the FREE HidrateSpark App. Includes a rechargeable battery and comes with a fast charging cable. Available in two different sizes, with a 32oz and 21oz option, giving you options based on your needs.
Andrew is a freelance writer based on the East Coast of the US.
He has written for a variety of sites over the years, including iMore, Android Central, Phandroid, and a few others. Now, he spends his days working for an HVAC company, while moonlighting as a freelance writer at night.