We have come a long way from the days when the iPhone was pretty limited in functionality. Apple continues to bring new and useful features to the masses, many of which we try to cover here at AppleToolBox. However, there are quite a few tips and tricks that you can use to make your iPhone usage even easier and once you learn them, they will become second nature.
Related Reading
Turn Off Always-on Display
One of the first things that you'll notice about the iPhone 14 Pro and Pro Max is the new Always-on Display. This makes it so you can just glance down at your iPhone to see your incoming notifications or check the time, without needing to actually tap the screen. If you're not the biggest fan of the Always-On Display, or just want to save a bit of battery life, you're in luck. Here's how you can turn off Always-On Display on iPhone 14 Pro and iPhone 14 Pro Max:
Open the Settings app on your iPhone 14 Pro or iPhone 14 Pro Max.
Scroll down and tap Display & Brightness.
Scroll down again until you see Always On.
Tap the toggle next to Always On to turn off the feature.
Moving forward, in order to view or interact with your notifications and Lock Screen, you'll need to tap the display or press the Side Button. Turning off the Always-On Display doesn't remove any of the other functionality of your device.
Enable Startup Chime
Apple has been making great strides to improve the accessibility features on iPhone models. Along with Live Text, Apple Watch Mirroring, and others, the iPhone 14 introduces the ability to enable chime every time your iPhone turns on or off. This is similar to the Mac, which also features a different sound whenever your Mac is turning on.
As is the case with many of these accessibility features, the iPhone 14's startup chime is not turned on by default.
Open the Settings app on your iPhone 14.
Scroll down and tap Accessibility.
Scroll down until you reach the Hearing section.
Tap Audio/Visual.
Tap the toggle next to Power On & Off Sounds to turn this feature on.
Take Advantage Of The 48MP Camera
Apple ProRAW was one of the defining features of the iPhone 12 Pro and Pro Max, and continues to be prominently featured in new iPhone announcements. This includes the all-new iPhone 14 Pro and iPhone 14 Pro Max. However, this time around, ProRAW is getting an upgrade thanks to the new 48MP primary sensor.
By default, your iPhone 14 Pro or Pro Max uses a 12MP image, which is still pretty great. But if you want to make the most out of your iPhone's camera, then you'll need to first enable ProRAW.
Open the Settings app on your iPhone.
Scroll down and tap Camera.
Tap Formats at the top of the page.
Under the Photo Capture section, tap the toggle next to Apple ProRAW.
Make sure that ProRAW Resolution is set to 48MP.
Once ProRAW is enabled, you'll be able to capture 48MP pictures when using the main camera on your iPhone 14 Pro and iPhone 14 Pro Max. However, it's not automatically enabled, and here's how you can snap photos in ProRAW:
Open the Camera app on your iPhone.
In the top right corner, tap the RAW button with a line through it.
Line up and frame your photo.
Tap the Shutter button.
Because the 48MP ProRAW images are massive in size (around 100MB per picture), you probably won't want to leave this enabled. Luckily, you can simply toggle this on or off right from the Camera app. Plus, whenever you leave the Camera app and come back to it, ProRAW turns itself off so you don't end up with 48MP pictures of the inside of your pocket.
Steady Your Videos With Action Mode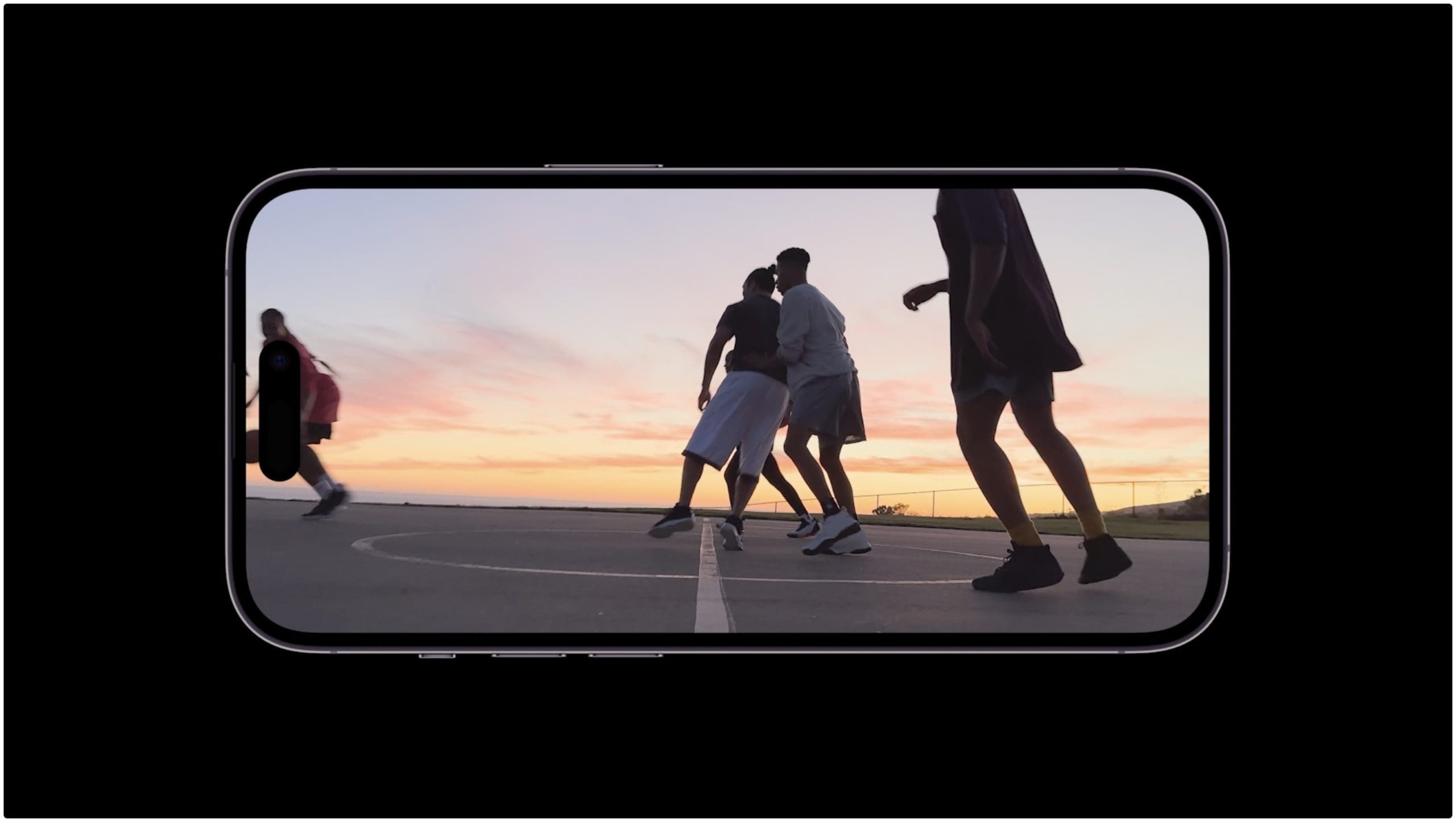 Another new feature coming to all iPhone 14 models is Action Mode. Essentially, Apple has been able to improve the image stabilization to the point that you no longer need to use a gimbal when recording video. It's not enabled by default, but using Action Mode is extremely easy.
Open the Camera app on your iPhone.
In the bottom slider above the Shutter button, tap VIDEO.
Tap the Action button in the top right corner.
By default, Action Mode is turned off, and is denoted by the line through the icon within the Camera app. When enabled, the icon will change colors, and a small pop-up notification appears that says "ACTION MODE". Just tap the same icon again in order to turn off Action Mode and another notification appears saying "ACTION MODE OFF".
Make Sure Crash Detection Is Enabled
Crash Detection is another new feature coming to all modern iPhone and Apple Watch models. This works thanks to the "High-g accelerometer" along with the built-in gyroscope, as your Apple Watch is capable of measuring up to 256g of force.
Open the Settings app on your iPhone.
Scroll down and tap Emergency SOS.
Under the Crash Detection section, make sure that the toggle for Call After Sever Crash is enabled.
What Is This Dynamic Island?
Despite the somewhat odd moniker, Dynamic Island is not an exclusive party held at Apple's campus in Cupertino. Instead, Apple states that this is "a new design that introduces an intuitive way to experience iPhone".
Instead of just leaving the camera cutout at the top, being as much of a nuisance as the notch was, Apple decided to change up the game. Whenever Face ID needs to be used, the Island will expand, showing the same Face ID logo and animations until it has been verified.
If you open the Apple Music app, find a new track to listen to, and then close out the app, you'll see the album artwork on one side, with an equalizer on the other. Apple even confirmed that Live Activities will work with the Dynamic Island. You can see the current score of your favorite team's game, updating live as the game progresses.
Transfer Your SIM
For the first time ever, Apple has released an iPhone model that does not include a physical SIM card tray. Instead, you will now need to rely on eSIM, which is supported by all of the major carriers in the U.S. And if you're upgrading from an old iPhone to the new iPhone 14, Apple makes it (relatively) easy to transfer your phone number to the new iPhone.
Make sure your old iPhone is nearby (within a few feet).
Open the Settings app on your iPhone.
Tap Cellular.
Under the eSIMs section, tap Add eSIM.
From the Transfer Your Phone Number page, tap the Transfer from another iPhone button.
Follow the onscreen steps to complete the transfer process.
Take Full Advantage of iOS 16
When iOS 16 debuted at WWDC '22, it didn't really seem as though Apple made any drastic changes outside of the all-new Lock Screen. But now that iOS 16 is out of its Developer Beta and is available for everyone, it turns out that there are quite a few changes to the mobile platform. Instead of covering them all here, we're providing a list of just a few of the new changes and features available in iOS 16 to familiarize yourself with.
Grab A Case
Even if you signed up for AppleCare+ with your iPhone, you don't want to scratch up or crack your new iPhone. And while Apple continues to improve the durability of its various iPhone models, it never hurts to grab a case to keep your investment protected.
Protect Your Screen
With the iPhone 12 series, Apple introduced a new "Ceramic Shield" for the screen. In theory, this is meant to better withstand any cracks that you might experience if you were to drop your iPhone. Since then, Ceramic Shield has made its return to the iPhone 13 and now iPhone 14.
The problem is that while the Ceramic Shield offers solid protection against drops, the same can't be said for scratches. And you might be surprised to take your iPhone out of your pocket or bag, and see that a few micro-scratches that have appeared out of nowhere. If you want to keep your screen looking as good as possible, we've listed a few screen protectors for you to consider.
Keep Your iPhone 14 Charged
A lot of Apple's most recent changes occurred when the company moved to the iPhone 12. This includes Apple's decision to remove the included charger from the box. Two years later, and you probably already have a charger capable of offering the 20W charging speeds needed. But if you haven't, or just want to get a new one to pair with your iPhone 14, here are a few of our favorite options.
What Did We Miss?
We're still getting used to our own iPhone 14 Pro Max, complete with all of the changes that iOS 16 brings with it. And while we tried to cover many of the most popular iPhone 14 tips and tricks, we might've missed a few. Let us know what your favorite iPhone 14 tip is and we'll share it with others who visit this roundup in the future!
Andrew Myrick is a freelance writer based on the East Coast of the US. He enjoys everything to do with technology, including tablets, smartphones, and everything in between. Perhaps his favorite past-time is having a never-ending supply of different keyboards and gaming handhelds that end up collecting more dust than the consoles that are being emulated.