Ever since Apple brought back the popular MagSafe branding with the iPhone 12 series, we've been in love with this new method for wirelessly charging our devices. Not only has MagSafe transformed into a defining feature with each new iPhone release, but it's also being integrated into the AirPods 3 and AirPods Pro case. Plus, MagSafe also made its triumphant return to the Mac with the 2021 14-inch and 16-inch MacBook Pro models, along with the 2022 MacBook Air.
Related Reading
Best 3-in-1 MagSafe Chargers
Chances are if you own an iPhone and are entrenched in the Apple ecosystem, you're looking for something to keep all of your devices charged up. Now that MagSafe has been around for a couple of years, we've been seeing more and more accessories released. Today, we're taking a look at a few of the best 3-in-1 MagSafe chargers that you can pair with your iPhone, Apple Watch, and AirPods.
Belkin MagSafe 3-in-1 Wireless Charger
This 3-in-1 MagSafe Wireless Charger from Belkin was one of the first of its kind back when the iPhone 12 was introduced. It uses MagSafe to keep your iPhone floating above the base, along with an arm for you to place your Apple Watch. But the base also includes a built-in wireless charger, allowing you to charge up your AirPods while everything else is also charging. It also works quite well just as a stand for your devices, even if they don't need to be juiced up.
mophie 3-in-1 Magsafe Wireless Charging Stand
It comes as little surprise that mophie jumped on the MagSafe hype train. But this 3-in-1 wireless charging stand requires a bit more than others on this list. Instead of including a built-in MagSafe charger, you'll need to provide your own "puck" It slots right into the back, allowing you to route the cable out of sight. Then, your Apple Watch can sit horizontally on the right, with your AirPods (or other wireless earbuds) charging on the left.
UGREEN 3-in-1 MagSafe Wireless Charging Station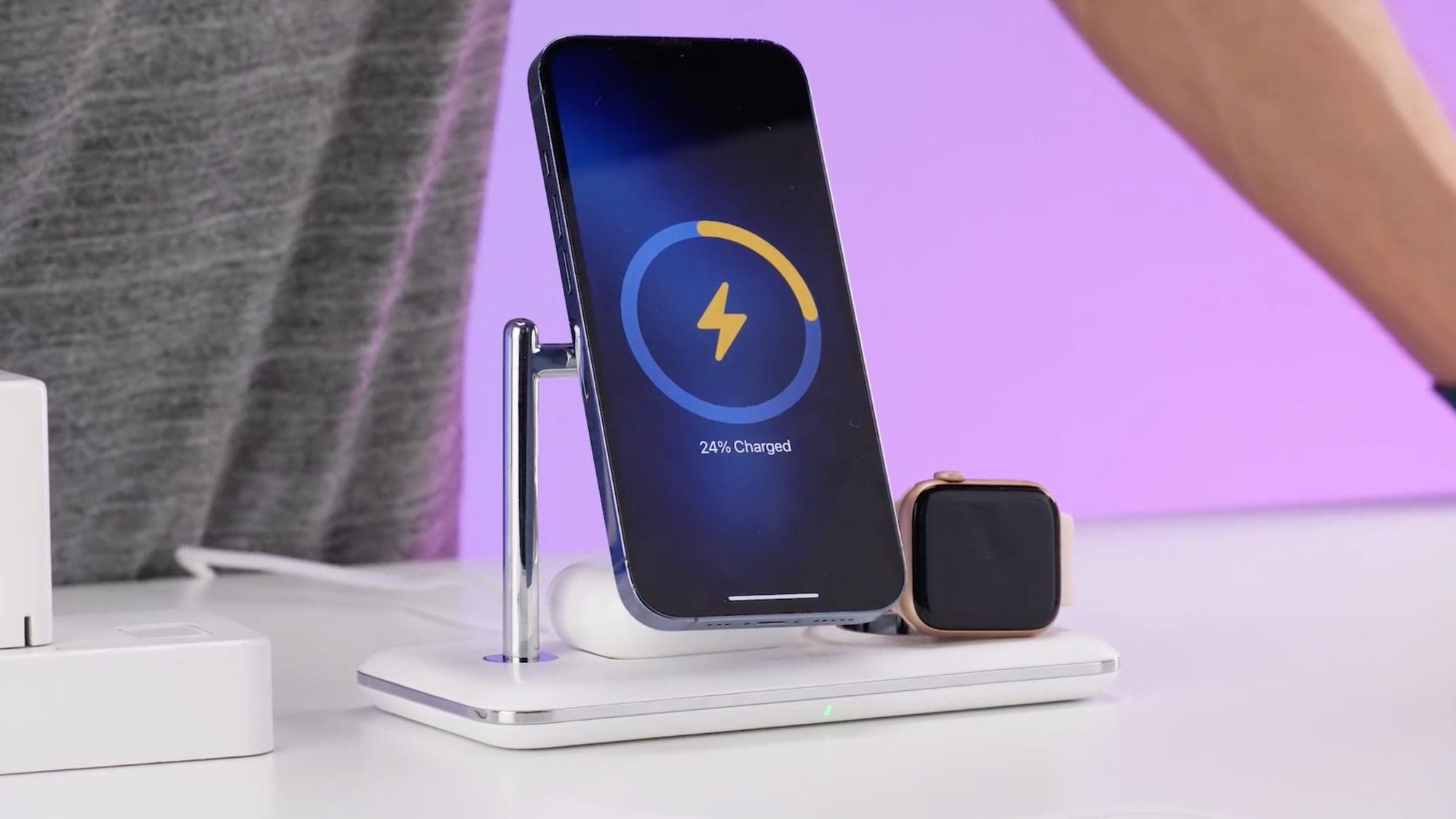 When it comes to charging accessories, Belkin and mophie are at the top of many people's minds. But there are also some impressive offerings from Anker and UGREEN. With the UGREEN 3-in-1 Wireless Charging Station, you'll be able to slap your iPhone on the floating MagSafe charger, nestle your AirPods beneath the iPhone, and use the collapsible Apple Watch charger. Or, you can push the Apple Watch charger back into its hole and lay your Watch down flat.
Satechi Trio Wireless Charger with Magnetic Pad
Satechi is well-known for offering some of the most impressive accessories for pretty much every device in Apple's lineup. The iPhone, Apple Watch, and AirPods are no exception thanks to the Satechi Trio Charger. The Watch charger supports Apple's Nightstand mode, and there are LED in the middle to let you know when each attached device is charging. Satechi even went so far as to implement "Intelligent Safety features" to ensure that your devices won't be over-charged, and will turn off when they reach 100%.
ESR HaloLock 3-in-1 Wireless Charger with CryoBoost
Unlike some of the other names on this list, ESR might not be as well-known. But the company has been regularly pushing out reliable and pretty solid accessories for many different devices. What helped the HaloLock make the list is the "CryoBoost" functionality. Found beneath the MagSafe charger is a built-in fan that will keep your iPhone cool, while also aiming to help dissipate any heat from the charger. This ensures that your iPhone won't get too hot while charging as fast as it can. The only catch here, is that you'll need to provide your own Apple Watch charger to take full advantage.
Satechi 3-in-1 Magnetic Wireless Charging Stand
While we're big fans of the Satechi Trio Charger, the 3-in-1 Wireless Charging Stand is another great option for those who want to have their iPhone propped up as opposed to laying flat. This makes it easy to view and interact with any notifications that come through, without having to actually take your iPhone off the charger. And as you might expect, there are also LEDs on the front of the charging stand to provide an indication as to when your devices are charging properly.
Belkin MagSafe 3-in-1 Fast Wireless Charger
Rounding out the best 3-in-1 MagSafe chargers is another offering from Belkin. The MagSafe 3-in-1 Fast Wireless Charger ensures that you won't have to worry about misaligning your iPhone when you place it on the charger. There's also an indentation in the middle for your AirPods to go, and then the Apple Watch charger can either be flipped out or pushed back down when you do, or don't, need it.
Andrew is a freelance writer based on the East Coast of the US.
He has written for a variety of sites over the years, including iMore, Android Central, Phandroid, and a few others. Now, he spends his days working for an HVAC company, while moonlighting as a freelance writer at night.