Outside of the iPhone 12 Pro Max, there is one problem that continues to plague owners of the iPhone 12 mini, 12, and 12 Pro. Battery life just isn't exactly what we hoped for nor what we expect to see from an Apple device released in 2020. The poor battery life is even more curious considering that Apple reportedly ditched its plans to include a ProMotion 120Hz display.
Related Reading
But thanks to the power of MagSafe, keeping my iPhone charged up has not been much of an issue. However, eight months after the iPhone 12's release and the integration of MagSafe wireless charging, Apple finally did what it should have last year — it released the MagSafe Battery Pack.
Over the course of the past year, we haven't seen far too many options hit the market, but this has more to do with Apple's strenuous MFi program. Nevertheless, we now have several battery packs that attach magnetically to the back of your iPhone. But of course, using one sold by Apple likely makes people feel more comfortable.
Apple MagSafe Battery Pack Review: Design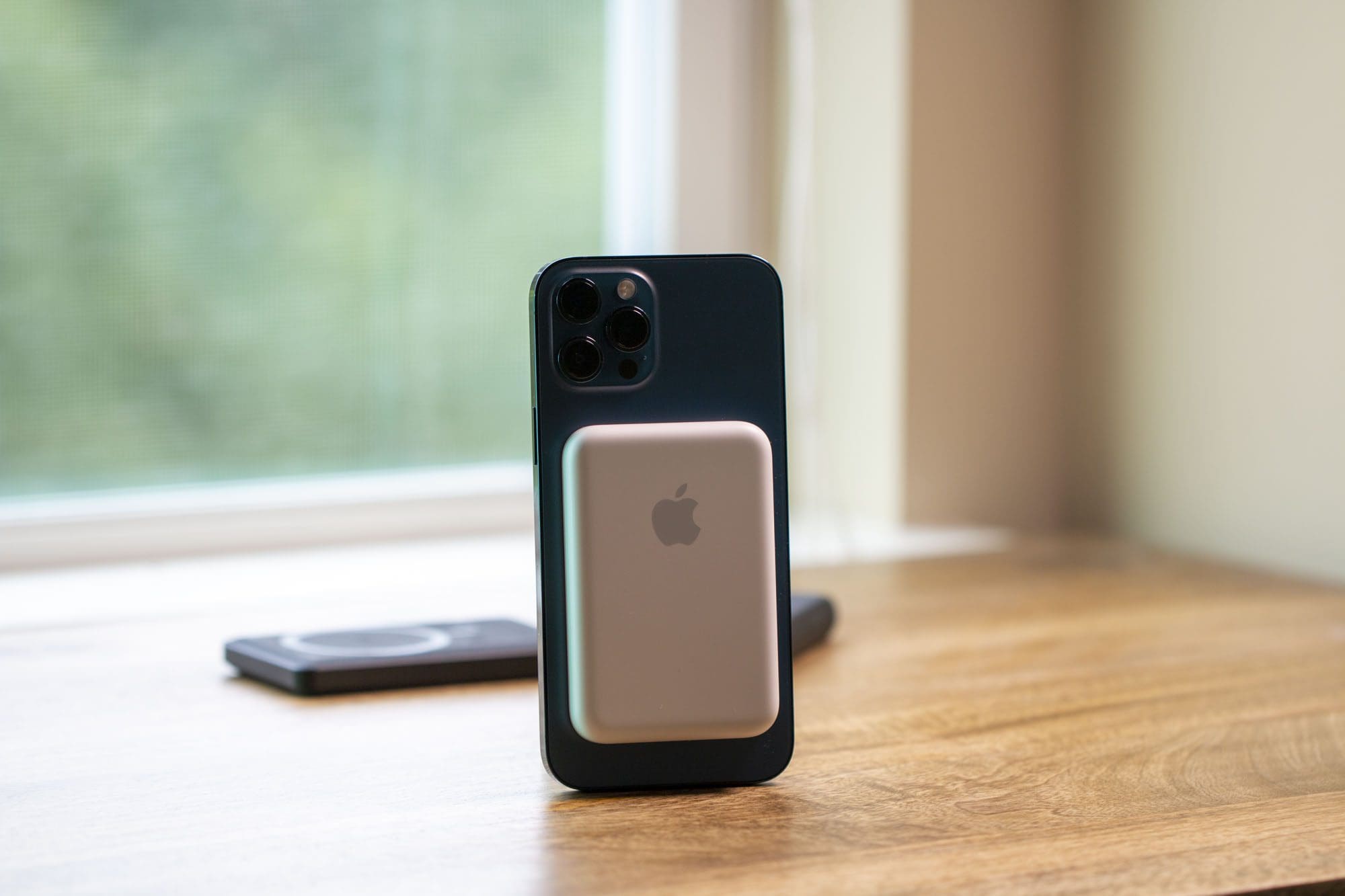 Out of the box, the MagSafe Battery Pack fits the Apple aesthetic just as you would expect. It's only available in one color, while making use of the same silicone material as is found on Apple's Silicone case lineup. Turning it over reveals the MagSafe plate where so you can properly place the Battery Pack onto your iPhone.
At the bottom of the Battery Pack, there's a Lightning port, along with a single LED indicator. Apple really didn't try and re-invent the wheel here, but I definitely think it missed out on a golden opportunity. Now, I'm not saying that a new Battery Pack should be released to match the Silicone Cases that arrive every time the seasons change. However, sticking with white, and only white, is rather frustrating.
To be fair, it looks great slapped onto the back of my iPhone 12 Pro Max, pairing quite nicely with the Pacific Blue color way that I opted for. But I still would have liked to see at least two or three more color options made available.
Apple MagSafe Battery Pack Review: Charging and Features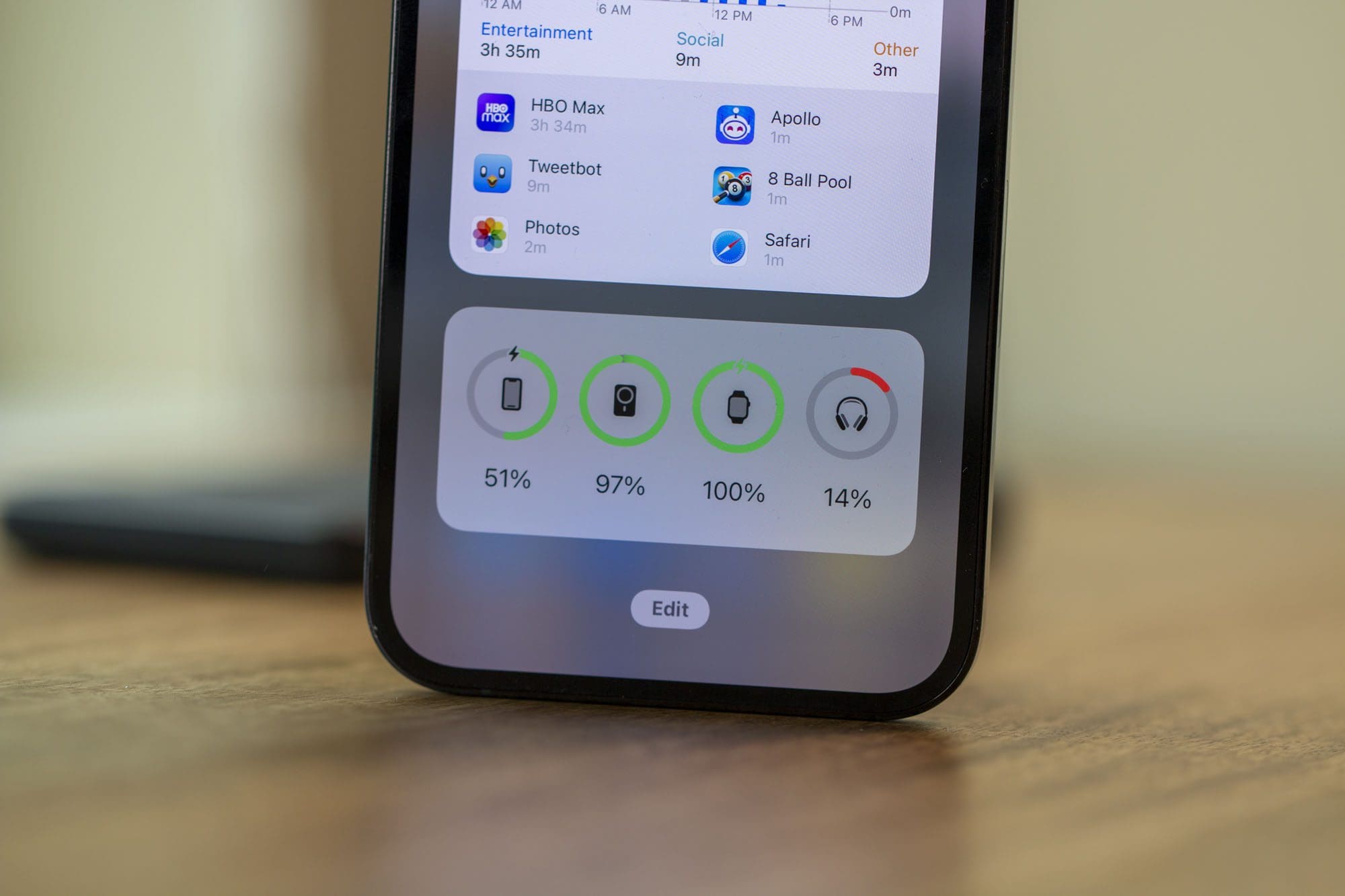 Underneath all of the magnets and silicone, the Apple MagSafe Battery Pack is equipped with a measly 1,460mAh lithium-ion cell. This is really underwhelming when you take a look at the options from Mophie and Anker that both feature a 5,000mAh battery. To put this into reference, let's take a look at the battery capacity of the iPhone 12 models:
iPhone 12 mini – 2,227mAh
iPhone 12 / 12 Pro – 2,815mAh
iPhone 12 Pro Max – 3,687mAh
So as you can see, this tiny battery won't even be able to fully-charge the 12 Mini from 0-100%. That's our first disappointment right there, but in reality, you likely won't be trying to use the MagSafe Battery Pack when your iPhone is already out of juice. And that's where Apple's option comes in compared to the likes of Anker and Mophie.
In my testing, I only have an iPhone 12 Pro Max, so it's a bit of an unfair fight for the MagSafe Battery Pack. Nevertheless, here's what I found when using this Battery Pack with my iPhone:
Start Time – iPhone Capacity:

3:04 P.M. – 10%
5:04 P.M. – 54%
So in two hours, the MagSafe Battery Pack added almost 50% of juice back to my 12 Pro Max. That's pretty good right? Well here's the other point that I didn't reveal. I was using my iPhone 12 Pro Max throughout the span of those two hours. Using it to listen to podcasts and do some quick web searches while letting the Battery Pack do its work.
So for Apple's solution to still give me almost a 50% boost to the iPhone with the biggest battery, is pretty darn impressive. But the Battery Pack can actually do much more than just attaching to the back of your iPhone 12.
It can also work as a portable wireless charger for your Qi-enabled devices such as the AirPods or AirPods Pro. Just simply flip it upside down, with the Apple logo facing downwards, and place your AirPods case in the middle of the ring. The LED indicator on your AirPods will turn on letting you know it's actually being charged.
But wait, there's more! Unlike the aforementioned options from Anker and Mophie, Apple's MagSafe Battery Pack will show up in the Batteries widget on your iPhone. This is an expected function, but a welcome one nonetheless.
Apple MagSafe Battery Pack Review: Should You Buy One?
I'm going to be honest here. If it weren't for my affinity for having Apple-branded accessories to go with my iPhone, I would not have purchased the Battery Pack. Both Mophie's and Anker's options have a higher battery capacity, while being priced at 50% lower than Apple's solution. No, they don't come in different colors, as Anker uses a matte finish, and Mophie makes use of a fabric-like finish on its battery pack.
So should you buy the MagSafe Battery Pack for yourself? If you're okay with not being able to get a full 0-100% charge, want integration with the Batteries Widget, and have the money to spend, then go for it. I'm still going to hold out hope that more accessory makers release portable MagSafe batteries, as these are extremely convenient to just throw in a bag. But also be prepared to have to wipe down the Apple option thanks to the soft-white silicone.
If you want to pick up the Apple MagSafe Battery Pack for yourself, it's available from Amazon for $99 with two-day Prime Shipping.
Andrew is a freelance writer based on the East Coast of the US.
He has written for a variety of sites over the years, including iMore, Android Central, Phandroid, and a few others. Now, he spends his days working for an HVAC company, while moonlighting as a freelance writer at night.