MagSafe is back, and now it's on the iPhone. With the release of the iPhone 12 and iPhone 12 Pro, you can use Apple's innovative MagSafe technology to wirelessly charge your new iPhone or adorn it with magnetic accessories.
If you're unsure what MagSafe is and what you can do with it, this is the article for you. We'll explain what MagSafe is before showing you all the best accessories you can use with it.
Related:
What Is MagSafe?
In case you can't tell by the name, MagSafe uses magnets to connect to your iPhone. Apple originally introduced MagSafe in 2006 as a safer way to charge a MacBook — the magnetic charging cable easily disconnects if someone were to trip over it. But Apple has since switched to using USB-3 to charge MacBooks instead.
Now, Apple is bringing back MagSafe, but this time using it to create a major leap forward in wireless iPhone charging.
With standard Qi charging mats, it's easy to put your device down on the edge of the mat, resulting in slow and inefficient charging. Apple hoped to improve the state of wireless charging with AirPower wireless charging mats, but now its using MagSafe to do that instead.
A MagSafe wireless charger uses magnets to snap into the perfect position on the back of an iPhone 12 or iPhone 12 Pro, allowing the wireless charging elements to align for the quickest charge possible.
Alongside chargers, you can also use the MagSafe to connect to a range of other accessories to an iPhone 12 or iPhone 12 Pro.
MagSafe accessories can use NFC to speak to your iPhone when you connect them. You can even connect a MagSafe charger to the back of some accessories to charge your iPhone through them.
This is an exciting new avenue for iPhone accessories so we've rounded up all the best MagSafe accessories announced so far for you to take a look at.
The Best iPhone 12 MagSafe Cases
A MagSafe case snaps to your iPhone easier than ever before, making it simple to attach and detach.
But even better than that, MagSafe technology built into the case means you can perfectly align a MagSafe charger through the case or attach a second MagSafe accessory to the back of it, like Apple's Leather Wallet.
Apple has released two MagSafe cases for the iPhone 12 so far: Silicone and Clear.
Both cases cost $49 and are available for every model of iPhone 12. The Silicone case is also available in eight different colors.
Apple announced a MagSafe Leather case coming soon, but we don't know the price or release date for this case yet. Apple also previewed a leather sleeve for the iPhone 12 that detects when the iPhone is in the case to show the clock through a window.
Meanwhile, you can already buy third-party MagSafe cases from OtterBox, available exclusively from the Apple Store.
OtterBox released two MagSafe cases, Figura and Aneu, both with a range of colors and designs to choose from and each costing $49.95.
The OtterBox Figura case features a marbled design, while Aneu offers complementary solid colors, with an easy-to-grip edge material.
The Best iPhone 12 MagSafe Wallets
As part of Apple's iPhone 12 MagSafe announcement, the tech giant also revealed its new Leather Wallet, available for $59. This slim card sleeve attaches to the back of an iPhone 12 using MagSafe, so you can keep your ID and credit cards with you at all times.
Thanks to MagSafe, you can attach Apple's Leather Wallet straight onto your iPhone 12 or you can attach it onto the back of a compatible MagSafe case.
This lets you mix and match colors and styles between your MagSafe case and the four Leather Wallet colors.
Apple's Leather Wallet is magnetically shielded, to protect the credit cards inside. However, this means you can't charge your iPhone through the wallet.
Unfortunately, the magnets aren't as strong as you might expect either, making it possible for the wallet to slip off your iPhone as you slide it into a bag or pocket. This is obviously far from ideal, so it could be worth waiting to see if Apple will increase the magnet strength with future releases.
The Best MagSafe Wireless Chargers
Surprisingly, Apple doesn't include a wireless MagSafe charger in the box for the iPhone 12 or iPhone 12 Pro. Although, maybe that shouldn't be a surprise seeing how Apple slimmed down Apple Watch and iPhone packaging this year by also removing the power adapter and the wired EarPods.
You can buy the MagSafe Charger for $39, although you also need a USB-C Power Adapter to use with it, which costs another $19.00.
The MagSafe charger snaps onto the back of your iPhone using magnets, to offer 15W fast wireless charging.
Since the MagSafe charger is Qi compatible, you can also use it to charge other compatible devices like older iPhones with wireless charging, AirPods wireless charging cases, and even third-party Qi-compatible smartphones.
Although only the iPhone 12 and iPhone 12 Pro benefit from MagSafe technology to perfectly align the wireless charging coils.
If a single wireless charger isn't enough, Apple also previewed a MagSafe Duo Wireless Charger for iPhone and Apple Watch, which folds up for traveling. Unfortunately, we don't know the price or release date of this charger yet, but Belkin has revealed details of a similar product already.
Third-Party MagSafe Chargers
Belkin is one of the only third-party manufacturers to announce a range of MagSafe accessories so far. The Belkin 3-in-1 Wireless Charger lets you charge your iPhone 12, Apple Watch, and another Qi-compatible device all at the same time. It uses MagSafe to perfectly align the iPhone 12, lifting it up above the tabletop so it's easy to glance at while charging.
You can even rotate the iPhone 12 to landscape mode for watching videos on the dock as it charges.
All of this wireless charging technology comes at a hefty price, with the Belkin 3-in-1 Wireless Charger coming in at $149.
At least it offers 15W fast charging and a two-year warranty. You can also choose between a black or white model to match your accessories.
The Best MagSafe Car Mounts
Alongside its 3-in-1 Wireless Charger, Belkin also announced a MagSafe car mount, the Belkin Car Vent Mount PRO, available for $39.99.
This mount clips onto the vents inside a car, allowing you to easily snap your iPhone 12 into place on the mount using the MagSafe connector.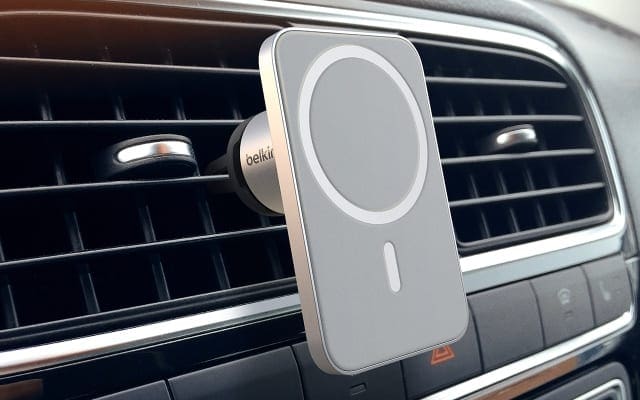 Again, you can choose to align your iPhone in portrait or landscape mode.
Belkin even built a simple cable management system into the mount so your charging cable is always to hand. Unfortunately, the MagSafe wireless charging isn't available through the car mount.
We haven't had a chance to test the magnet strength on this mount yet, but Belkin promises that it's powerful enough to keep your iPhone safe through every bump or turn in the road.
A two-year warranty can help give you peace of mind on that as well.
Watch Out for Fake MagSafe Accessories
It's only a matter of time until a wash of fake MagSafe accessories floods the market. These are likely to be slow at charging, with less connectivity, and potentially weaker magnets.
Cheap chargers can even cause electric shocks or fire hazards.
We suggest you only consider purchasing official MagSafe accessories for the best experience. These don't need to be from Apple, but they should be from a reputable manufacturer. High-quality products are likely to include MagSafe in the title and be accompanied by Apple's Made for iPhone logo.
Although approved accessories are usually more expensive, you can rest assured they've undergone all the necessary checks to make sure they're safe to use. This is rarely the case with knockoff third-party accessories.