Is your iPhone's or iPad's GPS suddenly not working? Having problems following an iOS Update? Many users have reported issues related to GPS problems after they upgraded their iPhone to the latest iOS. Users report getting messages that show "No GPS, Showing approximate location." The problem appears worse when trying to use Waze or Google Maps.
Quick Tips
Follow These Quick Tips To Get GPS Working Again on your iPhone or iPad
Move to a new location, preferably open space
Toggle Location Services Off and On

Open your phone Settings > Privacy > Location Services and toggle the switch OFF
Perform a hard reset on your iPhone
Return to Settings > Privacy > Location Services and toggle the switch back ON

Toggle Airplane Mode On and Off
Set Date & Time to "Set Automatically" via  Settings > General > Date & Time
Turn off LTE
Reset network settings
Set Do Not Disturb While Driving to Manually
Drain your battery completely
Update or Restore your device using iTunes
Burp your iPhone, just like a baby
Update: 07/27/2019 
If you own an older iPhone, you will need to update your iPhone or iPad software to avoid issues with location, date and time. Apple released a patch for the GPS Bug. This affects iPhone models released in 2012 or earlier. Apple published a detailed white paper around this new update.
According to Apple:
"Starting November 3, 2019, some iPhone and iPad models introduced in 2012 and earlier will require an iOS update to maintain accurate GPS location and keep the correct date and time. This is due to the GPS time rollover issue that began affecting GPS-enabled products from other manufacturers on April 6, 2019. Affected Apple devices are not impacted until November 3, 2019.
Related Posts
The Symptoms of GPS Not Working 
You start your navigation and the icon for your current location just wiggles but never moves as you drive, walk, or whatever mode of transportation you're using.
And unfortunately, many of these GPS problems surface just after an iOS upgrade, so the standard Apple advice to update to the latest iOS is not a proper fix.
GPS–The Heart of Our iDevice Experiences
Our iPhone's and iDevice's GPS is one of the biggest reasons we love our phones and mobile devices. Want to find a friend, locate a museum, or try a new and nearby restaurant? Love tracking all those miles when exercising? Still playing Pokemon Go? We all use maps and Location Services to find these things. GPS makes it all possible.
Yes, GPS is a vital part of every smartphone today. So when users report faulty or malfunctioning GPS, it spells trouble for many of our everyday iPhone and iDevice uses.
There's a lot of technology driving our iDevice's GPS, resulting in quite a few kinds of things that might go wrong.
The most common GPS Problems for iDevices include:
No signal
Not updating your location
Slow in tracking your location
Showing the wrong location
Apps not discovering your location
Compass problems or interference
Troubleshooting GPS
Unfortunately, the usual Reset – Restore method does not appear to help with GPS issues. In speaking with Apple technical support, people have tried all the steps including restoring the iPhone to factory settings but still see the problem.
The interesting aspect is that the problem is not always persistent. It is rather intermittent in nature; sometimes the signal strength is good but most of the times the signal strength is pretty spotty.
Move Your Body
Okay, we all know that buildings interfere with signals, especially metal and glass buildings. So get a move on and head to more open space or move outside and see if that new location gives you a better signal.
Give Permission
Make sure you set your apps' location permissions. It's probably the most common reason GPS isn't working. We simply forget to enable location services for our app(s)!
If you don't allow an app permission to access your location, then it ain't gonna work and find you or that fancy new restaurant.
To check, go to Settings > Privacy  > Location Services and ensure that your favorite apps have permission to use location services. Set these to either While Using the App or Always.
Reset Location & Privacy 
If the GPS problem persists, try resetting Location & Privacy settings on your iPhone.
Go to Settings > General > Reset
Select Reset Location & Privacy
You'll be asked to enter a passcode (if applicable), tap on Reset Settings to confirm your action
When your location and privacy settings are reset, apps stop using your location until you grant them permission again.
Toggle Things OFF and ON
Sometimes things just need a little nudge. So try toggling a few settings Off and On and see if that jump starts your GPS.
1) Settings > Privacy > Location Services. Toggle Off, wait 15 seconds and toggle back On
2) Settings > Airplane Mode. Toggle On, wait 15 seconds and toggle back Off
3) Settings > WiFi. Toggle Off, wait 15 seconds and toggle back On
4) Settings > Cellular > Cellular Data. Toggle Off, wait 15 seconds and toggle back On
Turn Off LTE
Temporarily turning off LTE works for some people. So head to Settings > Cellular > Cellular Data Options > Enable LTE and toggle this off. Next, try out your GPS. If it works, continue as is until your immediate need is completed and then re-enabled LTE.
If turning off LTE did nothing, turn it back on and try again to see if GPS has returned.
Reset Network Settings
Updating your network settings might also refresh the data for your GPS. So go to Settings > General > Reset > Reset Network Settings.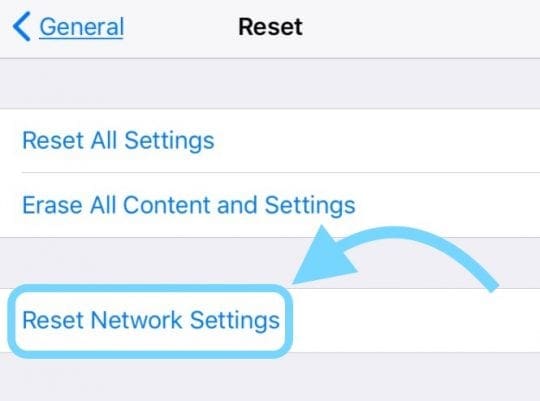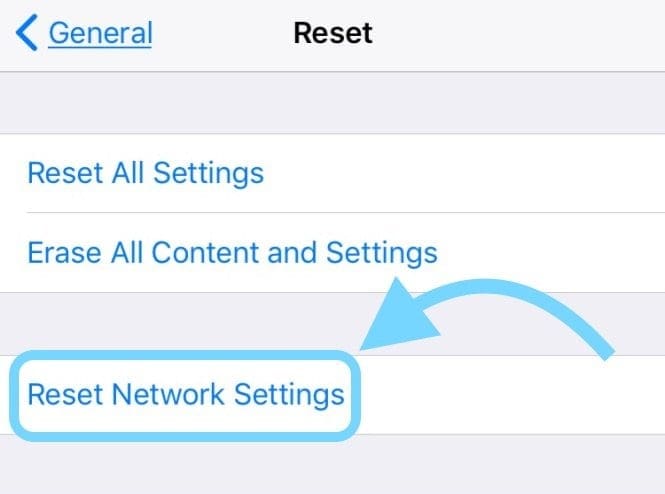 This reset doesn't erase any data but does clear your stored WiFi passwords, current cellular and Wi-Fi network settings, including saved networks and VPN settings.
Check Do Not Disturb While Driving
If you're getting these frustrating issues with all or most of your GPS applications, check your DND Settings. Make sure that "Do Not Disturb While Driving" is set to "Manually."
Sometimes after an update, "When Connected to Car Bluetooth" becomes the default. Changing it to "Manually" frequently fixes this issue.
GPS Not Working with iOS 12, Suggested Tips
Are you having GPS issues after updating your iPhone to iOS 12? You may not be alone
The GPS Problem was bad for iPhone 8 /x users when iOS 11 was released last year. This was then fixed by the iOS 11.2 update, subsequently released by Apple. The software update helped fix the GPS issues for many users. It was again back for some users in 11.4.
If it is a software related issue impacting specific devices, we should probably see a new update soon.
According to some readers, when iOS 12 was released in the beta1 and 2 versions, it had major GPS problems that were later fixed in subsequent beta releases.
Some users on the beta were able to get around the GPS problem by downloading a fresh iOS 12 using ipsw files and restoring their device using iTunes.
We will highlight some of the common troubleshooting approaches as well as a potential roadmap on how to proceed when facing GPS issues with iOS 12
No GPS after iOS 12 Update when using Waze/Google Maps?
Here are some suggested tips that you can give a try.
1. Turn off Wi-Fi, Bluetooth, and Location services from Settings, not the control center
2. Restart phone, then turn on Bluetooth, and location services again. (Wi-Fi comes on automatically after a restart).
Toggle Airplane Mode ON, wait for 30 seconds and switch it to OFF
Turn ON Apple Maps first. Wait for a few seconds or so and then switch on Waze or your other third-party GPS app and check if it is working
Some users also report success with resetting location and privacy. Tap on Settings > General > Reset > Reset Location and privacy
If using Waze or a similar app, make sure that the app has the right permissions to access Location services. Tap on Settings > Cellular and under cellular data, check and make sure Waze is enabled.
We are not sure why, but a reader reported success when she turned off the Do Not Disturb functionality completely on her iPhone. GPS started working perfectly. With the DND turned on, her Google Maps was back having problems with geolocations.
Some users also found that when they completely turned off Wi-Fi on their iPhone, the GPS worked flawlessly. This worked even with their third-party fitness apps when they were running outside.
You should check and make sure you are not using one of those iPhone cases that have a magnetic backing. In either case, if you are having GPS issues, try and remove the iPhone case/cover and see if it is any better.
If all else fails even after Toggling ON/OFF multiple settings, try and restore your iPhone using iTunes. You can also download an ipsw copy and do the restore. Try not to use the iCloud backup to restore your device in case there is an issue with your most current backup.
iPhone 6/6s Models With GPS Problems
 Some readers have suggested that their GPS issue on their iPhone was related to the Antenna Flex Cable; it's either loose or has to be replaced.
If one of the attachment points for the AFC is broken, it could lead to GPS and other reception issues on the device.
If you are taking your device to Apple care for the battery replacement program, you should request them to check out the Antenna issues.
Typically, when your iPhone is having GPS related issues, Apple support can run diagnostics on the device and locate if there are any hardware problems behind the GPS issues.
Reset to factory using iTunes and try. In the past when faced with stubborn issues like the GPS one,
I ended up connecting iPhone to iTunes, put it in DFU mode and restore to set up as new, and that has worked many times.
The bottom line for iOS 12 GPS Related Issues on your iPhone
iPhone 6/6s Models or older models, if you have already tried to reset it to factory and done a clean install and continue having the GPS issue, it may be worthwhile to check out the antenna flex cable, particularly if you had your battery replacement or other repairs recently or are planning to do repairs on the device.
Newer iPhone model users with iPhone 8/8+/X, if you have checked out the software fixes and still no luck after a factory reset and clean iOS restore, you can reach out to Apple, and they should be able to replace your iPhone once they run their diagnostics.
RELATED: How to Factory Reset your iDevice, A Complete Guide
Here are some of the other workarounds people reported as working for them when facing GPS related issues in prior iOS releases:
Drain Your Battery
Another workaround for this issue that seems to work for a few of our readers is to thoroughly drain the iPhone battery and then recharge it using the original wall charger.
Only after a complete charge should you once again try the GPS features, this process only worked for some time, but for most people, the problems returned.
Check Your Date and Your Time
This seems like a weird one, but it does work on a host of challenges. So why not try? Make sure your iDevice's date, time, and time zone are accurate to your current location.
Go to Settings > General > Date & Time > Choose the option Set Automatically. If you've recently traveled, it updates to your current time zone, date, and time of day. Toggle the setting to manual and then back to automatic and try.
Turn on Background App Refresh For WiFi and Cellular
A reader discovered that if he toggled on Background App Refresh on and selected the option to use both wifi and cellular data, that his third-party map apps worked. He also toggles WiFi on, even if there was no network to connect to.
Apparently, there is a problem with location services not updating within these third-party apps. Toggling both WiFi and Background App Refresh seems to force location services to update.
Update Your App(s)
If you have GPS issues only when using a particular app, check the App Store and if available, upgrade that app.
Use iTunes to Update or Restore Your iDevice
Several readers report that updating or restoring their devices via iTunes (instead of Over-The-Air/iCloud) fixed their GPS issues.
Running an Older iOS?
The best bet for this problem as it stands today is to try updating your iPhone to the latest version of iOS for your iPhone or iDevice model. This is particularly true for iFolks still running iOS 9. The update to the newer iOS has code that fixes known Bluetooth issues.
I personally had this problem on my iPhone 6S after updating to iOS 9. After upgrading my phone to the iOS 10 update, my iPhone 6S GPS worked without any hiccups.
The GPS Voice navigation has continued to show no issues even after upgrading. We still see that the problem exists on an older iPhone. People continue to report that one of their older models, the Waze App still does not function although the Apple Map works intermittently.
Using an Older Model iPhone (32-bit)?
As stated, users with older model iPhones that cannot upgrade to iOS 11 or iOS 10 report intermittent issues with their iPhones' GPS. In particular, on these older models, both Google Maps and Waze still don't always function although the Apple Map works most of the time.
Downgrading to an earlier iOS doesn't cure this problem either.
Look at the Antenna
Some users found that by replacing the internal antenna, they were able to circumvent the issue. We don't think that this DIY approach is that easy. It is a risky move at best if you do not know what you are doing.
Burp it, Baby!
Some folks found relief by smacking their iPhones in the corner where their iPhone model's GPS antenna unit is located–usually the top left.
It's best to first cover your iPhone in a soft towel or cloth to prevent screen damage. Then, give it a few swift whacks!
We call this burping your iDevice–a firm smack, done just a few times one after the other. Just like burping a baby–gentle but effective!
Why Does Burping Work?
If it works, chances are your antenna or its connection is loose.
Visit, Chat With or Call Apple Support
If you have upgraded your iPhone to the latest available iOS and are still having the issues with GPS, you should take your iPhone to the Genius store. If your device is under warranty, you should be able to get a replacement phone.
RELATED: How to Chat with Apple Support Directly
It is still hard to believe that this could be a hardware related issue. None of the usual technical workarounds with the software settings have yielded any permanent resolution as of this writing.
Reader Tips 
The only thing I have found to sort of work is to open multiple apps that use GPS–like Apple Maps, Google Maps, Waze, Pokemon Go and so forth. I think that opening up all these apps at one time forces GPS to get busy!
Go to Settings > Cellular > Cellular Data Options > Enable LTE. Toggle Enable LTE OFF and do a complete restart on your device by powering off, waiting a minute or so, and powering back on.  Then, go back to the Settings to Enable LTE and change it from off to Voice and Data
I did a full restore using iTunes (encrypted) and now all my GPS apps work amazingly!
Try to reset the Location and Privacy Settings. That did the trick for me
I was super duper frustrated, so I whacked my iPhone 8 a few times in the top left corner, and it started working. Unbelievable!
Obsessed with tech since the early arrival of A/UX on Apple, Sudz (SK) is responsible for the original editorial direction of AppleToolBox. He is based out of Los Angeles, CA.
Sudz specializes in covering all things macOS, having reviewed dozens of OS X and macOS developments over the years.
In a former life, Sudz worked helping Fortune 100 companies with their technology and business transformation aspirations.