Is your CarPlay not working after recently updating your iPhone?
What's difficult about troubleshooting CarPlay issues is dealing with the many different car systems beyond your iPhone. If none of the tips in this article work, there is most likely an issue with your vehicle's infotainment system.
There should be someone you can get in touch with from the vehicle manufacturer. The best advice I can give is to make sure your vehicle has the most recent firmware installed. Also, your car's manual may have some helpful information.
Watch this video on CarPlay not working, or read the text below
Follow these quick tips to get CarPlay working again
Toggle on Allow CarPlay While Locked in your iPhone's CarPlay settings
Reset the infotainment system
Verify Siri is on or toggle Hey Siri off and back on
Use a different USB port or cable (or both)
Disable any Screen time restrictions on your iPhone
Check that both WiFi and Bluetooth are enabled under Settings > WiFi and Settings > Bluetooth
Toggle Bluetooth off and on or turn off Bluetooth entirely when in your vehicle
Delete old Bluetooth connections no longer used
Remove any vehicles from CarPlay settings that you no longer use or need
Make sure that your iPhone has the latest version of iOS
Make sure that your CarPlay stereo is using the latest firmware from the car manufacturer. Check your car's manual for more information.
Related Articles
Check that you allow CarPlay when locked
Go to Settings > General > CarPlay
Toggle on Allow CarPlay While Locked
Reset and update your vehicle's infotainment system
The best place to start with any tech issue is to restart your devices. The same is true here. If you are experiencing any problems with CarPlay turn off and restart your car.
And it's a good idea to go ahead and reset your iPhone as well. Every system is different, so turning on and off the vehicle may or may not completely reboot the system.
Many are just put to sleep when you turn the car off. See if you can find any information in your vehicle's manual about completely resetting the infotainment system.
Set up CarPlay again
Start your car. Verify that Siri is on
Connect your iPhone to your car
For CarPlay with a USB cable, plug your iPhone into the USB port in your car.
For wireless CarPlay, verify that your stereo is in wireless or Bluetooth mode, then press and hold the voice-command button on your steering wheel. On your iPhone, go to Settings > General > CarPlay
In Settings > General > CarPlay, tap your car then choose Forget This Car
Set up CarPlay again
Go to Settings > General > CarPlay. Tap Available cars  and select your car
Turn Siri off and on
If the problem is with Siri, turning Siri off and back often works!
Tap Settings > Siri & Search
If Listen for Hey Siri is on, toggle it off
Wait 20-30 seconds
Toggle Hey Siri back on and set Siri up again with your voice
CarPlay issues with iOS 13
With iOS 13, Apple simplified the CarPlay Dashboard.
The iOS 13 dashboard makes it easy to keep track of Maps, audio controls, and Siri Suggestions. Plus, you can now use your CarPlay's dashboard to control your HomeKit accessories, like garage door openers.
Problems with Kenwood car audio systems?
If you own a Kenwood CarPlay unit and just updated to iOS 13, Please do check Kenwood's guidance around this issue via this latest tweet.
If you use a different brand, please do check specific communication from them. You can check their site or check their twitter account for latest updates regarding iOS 13.
Try different USB cables and ports
iPhones have always been finicky with third-party cables. Try plugging into your car with the cable that came with your iPhone.
If you're already using one of Apple's first-party cables, it's still worth trying a few different ones to see if there is an issue.
Some cars have multiple USB ports that support CarPlay.
If the port you've used in the past isn't working, try plugging into other USB ports if they are available.
Make sure CarPlay is enabled and not blocked
Every vehicle handles CarPlay differently. In some vehicles, there is a requirement to enable the feature before you can use it. Even then, some finicky issues come up.
For example, when you plug an iPhone into the USB port, some vehicles won't allow CarPlay to be enabled. The iPhone had to be plugged in.
The lesson here is to check your vehicle's manual to see if CarPlay needs to be enabled. Also, it may take some fiddling to get CarPlay to work if you're having issues.
Check Screen Time and Restrictions for CarPlay
If you use restrictions on your iPhone, you may have disabled CarPlay by accident.
On your iPhone, go to Settings > Screen Time > Content & Privacy Restrictions > Allowed Apps or in older iOS, General > Restrictions and then enter your passcode.
Scroll until you find CarPlay and adjust the settings to allow CarPlay.
Alternatively, turn Screen Time off temporarily by going to Settings > Screen Time > Turn Screen Time off.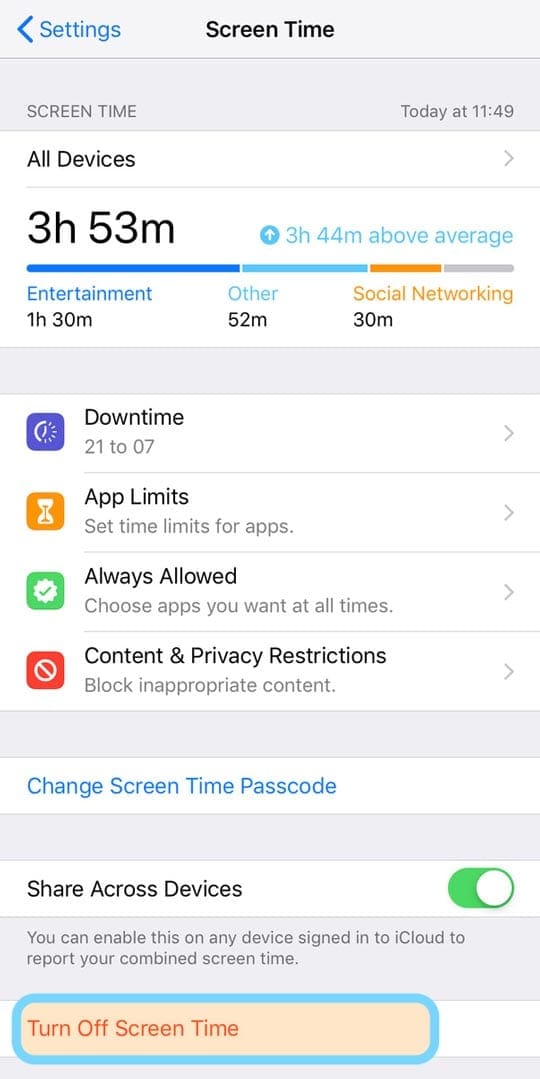 Bluetooth issue with CarPlay and your iPhone
I know it's a running theme, but every vehicle seems to have different quirks when dealing with CarPlay.
Using both a Bluetooth connection and CarPlay is another example. Some vehicles handle both connections just fine, but others do not.
If you're having issues connecting with CarPlay, remove the Bluetooth connection between your iPhone and vehicle. Restart your iPhone and try to use CarPlay again.
Another thing to try is to get rid of any connections to another vehicle. Check your Bluetooth settings to see if there are any old connections still hanging around.
Go to Settings > General > CarPlay to see if you have any other CarPlay connections with another vehicle. Try deleting these to see if it fixes the problem.
It's also worth a try to delete your current vehicle's connection here and set it up again.
How to fix night mode for maps
By default, the maps app uses dark mode at night. But sometimes it just won't activate, and it can be blinding to use the normal mode at night.
Sometimes this issue can be fixed by starting navigation to somewhere. Once the app kicks into navigation, dark mode starts.
If you cancel the navigation, dark mode should still stick.
Another solution is to adjust your vehicle's dimmer. Just about every vehicle has a knob or dial that will adjust the interior lighting at night.
Interestingly, CarPlay is tied to the dimmer in some vehicles. In these vehicles, dark mode will activate once you dim the interior a bit.
Some vehicles even have separate dimmers for the dash unit and additional interior lighting. Again, you may need to fiddle around a bit to figure out what works in your vehicle.
Spotify not working with CarPlay
Some people are finding Spotify no longer works with CarPlay after updating their iOS. Music still plays from Spotify, but opening the Spotify app in CarPlay only brings up a black screen. 
Trying all the usual fixes is a good start here. Close and reopen the Spotify app. Unplug your iPhone from your vehicle and try again.
There does seem to be an issue with the Waze and Spotify integration when using CarPlay. Waze is a new addition to CarPlay in iOS.
If you have the Waze and Spotify integration activated in the Waze settings, try turning that off. Turning off the integration should fix the Spotify issue in CarPlay.
I hope one of these tips has helped resolve whatever issues you've had with getting CarPlay up and running. Let us know in the comments if there are any other tips you've found useful.
CarPlay Shows a Black Screen
Many users, particularly folks using iPhone X Series (X, XR, XS) have seen this issue. The touch functionality works and you can hear the audio pipe through but the display simply stays black.
This has happened to me occasionally in my car and my iPhone X.
The best fix seems to be to turn off the car and do a hard restart on the phone.
That solves the problem for most users.
CarPlay Issues with iPhone XS/XR and the latest iOS
Lastly, some iPhone XS users are still having issues with CarPlay even after updating to the latest iOS version.
One of our readers pointed out that the CarPlay issues are resolved when he puts the phone with a USB charger.
This essentially keeps the battery at 100% (fully charged) and it mitigates the CarPlay problem. This could be a workaround for some of you until Apple fixes this issue.
The one good update that came via iOS appears to fix the legacy black/black screen issue.
Prior to the update, many users reported that when they opened up a third-party app such as Google play music or NPR one, the screen would turn black and you won't be able to see any of your playlists.
The only way was to control it via your iPhone. Some folks had success by deleting the offending app all together such as NPR one.
With the current iOS, Apple has fixed many of these issues. If you have not yet updated to the latest iOS, please consider doing so.
Please let us know in the comments below if you have any questions or tips to share.
Reader tips
This worked for me. First, disable CarPlay in Screen Time > Content & Privacy Restrictions >  Allowed Apps > toggle off CarPlay. Restart. Then, go back and turn Car play in Allowed Apps. Reboot again. Viola!
Toggle Bluetooth off and on. Easy!
For me, I had to reset all settings to get CarPlay to work on my Nissan. Go to Settings > General > Reset > Reset All Settings. Just so you know, this doesn't erase any of your photos, messages, and so forth
Try resetting your network. Go to Settings > General > Reset > Reset Network Settings
Follow these steps: on your iPhone, go to Setting > CarPlay > My Car > and Forget this car. Then, go to Settings > WiFi > choose your car > Forget This Network. In your car, go to the Settings and delete your iPhone. On your iPhone, Settings > CarPlay > choose your car. Pair your phone with the car and give permission to connect when your iPhone is locked